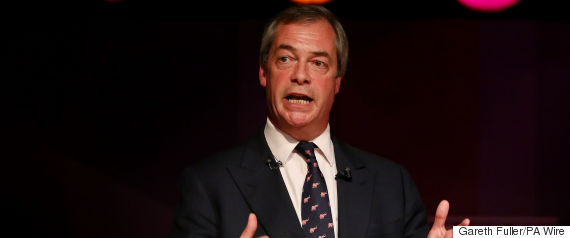 SEE ALSO: Ukip's Official Statement On Nigel Farage - Translated
Nigel Farage is back.
Although it seems like he never really went away, doesn't it?
That's because he didn't...
If he left work on Friday and went back on Monday, surely he's just had the weekend off like most people in the UK? #FarageUnresigns

— Alex Malyon (@Alex_Malyon) May 11, 2015
But no. Just as he'd promised, Farage resigned as leader of Ukip last week, following his failure to win in South Thanet. But then, just as he hadn't promised, he promptly un-resigned today, as Ukip refused to accept this resignation. Although to be fair...
I've never accepted anything Nigel Farage says either.

— Liz Buckley (@liz_buckley) May 11, 2015
Or as to put it another way:
Nigel Farage's UKIP resignation: pic.twitter.com/vkCWAEnriM

— David MacLean (@GeordieStory) May 11, 2015
Was Nigel Farage just trolling us all along? https://t.co/yEirq1Gygf #FarageUnresigns pic.twitter.com/TQhSO7o8F7

— Michael MacLennan (@m_maclennan) May 11, 2015
Twitter was, of course, delighted and surprised:
I for one am glad that Nigel Farage is back. When I say glad I mean unsurprised. When I say unsurprised I mean what an arsehole

— Johnfromsoho (@johnfromsoho) May 11, 2015
This is like the part in XFactor where Simon brings an act back and we all hate his choice #FarageUnresigns

— Adrianne Peltz (@adi_peltz) May 11, 2015
Well, if you can't trust Nigel Farage's word, who *can* you trust?

— Gary Bainbridge (@Gary_Bainbridge) May 11, 2015
Good news for Nigel Farage, who can now have an 8th go at trying to get himself elected as an MP in 2020

— Andy Gilderdale (@AndyGilder) May 11, 2015
Farage has decided to retract his resignation as leader of UKIP. Nothing more trust worthy & anti-establishment than a u-turning politician.

— Tiernan Douieb (@TiernanDouieb) May 11, 2015
Funny old world in which you can resign as Pope but not leader of Ukip.

— Matt Withers (@mattwithers) May 11, 2015
Although some had hoped for something different:
Surely it's high time that Nigel Farage was played by a woman?

— Rob Stradling (@Sourdust) May 11, 2015
While others speculated on how this turn of events had come about in the first place:
Nigel Farage reveals he had his fingers crossed all the time, so ner.

— Moose Allain (@MooseAllain) May 11, 2015
Not a surprise they rejected Farage's resignation when the next best candidates were a man from Ipswich who eats twigs and a painted egg.

— Keri (@kerihw) May 11, 2015
And Nigeus said that "whosoever believeth in him, may not resign; but may have expenses everlasting." #FarageUnresigns

— Nursie (@NursieDear25) May 11, 2015
The irony in Farage actually wanting to LEAVE and being forced to STAY is probably lost only on him.

— Rhys James (@rhysjamesy) May 11, 2015
That Farage statement in full https://t.co/769104gEIB

— Lord Skip VC (@LordSkipVC) May 11, 2015
And why:
Nigel Farage will remain as leader of UKIP, mainly because he didn't want to spend more time with his foreign wife. #FarageUnresigns

— Prince Charles (@Charles_HRH) May 11, 2015
Of course, it all happened on the same day as David Cameron's Cabinet reshuffle:
The UKIP reshuffle:

Leader: Nigel Farage

Economics: Nigel Farage

Welfare: Nigel Farage

Education: Mannequin of Nigel Farage

Health: Nigel Fa

— TechnicallyRon (@TechnicallyRon) May 11, 2015
And it offered a ray of hope to others in different political quarters:
Nick Clegg and Ed Miliband currently checking the small print on their resignation press releases. #Farage

— SimonNRicketts (@SimonNRicketts) May 11, 2015
#FarageUnresigns Can @UKLabour unaccept Ed Miliband's resignation please?

— JP Janson De Couet (@ostercywriter) May 11, 2015
While the whole three-day resignation thing inspired ideas:
I'm campaigning for a three day minibreak to be renamed A Farage. I.E. "I'm off for a Farage in Cornwall." #FarageUnresigns

— Jamie Ross (@JamieRoss7) May 11, 2015
Supportive messages to Nigel's temporary successor:
Congratulations to Suzanne Evans for successfully steering Ukip through a very difficult two days.

— Tom Phillips (@flashboy) May 11, 2015
And praise for UKip's PR department:
Nice work #UKIP PR department. Nice work.

#FarageUnresigns pic.twitter.com/gdFwfPkvgE

— Brandy Snap (@Brandy_Snap) May 11, 2015
And Twitter's hopes now that Nigel's back?
Maybe this version of him won't be such a bellend #FarageUnresigns 😂

— Aaron Alderman (@PlanetAaronTV) May 11, 2015
You never know! Stay tuned for the refusal of the acceptance of the unresignation. Or something.