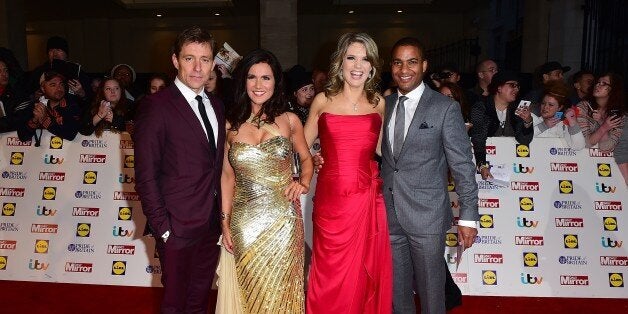 ITV staff might be on strike today but many are wondering whether the network's slumping viewing figures will mean anyone will actually notice.
Journalists, production workers and other staff have are staging a 24-hour stoppage, during which a protest will be held outside the network's annual meeting.
Good Morning Britain was one of the first programmes affected, with journalist Martin Lewis announcing that he would not be presenting his regular Deals of the Week section.
Presenter and former Strictly Come Dancing star, Susanna Reid, also missed today's show, although an ITV spokesman for the network said this was because she had a pre-planned day off.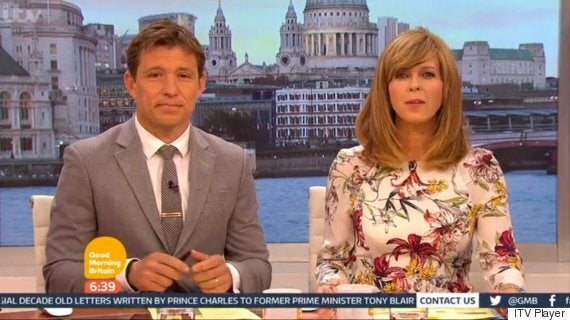 Susanna Reid was absent from today's Good Morning Britain, which was hosted by Ben Shephard (left) and Kate Garraway.
He said: "All of the presenting team who were due to present are on air. Susanna isn't there because she had a day's holiday which was planned as part of the post-election coverage."
This morning, staffed gathered outside ITV's AGM in London.
But with the network taking a hit over poor viewing figures, it's no surprise Twitter users are asking "will anyone even notice today's strike?".
Members of the technicians' union Bectu and the National Union of Journalists (NUJ) voted in favour of industrial action by 67% and 77% in protest at a 2% pay award.
The company's increased profits have spurred on the unions to press for a bigger wage increase.
The broadcaster admitted earlier this month that its viewing figures have continued to come under pressure.
In the first four months of this year, figures slumped by 3% following a 5% fall last year as pressure mounts from the BBC, which has invested heavily in new dramas, such as hit-show Poldark.
As people ask just how relevant the network is right now, Twitter users are becoming nostaligic, remember thing 1979 ITV strike over pay which saw the shutdown of nearly all ITV productions and broadcasts during the industrial action which last 10 weeks.
Yet network bosses remain optimistic as advertising revenues rose 12% to £754 million in the first three months of the year.
Adam Crozier, chief executive of ITV, said: "We've had a strong start to the year with further growth across all parts of the business."
The group has been encouraged by the recent performance of prime-time programmes such as Britain's Got Talent, Ninja Warrior and Vera and said dramas, including Safe House, Home Fires and Code Of A Killer had been "well received".
It also expects to start turning around the decline in audience numbers in the second half of the year thanks to its exclusive rights to the Rugby World Cup.
ITV has boosted its spending on original content, buying up production companies to help produce programmes it can sell around the globe.
The group highlighted a number of high-profile dramas this year including Thunderbirds Are Go, The Good Witch, Texas Rising, Aquarius, Raised By Wolves and Jekyll and Hyde.
Last month, the network snapped up Talpa, the Dutch production company behind The Voice, in a deal that could cost up to 1.1 billion euros (£781 million).
Popular in the Community