An outspoken loyalist to President Vladimir Putin has responded to Western protestations about the increasing Russian military presence in the Arctic by warning "tanks don't need visas."
Deputy Prime Minister Dmitry Rogozin, a Kremlin hawk who oversees the defence industry and is on the sanctions list of both the US and Europe, made the remarks on state TV over the weekend in response to a question about European and American concerns over Moscow's assertiveness in the energy and mineral rich region to the north.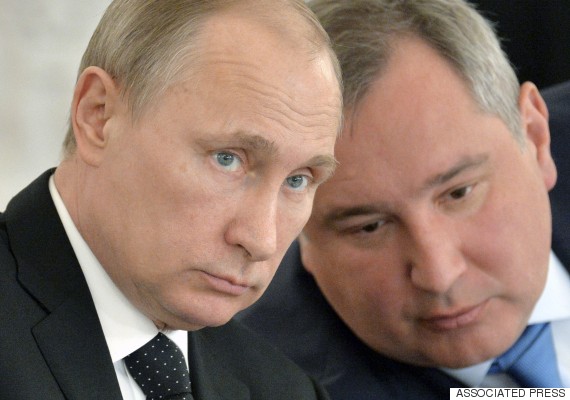 Russian President Vladimir Putin, left, and Deputy Prime Minister Dmitry Rogozin attend a meeting of the Victory Day celebrations in the Kremlin in Moscow, Russia
"I've always joked about it," he said. "So what if they won't give us visas, put us on sanctions list... tanks don't need visas." Rogozin has some form in baiting the West. He recently tweeted that Europe would "fall under the weight of Islamic State and gays" rather than any threat posed by Moscow. He also posted a picture of Obama holding a poodle in August last year.
У нас разные ценности и союзники pic.twitter.com/WCH98Zxutu

— Dmitry Rogozin (@Rogozin) July 31, 2014
On Monday, the Russian military launched a massive exercise involving 250 aircraft and 12,000 servicemen in response to planned Nato military exercises. The Defense Ministry said in a statement that the drills would involve air force and air defense units of the Central, Western and Southern Military Districts. Combat aircraft will deploy to temporary bases and air defense systems will be sent to the Ashuluk and Kapustin Yar shooting ranges in southern Russia for training with live ammunition.
It also said long-range Russian bombers will launch cruise missiles at practice targets at a Siberian firing range. The exercise is part of a series of Russian military maneuvers taking place amid tensions with the West over Russian actions in Ukraine. The current drills are preparation for even more massive Center-2015 maneuvers set for later this year.
Last week, Moscow's media watchdog revealed that Google, Facebook and Twitter would be banned by the regime unless they disclose user data in line with the country's blogging laws.
SEE ALSO: