The Government is to end new subsidies for onshore wind farms by closing the existing payments schemes a year early, it has announced.
The move aims to fulfil a Conservative promise ahead of the election on ending new public subsidies for onshore wind farms and changing the law so local people have the final say on them.
The Tories claim the onshore turbines "often fail to win public support and are unable by themselves to provide the firm capacity that a stable energy system requires".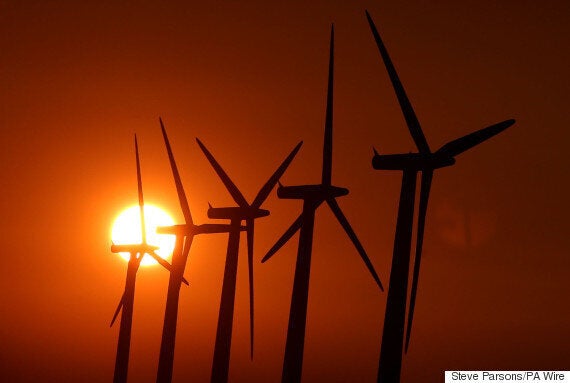 The subsidy cut was called a 'chilling signal' to the renewable energy sector
But the industry and environmental campaigners have criticised the Conservatives for attacking the cheapest form of clean energy, and one which enjoys the support of 65% of people, while saying they want to cut carbon in the most cost-effective way.
Under the plans, the "renewables obligation" scheme, through which subsidies are paid to renewable schemes, will be closed to onshore wind farms from April 1, 2016.
There will be a grace period offered to projects that already have planning consent, a grid connection offer and acceptance and evidence that the scheme has the right to use the land.
This could allow up to 5.2 gigawatts (GW) of wind capacity to go ahead - potentially leading to hundreds more wind turbines going up in the countryside across the UK.
The renewables obligation has already been closed to large scale solar farms, amid Tory concerns that the technology was a blight on the landscape, and is due to close to all new renewables schemes in 2017.
A new system for subsidies for low carbon energy, known as "contracts for difference" is being brought in, and it is not clear whether new onshore wind farms will be eligible for the scheme in the future, though it is believed to be unlikely they will.
More than £800 million of subsidies - which are paid for through consumer bills - helped onshore wind generate 5% of the UK's total electricity last year, the Department of Energy and Climate Change (Decc) said.
Energy and Climate Change Secretary Amber Rudd said there were enough subsidised onshore wind schemes to meet renewable energy commitments.
But a European Commission progress report this week suggested the UK was one of several member states set to significantly miss its renewables targets for 2020 and would "need to assess whether their policies and tools are sufficient and effective in meeting their renewable energy objectives"
Ms Rudd said: "We have a long-term plan to keep the lights on and our homes warm, power the economy with cleaner energy, and keep bills as low as possible for hard-working families.
"As part of our plan, we are committed to cutting our carbon emissions by fostering enterprise, competition, opportunity and growth.
"We want to help technologies stand on their own two feet, not encourage a reliance of public subsidies.
"So we are driving forward our commitment to end new onshore wind subsidies and give local communities the final say over any new windfarms.
"Onshore wind is an important part of our energy mix and we now have enough subsidised projects in the pipeline to meet our renewable energy commitments."
The Energy Department said it would look at options to continue supporting community energy projects.
Changes to the law to remove the need for the Energy Secretary to approve large wind farms of more than 50 megawatts (MW), schemes which would typically involve dozens of wind turbines, were announced in the Queen's speech last month.
The move, along with changes to planning policy, will mean that local authorities will have the final say on such projects in England and Wales, although it will not affect Scotland where most of the new large scale schemes are planned.
The subsidy changes will apply to Scotland and the Scottish Government, which wants to protect the renewables obligation scheme for onshore wind, and has called for a consultation with the UK Government over the issue.
Industry body RenewableUK's chief executive Maria McCaffery warned the move would push up consumer energy bills.
"The Government's decision to end prematurely financial support for onshore wind sends a chilling signal not just to the renewable energy industry, but to all investors right across the UK's infrastructure sectors.
"It means this Government is quite prepared to pull the rug from under the feet of investors even when this country desperately needs to clean up the way we generate electricity at the lowest possible cost – which is onshore wind.
"People's fuel bills will increase directly as a result of this Government's actions.
"Ministers are out of step with the public, as two-thirds of people in the UK consistently support onshore wind.
"Meanwhile the Government is bending over backwards to encourage fracking, even though less than a quarter of the public supports it, " she said.
Scotland's Energy Minister Fergus Ewing MSP said he has warned the UK Government that the decision may well be the subject of a judicial review.
He said: "The decision by the UK Government to end the Renewables Obligation next year is deeply regrettable and will have a disproportionate impact on Scotland as around 70% of onshore wind projects in the UK planning system are here.
"This announcement goes further than what had been previously indicated. It is not the scrapping of a 'new' subsidy that was promised but a reduction of an existing regime - and one under which companies and communities have already planned investment.
"Onshore wind is already the lowest cost of all low carbon options, as well the vital contribution it makes towards tackling climate change, which means it should be the last one to be scrapped, curtailed or restricted.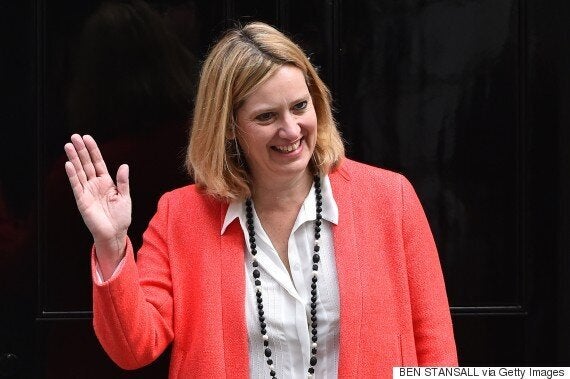 Amber Rudd said the government was still 'committed to cutting our carbon emissions'
"The UK Government has ignored the concerns of businesses and organisations who are integral to the future energy security of both Scotland and the UK, as well as to environmental organisations who recognise the importance of renewable energy in helping reduce emissions. The UK Government have chosen to place at risk a huge investment pipeline, conceived in good faith by developers based on statements from the UK Government.
"The decision will cause huge uncertainty for investors not just in onshore but across the renewables sector as a whole - especially as there is no information as to other onshore wind schemes under Electricity Market Reform Contracts for Difference or those smaller than 5MW under the Feed in Tariff.
"Moreover, the decision will prevent onshore schemes proceeding whilst offshore wind will go ahead despite receiving far more generous subsidies. This, the industry claim, will lead to extra costs for consumers of possibly around £2-3 billion - and must be irrational in that respect."
WWF Scotland director Lang Banks said: "This decision risks undermining the development of the cheapest form of renewables in the country, and is bad news for Scotland's clean energy ambitions.
"Cutting support early for the lowest cost renewable technology is a backward step that will either see bills rise or climate targets missed.
"Opinion polls consistently show onshore wind to be one of the most popular forms of electricity, generating thousands of jobs across Scotland and helping to cut our carbon emissions.
"We urge the UK Government to rethink its plans to end early its support for onshore wind."
Popular in the Community