Ferry and train services have returned to normal, after strikes by ferry workers in Calais, compounded by the mass gathering of migrants there, forced the cancellations of services between France and the UK on Tuesday.
Eurostar customers were advised to allow at least 45 minutes to check in, but the company advised Wednesday that all trains were resuming a "full and normal service".
According to the Eurostar website the first train of the day from Paris to London left as scheduled, as did the first train from London to Paris. Eurotunnel, MyFerryLink and P&O Ferries also resumed normal service.
Passengers were left stranded on Tuesday after protesting MyFerryLink staff got into the Eurostar terminal in France amid chaotic scenes in Calais, where thousands of migrants were trying to exploit the action in the hope of entering the UK.
Services on Eurostar were cancelled, the Port of Calais was closed and there was severe disruptions in Kent on Tuesday. Ferries were stuck in Dover and part of the M20 was closed as ferries waited to cross the Channel, the BBC reported.
Journeys to Britain were aborted Tuesday as wildcat strikes by French ferry workers spilled over from Calais with workers entering the Eurotunnel terminal. Eurostar has advised all of its passengers not to travel to stations.
Earlier riot police were called to try and contain thousands of UK-bound migrants who gathered on mass to try and get to Dover, using the strike action to their advantage.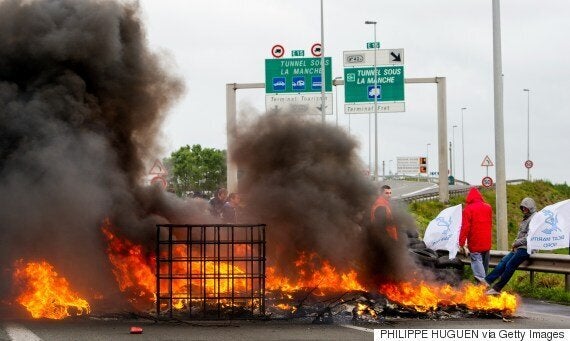 Striking employees of the French company My Ferry Link, a cross-channel ferry service, stand in front of tyres set on fire as they block the access to the Channel Tunnel
The cancellations were expected to cause travel misery for passengers wishing to leave from London's St Pancras International, the Evening Standard reported.
Eurostar told the Standard: "They (protesters) have broken into the tunnel and the tunnel is shut.
"Following Eurotunnel's decision to suspend all traffic through the Channel Tunnel, Eurostar services will not be able to run for the rest of today.
"The closure of the Tunnel is due to industrial action by MyFerryLink workers from the port of Calais, blocking the tracks with rubble and burning tyres.
"We are sorry for the inconvenience to all passengers, and advise them to check Eurostar.com for further updates on when Eurotunnel will reopen and Eurostar services can resume."
Truckers were forced to slow or stop due to queuing traffic on approach to the northern French port. Migrants then attempted to clamber on board.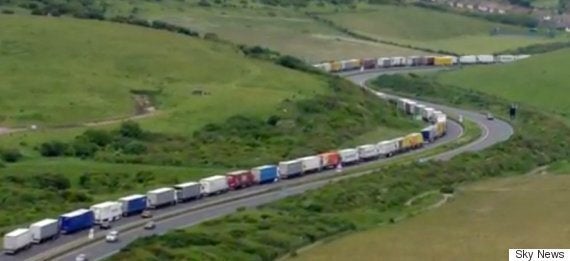 Huge tailbacks formed as trucks approached the northern French port
Migrants were seen walking by the sides of motorways looking for opportunities to jump on to lorries heading to the Port for Dover.
Tyres and hay bales were left burning at blockades created by striking MyFerryLink workers fearful that they will lose their jobs early next month.
Ferry services to and from the Port of Dover were affected by the strike, but Eurotunnel said their crossings were running to schedule, with two departures per hour.
The industrial action comes amid a worsening migrant situation near the Port of Calais where numbers camped there have swelled to more than 3,000 since April.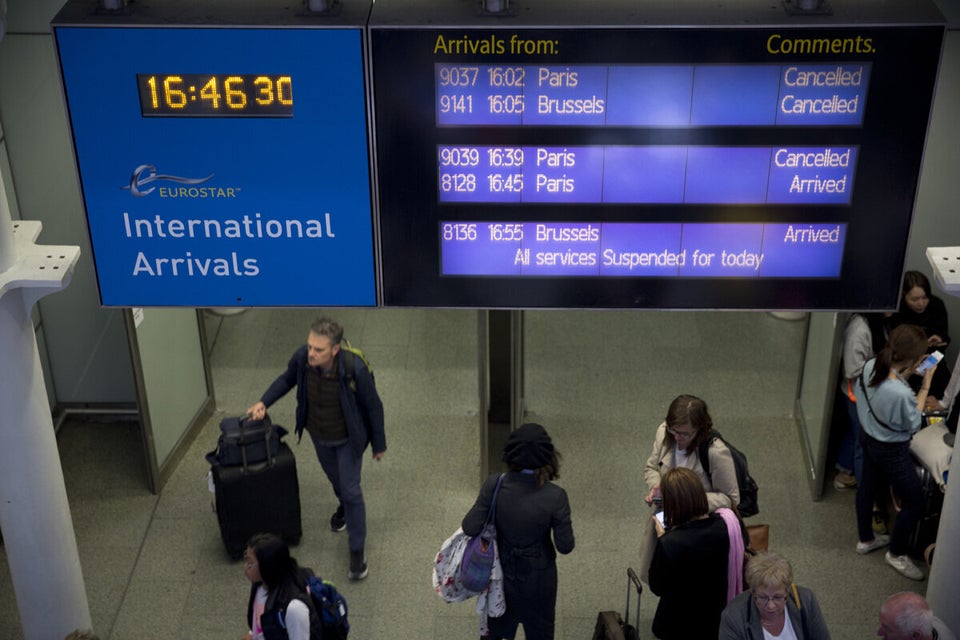 Protests in Calais
Aid workers have reported a "catastrophic" situation, with predictions that some 2,000 more migrants displaced from war-torn countries including Eritrea, Syria and Afghanistan could arrive over the summer.
A Port of Dover spokesman said: "We will continue to monitor the situation closely in liaison with our ferry partners and the Port of Calais in order to resume normal operations as soon as possible."
There were calls from P&O for the French authorities to intervene to ensure the free movement of goods and people across the EU.
Helen Deeble, chief executive of P&O Ferries, which operates between Dover and Calais, said: "Our services have been stopped in Calais as a result of the decision by Eurotunnel to charter and then sell two of their ships to DFDS, at short notice and with neither party appearing to engage constructively with the French sea-going and shore staff at MyFerryLink."
She went on: "While we have tremendous sympathy for the difficult situation of these employees who fear that their jobs will end on July 2, in disrupting the operations of the whole of the port of Calais, Eurotunnel continues to operate and DFDS sails into Dunkirk.
"As a large and long-standing employer in Calais, we are bearing the brunt of the disruption. We call upon the French authorities to ensure the free movement of goods and people across EU borders and to ensure the safety of staff and customers in and around the port of Calais."
As the migrant crisis worsens, truckers were being advised not to stop within about 60 miles (97km) of Calais, to stick with other drivers and make sure padlocks are always kept on vehicles.
Donald Armour, the Freight Transport Association's international manager, said: "We have heard that the strikers have set up a blockade on the A16 with burning tyres and hay bales, bringing the main motorway to a halt.
"It costs about £50 an hour to have a lorry stuck in traffic. If you're a company with half a dozen lorries, it adds up to a lot of money being lost.
"It's their worst nightmare and not a good day to be travelling."
With the worsening migrant situation in Calais, Mr Armour said the FTA was "really, really worried" about someone getting seriously hurt.
"There is a lot of fighting between the migrants who all want to be on the best part of the road to get on to the lorries," he said.
"We haven't had a fatality but it's not good. The situation is definitely worse than it has ever been."
The strike action started in Calais at around 3.50am. Port of Dover officials said the situation was being monitored closely.
Operation Stack - where freight traffic is held on the coastbound carriageway of the M20 in Kent - was implemented as queues built up on approaches to the British port.
A partial blockade of the Channel Tunnel terminal in Coquelles has been removed and Eurotunnel was clearing the backlog of traffic.
Kent Police said that while the Port of Calais remained closed, services from Dover to Dunkirk were unaffected and extra crossings were being arranged.