NEW YORK -- Somewhere in Manhattan there is a designer formerly of the Trump Organization looking for a new job. That's because on Tuesday, the Republican presidential candidate tweeted out a picture of himself next to some soldiers and the American flag.
At first glance it looks like a stock civil religious emblem, the type used by Fox News to whip up nationalism in readiness for war. Yet one sharp-eyed history buff spotted that the soldiers yomping up Trump's shoulder towards his famous weave were members of the Waffen-SS.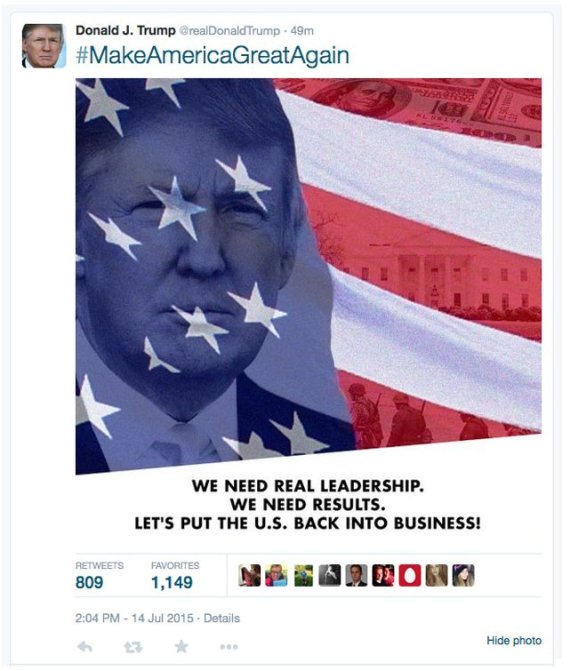 John Schindler has been furiously tweeting about the faux pas, detailing the Nazi uniform. Reed Richardson found the stock image, by searching for "World War II soldiers."
Notice the late-war Waffen-SS "dot" camo tunic, with SS eagle on left arm as in the Trump pic https://t.co/b3pwWmdwHY pic.twitter.com/ulScwicbZU

— John Schindler (@20committee) July 14, 2015
Found @realDonaldTrump's german soldier stock image here (searched "world war II soldiers")

http://t.co/GKkcNTUKpm pic.twitter.com/ysWGeePZIr

— Reed F. Richardson (@reedfrich) July 14, 2015
Trump deleted the tweet soon after posting. Not that the picture will do any damage to his campaign. Last month Trump called Mexicans "rapists" in front of 319 million people and has been leading the GOP field ever since.
SEE ALSO: