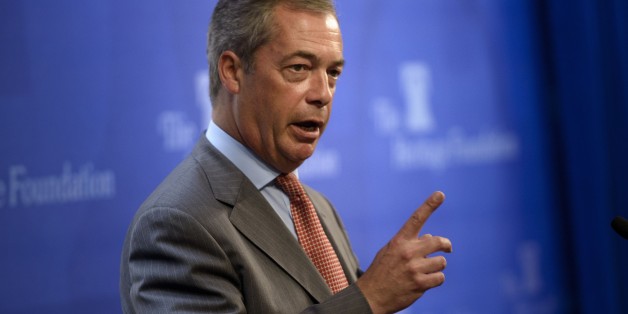 BRENDAN SMIALOWSKI via Getty Images
Nigel Farage has prompted fresh outrage over the Calais migrant crisis, with social media users criticising the Ukip leader for alleged "inflammatory" comments made on Wednesday morning.
The MEP was hounded on Twitter for claiming in a BBC interview that, due to events unfolding in the northern-France port town, it was "only a matter of time before a British holidaymaker gets killed".
Calais crisis: "It's only a matter of time before a British holidaymaker gets killed" says @Nigel_Farage http://t.co/GdGlmt3aJx

— Victoria Derbyshire (@VictoriaLIVE) July 29, 2015
His comments came just hours after it emerged a young Sudanese man had died after being crushed by a truck, the ninth migrant casualty in the region this year so far.
Kevin Maguire, The Mirror's associate editor, was first to weigh into the debate, slamming Farage for his "inflammatory" comments and accusing the Ukip leader of "shameful scaremongering".
Inflammatory claim by Farage a British tourist or lorry driver will be killed in Calais is shameful scaremongering by Ukip

— Kevin Maguire (@Kevin_Maguire) July 29, 2015
Other users quickly piled in, some accusing the Ukip leader of trivialising the high mortality rate of migrants at Calais themselves.
@VictoriaLIVE @Nigel_Farage always good to hear a reasoned and non-dramatised opinion from UKIP!

— Chris Kidd (@chriskidd) July 29, 2015
Did Farage really just say that sooner or later a lorry driver will get killed? Coz THAT would eventually become a tragedy, right?

— Curious Iguana (@curiousiguana) July 29, 2015
Farage says only a matter of time until a Brit is killed in Calais. Never mind the asylum seeker A WEEK killed trying to board transport

— Tom Freeman (@tomwfreeman) July 29, 2015
How does he work that out? Clearly the lives of 'migrants' who've already died count for less. @VictoriaLIVE @daily_politics @Nigel_Farage

— Andrew Middleton (@ATMiddleton) July 29, 2015
@Kevin_Maguire Fellow human beings have already died. Are their lives worthless because they are not British?

— Alan Taylor (@alantaylor420) July 29, 2015
#farage stirs up hatred with claims that a British Tourist /Truck Driver will be killed

#calaismigrants this after death of Sudanese man

— Women Defy the Right (@WomenSayNo2UKIP) July 29, 2015
Ukip did not respond to a request for comment at the time this story went live.
SEE ALSO:
The Huffington Post UK has produced a special report on the crisis in Calais, detailing 14 reasons why people risk their lives to claim asylum in Britain.