One of the final wishes of a terminally-ill man who has ended his life at a Swiss clinic was for a change in the law which bans assisted suicides in the UK.
Bob Cole, 68, who died at the Dignitas euthanasia unit surrounded by four of his closest friends, said: "I should have been able to do this at home."
Mr Cole, who was suffering from an aggressive form of lung cancer called mesothelioma, had watched his wife Ann Hall take her life in the same clinic just 18 months ago.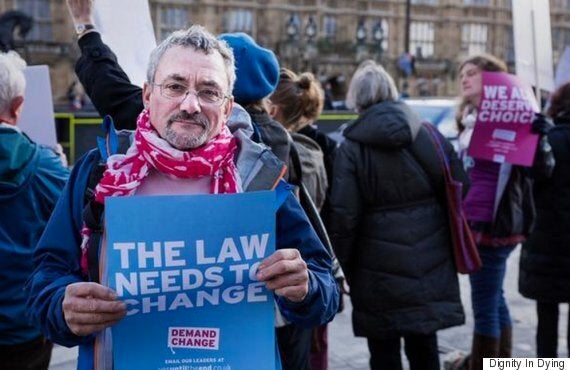 Bob Cole died in Swiss euthanasia clinic Dignitas on Friday afternoon
Campaign charity Dignity in Dying said they were informed of his death on Friday afternoon.
Mr Cole told ITV News: "When you're curled up at the end of the bed in the early hours of the morning like a dog crouching because the pain is so intense ... my mind is made up. It's about quality of life.
"My mind is made up. I'm fed up of sitting in bed and watching the TV. I've seen more than enough TV now."
Speaking about his wife's decision to die at the clinic, Mr Cole said: "It was one great relief. There was music playing, people talking, we were saying goodbye to her, holding her hand, wishing her well, that was what she wanted. It was a lovely, warm, dignified atmosphere."
From his home in Chester before going to Switzerland, Mr Cole told the network: "Six months ago, less than six months ago, I was planning what was going to happen this year. Suddenly, within a matter of days, not weeks, days, it had crashed and burned.
"Within a matter of days it had all gone. The time has come now. In the next few weeks, you can tell by my voice - it's going, my weight's going, that it's time to end it.
"Nobody should be forced to end their own life, nobody. And I don't think we're arguing that in the movement at all.
"But there are some of us who think we have come to the end of a useful, justifiable life and want our dignity and quality, and surely there is no wrong in saying, 'well, that's it, I've done everything I wanted to do, I won't be able to do anything that is worthwhile'.
"I know people will argue with me, so therefore I want to end my life now, and that will end in the next few weeks."
According to The Sun, the former carpenter spent £12,000 to die abroad.
He told the newspaper: "I should be able to die with dignity in my own country, in my own bed. The law needs to change. How do you change the law? People have got to take a stand. So that's what I'm doing today.
"The politicians need to have the guts to change this law. Just bite the bullet. Accept that the British public want this change. If they don't, it will be forced upon them because the public feeling is overwhelming."
In a statement, Dignity in Dying said Bob was "committed to the campaign for assisted dying".
It said: "Dignity in Dying has been informed that Bob Cole had an assisted death at Dignitas in Switzerland this afternoon. Our thoughts are with his friends and family.
"He joined us at many campaign events, did significant work to advance the campaign in the media and donated both time and money to the campaign.
"Bob's passing is not only a personal loss to those who knew him, but also for the entire campaign for assisted dying."
Related