Alien hunters have hailed a tiny dot flying alongside a RAF Vulcan as a UFO.
As with most sightings you'll need a highly trained eye to spot the dot but if you look closely enough, it's there.
The "UFO" was captured in a video taken by local Sussex resident Elaine Costello who was filming the RAF Vulcan flying over Shoreham Power Station, in Southwick.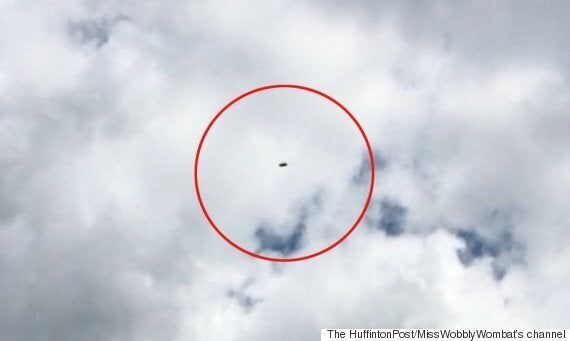 "The object appears right after the Vulcan bomber has gone out of sight. It flits from the left of the screen to the centre where the video ends," she told local paper Worthing Herald:
"I have slowed the video down and the object goes behind cloud briefly. I took stills from the video and zoomed in. The results are interesting. At least one other person saw the object."
Malcolm Robinson, who researchers UFOs and the paranormal believes the small black object does not have a natural explanation.
"It certainly has the classic flying saucer shape although that in itself does not mean that it lends any credibility," he told Worthing Herald.
"Photographs of this nature normally show birds frozen in flight by the camera or a small insect close to the lens of the camera. But as the photographer filmed this as a pan then this certainly makes it far more interesting to me."