Davids Cameron has promised Britain will take thousands more Syrian asylum seekers from refugee camps in a U-turn fuelled by shocking images of dying children and a shift in public mood.
The Prime Minister said the country "will do more" by "providing resettlement for thousands more Syrian refugees", and act with "its head and its heart" by also moving to end the "bloodbath" that has engulfed the country.
The statement follows widespread media coverage of a drowned three-year-old Syrian boy fleeing conflict, and political pressure from senior Tory backbenchers to the Archbishop of Canterbury to act.
Speaking at an EU summit in Portugal, the Prime Minister said Britain has accepted around 5,000 Syrians and would accept thousands more under existing schemes, but pledged further action than earlier this week when warning encouraging refugees to travel to the UK would make the crisis worse.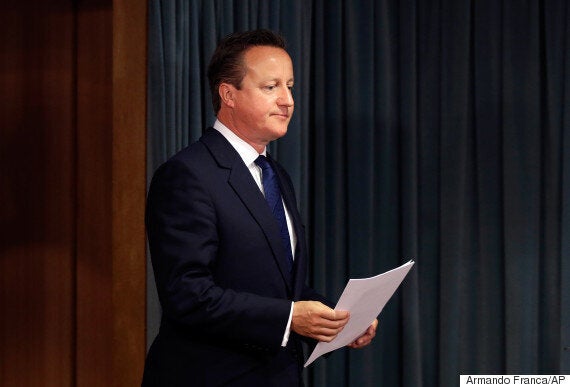 David Cameron: "Britain will act with its head and its heart providing refuge for those in need while working on a long term solution to the crisis."
He added: "Given the scale of the crisis and the suffering of the people, today I can announce that we will do more – providing resettlement for thousands more Syrian refugees.
"We will continue with our approach of taking those from the refugee camps. This provides them with a direct and safe route to the UK, rather than risking the hazardous journey which has cost so many have lives."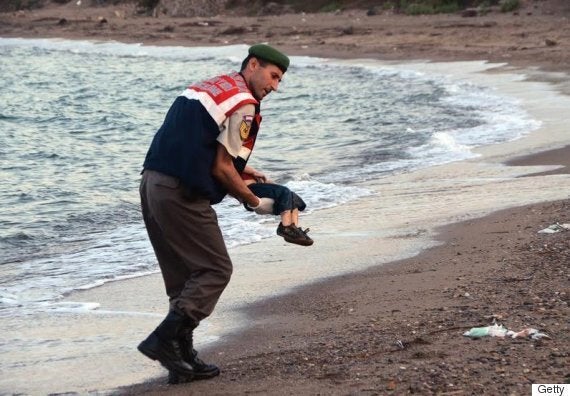 A Turkish gendarmerie soldier moves the body of the Syrian boy who was one of 11 people to die after a boat sunk while trying to reach Greece
He said further details would be announced next week though it has been suggested it could involve an expansion of the Vulnerable Persons Relocation scheme, which gives Syrian refugees a chance to be resettled in the UK.
So far just 216 people have found safe passage to the UK through the programme. Mr Cameron said further admissions would take place alongside a crackdown on smuggling gangs and the Royal Navy rescue ships positioned on the Mediterranean.
"Britain will act with its head and its heart providing refuge for those in need while working on a long term solution to the crisis," he added.
"As I said earlier in the week, that means bringing an end to the conflicts that are driving so many to flee, including the bloodbath that has engulfed Syria."
He said migration is "the biggest challenge facing countries across Europe today", adding President Assad and ISIL are responsible for killing over 220,000 and forcing more than 11 million people to flee their homes.
"Britain has a moral responsibility to help refugees as we have done throughout our history," he said. "We already are providing sanctuary and we will continue to do so."
He pointed out Britain has donated £900 million in aid to Syria. "No European country has done more than Britain in this regard," he added.
On Wednesday, a senior United Nations official said Britain "can do more" to ease Europe's biggest refugee crisis since the Second World War.
The little boy, named as Aylan Kurdi, was one of 12 refugees who drowned after their boat capsized travelling to the Greek island of Kos from the Turkish town of Bodrum. His family reportedly fled Kobane last year to escape the Islamic State group. Twenty-three people were on the flimsy vessel. Nine are believed to have survived, including Aylan's father. His mother and brother, however, perished.
Two of the Labour Party leadership contenders rounded on the British prime minister, demanding greater efforts from the government. Andy Burnham called for Parliament to debate allowing a greater influx of refugees while bemoaning Cameron's reaction as "veering from the inadequate to the misjudged."
On Tuesday, Burnham's rival Yvette Cooper called for Britain to take 10,000 Syrian refugees, saying: "We cannot keep turning our backs on this."
Lib Dem leader Tim Farron said the government was "morally wrong" to limit the intake to a few hundred refugees, while SNP chief Nicola Sturgeon called for Westminster "do more."
Related