Panorama has been likened to the Rupert Murdoch-owned Fox News channel after the BBC's flagship current affairs show investigated the rise of Labour leadership candidate Jeremy Corbyn.
The programme, titled "Jeremy Corbyn: Labour's Earthquake", trended as viewers complained about perceived bias against Corbyn, and at the comparison between the state of the party in the 1980s and his campaign.
Some Corbyn supporters openly compared the BBC programme to Fox News, the channel known for its hard support of Republican politics in America.
And now the BBC won't reveal how many complaints it has received about the programme.
Was I watching Fox News?? Oops, no, it was #Panorama #BBC

— Erica Evans (@EarlyYearsErica) September 7, 2015
@BBC prepares for upcoming privatisation by employing the journalistic standards of FOX news #Panorama #Corbyn

— Marina Robb (@MarinaRobb) September 7, 2015
Step aside FOX News. The BBC are in town.

September 7, 2015
Panorama framed the rise of Corbyn as a response to the party's crushing electoral defeat at May's general election.
Reporter John Ware took to the skies to demonstrate the extent of Labour's electoral misfortune, before sitting down with various figures from across the party.
The programme included those supporting 'Blairite' candidate Liz Kendall, who has admitted she misunderstood the mood of the post-Ed Miliband Labour party.
Ware spoke with other candidates, including Yvette Cooper, about Corbyn's campaign, and the programme conveyed the view that his election would present a challenge to the Labour party's chances in 2020.
Jeremy Corbyn blogs:'Austerity Is a Choice, Labour Must Offer Another'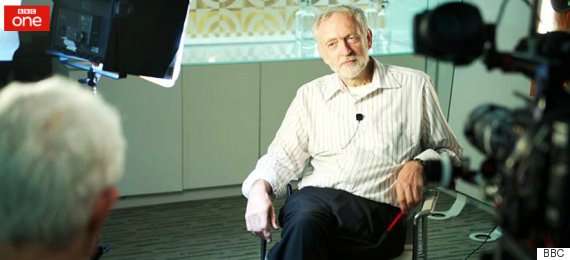 The programme included an interview with Corbyn
Ware sat down with Corbyn to question him on a variety of topics, including his attendance at events involving the Hamas group.
And the programme found Corbyn attended a conference which had included a call for Iraqis to engage in "military struggle" with foreign armed forces - including British troops - the BBC reported.
However, his fellow Left Labour MP Diane Abbott says an extensive interview she gave to the programme was not used in its final broadcast.
Panorama on Corbyn a hatchet job. I did long interview. None used. Didn't fit their preconceived narrative. pic.twitter.com/9HV6zWwufz

— Diane Abbott (@HackneyAbbott) September 8, 2015
And even as it aired, hundreds of Corbyn supporters took to social media to air their anger.
About 5 seconds of anything mildly pro-Corbyn then "BACK TO THE DARK AGES" #Panorama

— NICE (@bethansg) September 7, 2015
John Ware on #Panorama doing his best to promote the anti-Corbyn brigade. So much for BBC's independent policy. Ware coming across v.badly.

— Martn Sandles (@phiney_) September 7, 2015
Watched #Panorama. A hatchet job, no doubt. But expect no less from a media establishment spooked by Corbyn. It's going to be a bumpy ride.

— Liam O'Hare (@Liam_O_Hare) September 7, 2015
#Panorama on Corbyn. Just a terrible terrible biased hatchet job.

— thegeneral (@prix_de_beaute) September 7, 2015
#Panorama on Corbyn is such a poor, biased piece of propaganda that even some of those who don't support him are criticising it.

— James KM Blake (@BlakeKM) September 7, 2015
People believe the BBC breached its impartiality commitments.
Last night's BBC Panorama on Corbyn breached their own impartiality code.

Bastards Bashing Corbyn!

— jonathansansome (@JonathanSansome) September 8, 2015
@BamfordDi The standard of BBC reporting is woeful. They are slaves to sensationalism, vote with your fingers Corbyn-ites, turn it off

— Rory O'Rourke (@roryorourke69) September 8, 2015
BBC Panorama's bias profile of Corbyn tonight, so as to influence the election was a disgrace. Complain to the BBC!

— Colin Webster (@profcwebster) September 7, 2015
I'm very troubled by what the #BBC have done with #Panorama - it was biased and manifestly anti-#Corbyn @cllrruthrosenau @corbyn4leader

— Joe Rich (@joerichlaw) September 7, 2015
@BBC Viewers ill served by Panorama satirising Corbyn. Really nasty journalism redolent of the Daily Mail. A more considered analysis needed

— Christopher Cheatle (@Chrishaux) September 8, 2015
BBC slag off corbyn to keep the tories happy but do it when its too late to matter ....clever .or just stupid ?

— jansoldman (@jansoldman) September 8, 2015
And the programme was thought to prove it was "clinging to the Tories for survival".
BBC buried an exposé about BBC child abuser Savile yet devotes a #Panorama to attacking Jeremy Corbyn.

BBC clinging to Tories for survival

— Will Black (@WillBlackWriter) September 7, 2015
Soon word got around that someone was taking complaints via phone.
Just made a complaint about the #Panorama programme call 0370 010 0222 option 1, then option 3, Real person taking complaints #Corbyn

— JesuisUnAnarchiste☠ (@blacbloc) September 7, 2015
Though not everyone agreed...
Just watched the #Panorama programme on Jeremy Corbyn. Don't see what all the fuss is about. Accurate depiction of Labour party's division.

— dhg (@dhg23) September 8, 2015
Am not sure what all the fuss is about, seems to me #Panorama has done #Corbyn the world of good hasn't it?

— Chris Roche (@christophroche) September 7, 2015
Panorama excellent tonight! Exposing the dreadful judgement, views & bitterness of Jeremy Corbyn. Tragically Labour are finished #Panorama

— Johnny Misty (@MistyFishWeave) September 7, 2015
And Mr Corbyn's team sent out a series of tweets in response to the criticism of the programme.
Yes, #Panorama peppered with distortions and exaggerations to suit a predictable narrative. We'll keep on keeping on https://t.co/ehppBXvtgd

— JeremyCorbyn4Leader (@Corbyn4Leader) September 8, 2015
Great to be part of a positive campaign that has still got something to say after the character assassinations have faded away. #panorama

— JeremyCorbyn4Leader (@Corbyn4Leader) September 7, 2015
The BBC refused to disclose the number of viewers that had contacted it about the programme after suggesting there was evidence of "lobbying" to influence the number of complaints.
A Corporation spokesperson told HuffPost UK: "Panorama examined the phenomenon of Jeremy Corbyn's rise to become the favourite for the leadership of the Labour Party, and the misgivings it has caused among senior party figures. It also clearly reflected the growth of support for his campaign within the party, union members and activists.
"Jeremy Corbyn was interviewed at length, Panorama was given behind the scenes access to his campaign and his views were reflected throughout."
SEE ALSO