Panorama has been likened to the Rupert Murdoch-owned Fox News channel after the BBC's flagship current affairs show investigated the rise of Labour leadership candidate Jeremy Corbyn.
The programme, titled "Jeremy Corbyn: Labour's Earthquake", trended as viewers complained about perceived bias against Corbyn, and at the comparison between the state of the party in the 1980s and his campaign.
Some Corbyn supporters openly compared the BBC programme to Fox News, the channel known for its hard support of Republican politics in America.
Panorama framed the rise of Corbyn as a response to the party's crushing electoral defeat at May's general election.
Reporter John Ware took to the skies to demonstrate the extent of Labour's electoral misfortune, before sitting down with various figures from across the party.
Ware spoke with other candidates, including Yvette Cooper, about Corbyn's campaign, and the programme conveyed the view that his election would present a challenge to the Labour party's chances in 2020.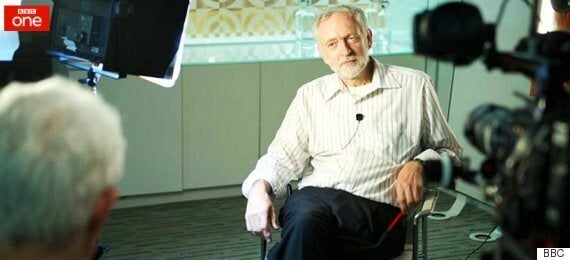 The programme included an interview with Corbyn
Ware sat down with Corbyn to question him on a variety of topics, including his attendance at events involving the Hamas group.
And the programme found Corbyn attended a conference which had included a call for Iraqis to engage in "military struggle" with foreign armed forces - including British troops - the BBC reported.
However, his fellow Left Labour MP Diane Abbott says an extensive interview she gave to the programme was not used in its final broadcast.
And even as it aired, hundreds of Corbyn supporters took to social media to air their anger.
People believe the BBC breached its impartiality commitments.
@BBC Viewers ill served by Panorama satirising Corbyn. Really nasty journalism redolent of the Daily Mail. A more considered analysis needed

— Christopher Cheatle (@Chrishaux) September 8, 2015
And the programme was thought to prove it was "clinging to the Tories for survival".
Soon word got around that someone was taking complaints via phone.
Though not everyone agreed...
And Mr Corbyn's team sent out a series of tweets in response to the criticism of the programme.
A Corporation spokesperson told HuffPost UK: "Panorama examined the phenomenon of Jeremy Corbyn's rise to become the favourite for the leadership of the Labour Party, and the misgivings it has caused among senior party figures. It also clearly reflected the growth of support for his campaign within the party, union members and activists.
"Jeremy Corbyn was interviewed at length, Panorama was given behind the scenes access to his campaign and his views were reflected throughout."
Related