Tens of thousands of people attended the 'Solidarity With Refugees' march on Saturday, a rally supporting the rights of refugees on the streets of the capital.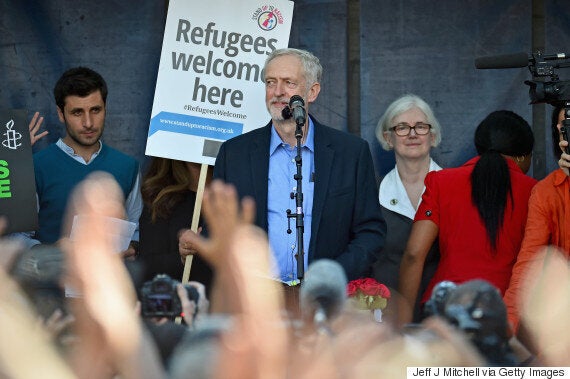 Corbyn addressing the rally
Protestors are calling on the UK government to increase its commitment of taking 20,000 refugees over the next five years, which is a smaller than the quotas of France and Germany.
Crowds are marching to the Houses of Parliament holding banners. Some shouted: "Say it loud, say it clear, refugees are welcome here". Others chanted: "David Cameron, shame on you."
They also demand an end to the "poisonous" language used to describe refugees and migrants, such as when Cameron called people moving across the Mediterranean as a "swarm".
Corbyn used his Labour victory speech to talk about refugees. "They are human beings, just like you, just like me," he said.
Liberal Democrat leader Tim Farron and Green Party leader Natalie Bennett were also due to speak at today's demonstration, PA reported.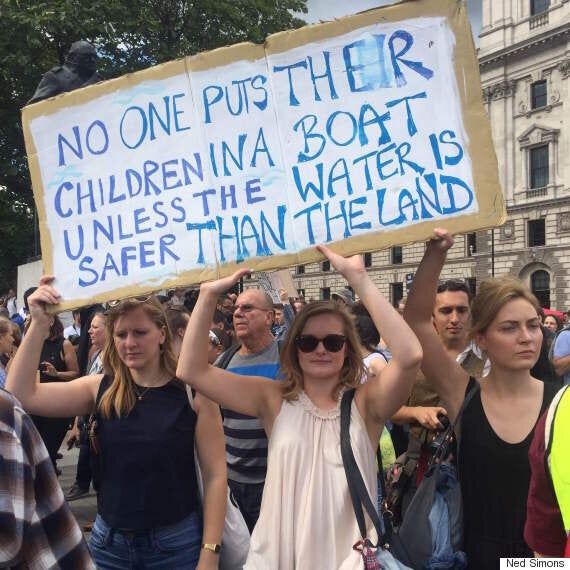 Musician Billy Bragg, who is performing at the event, said he is "encouraged" by Corbyn's success, adding "hopefully this will mean a return to civic culture".
"People are beginning to understand that we do have a lot in common with one another and it's possible to create a society where people's needs are put first," he said.
"The demonisation of people in need that's gone on in this country is not the kind of Britain I grew up in - that everyone who's in need is a scrounger and all refugees are terrorists.
"It's not the compassionate society I want Britain to be seen as around the world."
Then Solidarity With Refugees protest is backed by the Refugee Council, Amnesty International, the Syria Solidarity Movement, Stand Up to Racism and the Stop the War Coalition.
Organiser Maz Saleem, of Stand Up to Racism, described the Calais refugee camps as "slums" and said "the conditions are absolutely appalling".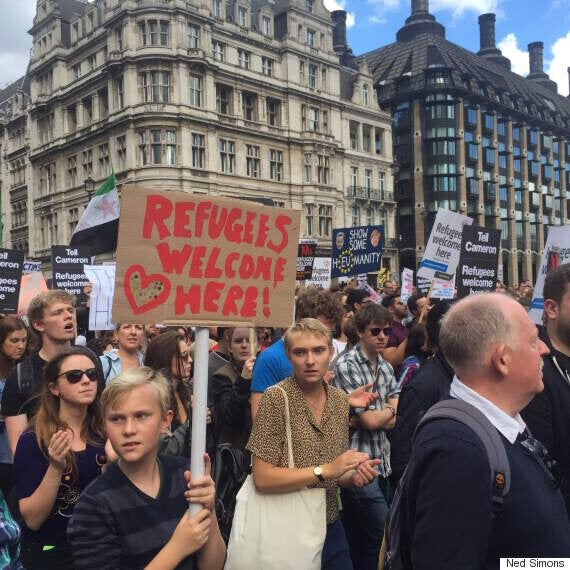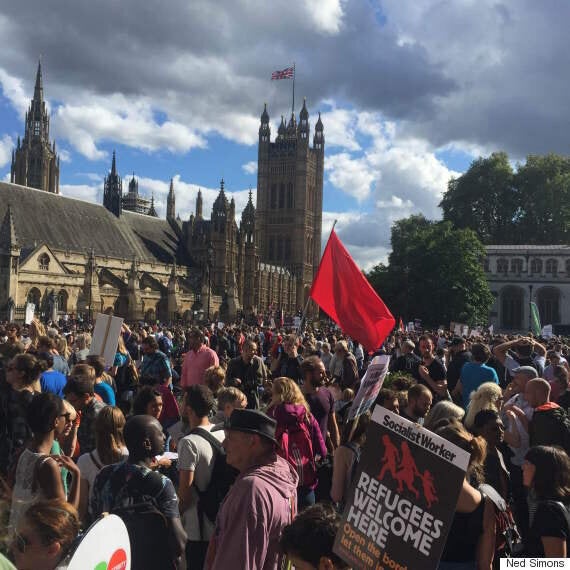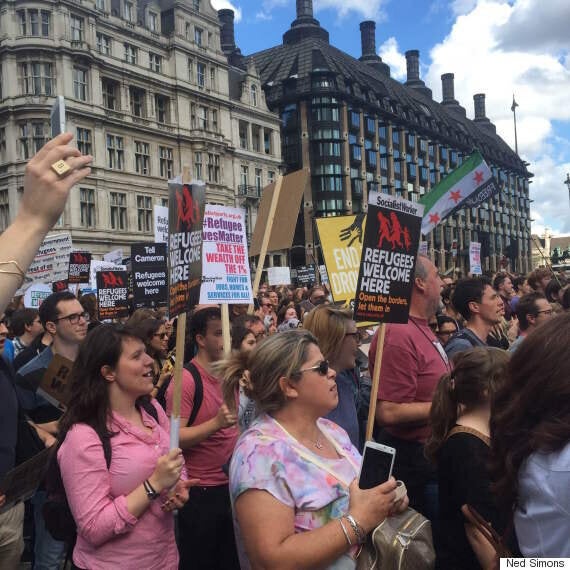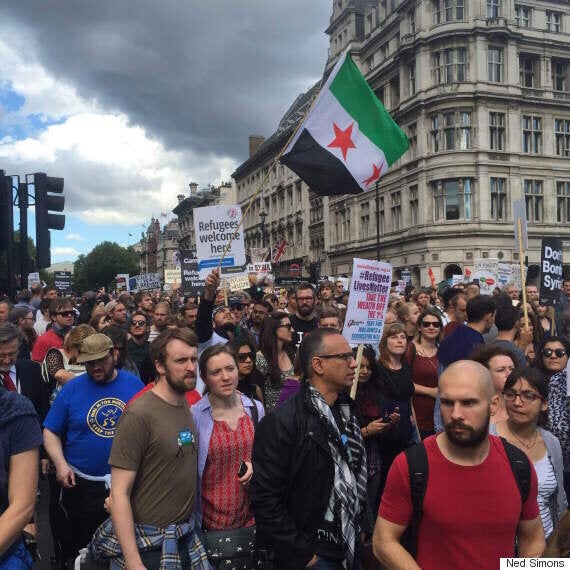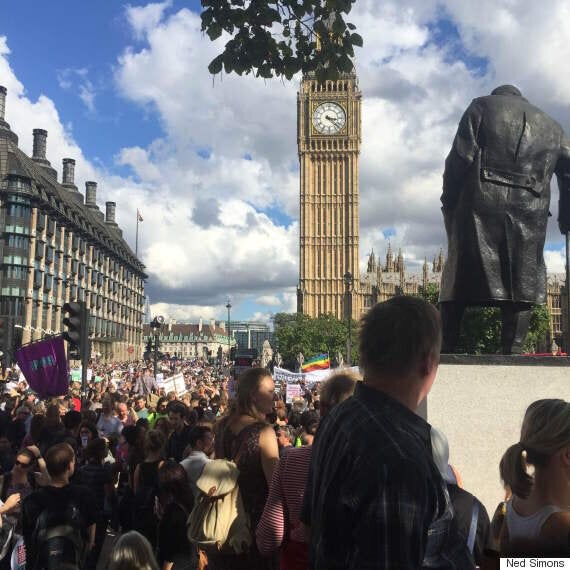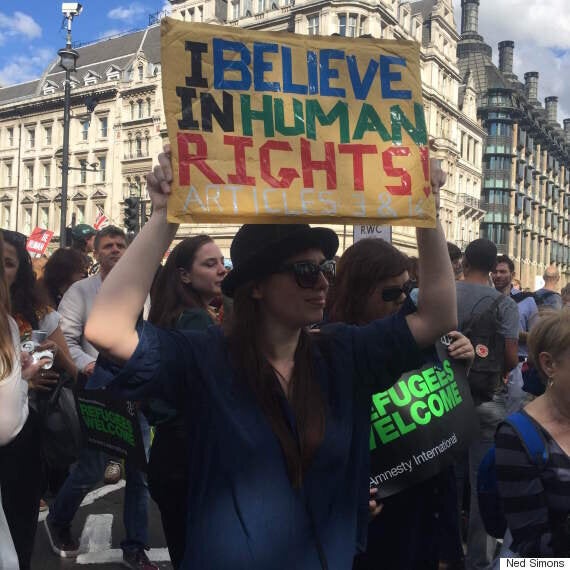 "We will march to show the powerful that we see through the barrage of poisonous, dehumanising rhetoric with which we've been bombarded in recent years," she wrote. "These refugees are not a "swarm", as the Prime Minister labelled them, and they're not "marauding" as they were branded by the Foreign Secretary. They are not, as they have been variously described in the media, an "organised mob", an "unstoppable flood" or "the biggest threat to Europe since the war".
"They are desperate human beings fleeing war, genocide, tyranny and exploitation in the hope of finding a better life for their families. They don't want to take what's ours - just to find somewhere safe. And, to find that safety, they are willing to force themselves into unventilated lorries, cram themselves under car bonnets and risk their lives crossing dangerous waters in flimsy dinghies."
Related