Charlie Brooker has revealed his shock after allegations published in the Daily Mail had strange echoes of a TV plot he wrote in his satirical drama Black Mirror in 2011.
The newspaper published allegations from an unnamed source that a young David Cameron once "put a private part of his anatomy in a dead pig's mouth" as part of a university initiation ritual.
The unsubstantiated claim, from a single source in an explosive book by Tory peer Lord Ashcroft, caused the hashtags #Hameron and #Piggate to swiftly started trending on Twitter.
Journalist and presenter Brooker pointed out that his own Channel 4 dystopian drama Black Mirror carried an eerily similar storyline in its first episode in 2011:
Shit. Turns out Black Mirror is a documentary series.

— Charlie Brooker (@charltonbrooker) September 20, 2015
Black Mirror's first episode, 'The National Anthem', featured a fictional UK Prime Minister who is blackmailed into having sex with a pig live on TV, in an attempt to save a kidnapped princess.
As the allegations in the Mail emerged, Brooker then shared the posted for the first series of Black Mirror, which shows a pig on a dark background with the line "A PM should be prepared to do anything for his country..."
Promo poster for Black Mirror: The National Anthem (2011) pic.twitter.com/BUjplHrSkd

— Charlie Brooker (@charltonbrooker) September 20, 2015
Brooker also began digging through the script of his uncannily prescient programme. He tweeted a scene where a woman browses tweets about the incident, "including the hashtag SNOUTRAGE" and "Jokes about how he's already screwed the country already".
Just been nosing through old Black Mirror files now, of course. pic.twitter.com/6Xhuhby0Gj

— Charlie Brooker (@charltonbrooker) September 20, 2015
And another line from the script - one that didn't predict the future quite so well:
Perhaps the least prescient line from the script. pic.twitter.com/xrXZ3tsaW3

— Charlie Brooker (@charltonbrooker) September 20, 2015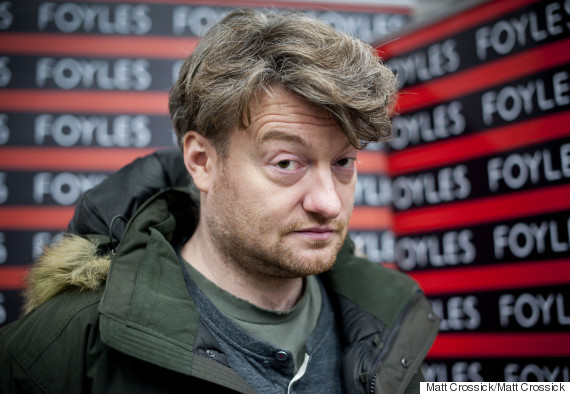 Brooker wrote the fictional show
Brooker also made it clear that he had never heard the allegations about Cameron when thinking up the episode in the first place:
Just to clear it up: nope, I'd never heard anything about Cameron and a pig when coming up with that story. So this weirds me out.

— Charlie Brooker (@charltonbrooker) September 20, 2015
@PaulLewis No!

— Charlie Brooker (@charltonbrooker) September 20, 2015
SEE ALSO:
Brooker's Twitter followers still suspected he had some hidden powers:
@charltonbrooker You're a witch.

— Daniel Maier (@danielmaier) September 20, 2015
@charltonbrooker @tombarfield You KNEW, didn't you? Don't lie.

— Paul McGee (@Paul_McGee) September 20, 2015
@charltonbrooker YOU SORCERER

— Scarlett™ (@ScarletteDrake) September 20, 2015
@charltonbrooker next week's euromillions numbers please.

— Robin Hosking (@robinhosking) September 20, 2015
@robinhosking 02 11 25 31 37 Lucky stars: 06 09

— Charlie Brooker (@charltonbrooker) September 20, 2015
@charltonbrooker charlie just take up a new role as an accurate mystic meg

— Cara Ellison (@caraellison) September 20, 2015
ALSO ON HUFFPOST UK: