Jeremy Corbyn -- or more likely the person who runs his official Twitter account -- has hurriedly undone a favourite of a tweet that unfavourably compared the #PigGate affair with new shadow minister Diane Abbott.
Widespread discussion was sparked after lurid accusations of debauched behaviour on the part of David Cameron were made in a book serialised in the Daily Mail newspaper.
As part of the fervour, a chauvinistic tweet was directed at Corbyn's MP account on the social network.
Twitter user Xyzanic wrote: "Which is worse? F**king a pig or f**king Diane Abbott?"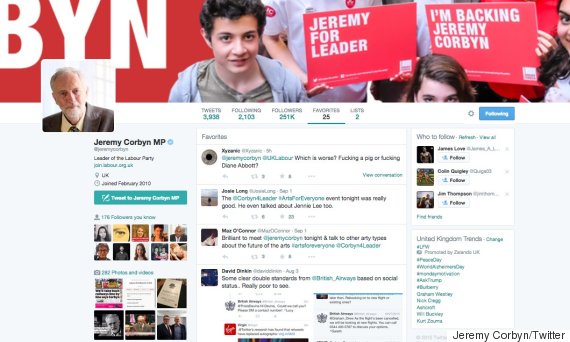 The tweet appeared temporarily at the top of Corbyn's favourites
But rather than ignoring the message -- or reporting it to Twitter -- Corbyn's account appears to have 'favourited' the message by mistake.
The favourite was quickly deleted.
It comes a week after claims that the two shadow cabinet colleagues once had a romantic relationship.
But unfortunately, eagle-eyed people on Twitter soon caught on...
Er..? pic.twitter.com/V2kVxBO52Y

— Marie Le Conte (@youngvulgarian) September 21, 2015
Jeremy Corbyn's favourites make for interesting browsing... pic.twitter.com/nuigqmlpow

— Chas Newkey-Burden (@allthatchas) September 21, 2015
Labour Party leader Jeremy Corbyn has — perhaps unsurprisingly — removed his most recent fav about #PigGate. pic.twitter.com/EvDn9plg4B

— Rob Price (@robaeprice) September 21, 2015
That Corbyn fav too... Politics in 2k15 on twitter dot com is just fascinating.

— Georgie (@eltorgie) September 21, 2015
But we perhaps shouldn't read too much into the slip.
Corbyn appears to have favourited a tweet by himself before...