David Cameron has been accused of incompetence over his handling of military operations and was once told "being in the Combined Cadet Force at Eton" did not qualify him to make decisions, according to the latest claims in Lord Ashcroft's biography.
In a new extract from Call Me Dave, published in the Daily Mail, Cameron was accused of "doing an Iraq" in Libya and rank incompetence over Syria.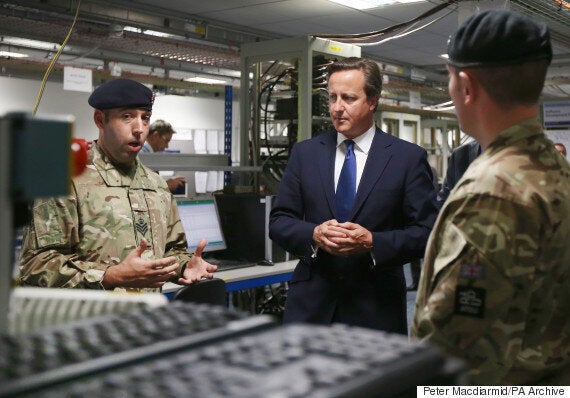 David Cameron, seen above talking to soldiers in Wales in 2014, has been accused of military incompetence
General Sir David Richards is reported as saying that he had to tell Cameron that "being in the Combined Cadet Force at Eton" did not qualify him to decide the tactics of complex military operations.
Cameron, it was reported, was said to often be at war with the chief of the defence staff who disagreed with him strongly on strategy.
Former Tory chairman Michael Ancram, the Mail said, claimed Libya was Cameron's "Iraq" – with the country now more dangerous than when the prime minister decided to topple Colonel Gaddafi.
The book, the Mail reports, reveals astonishment inside the White House at the Government's "incompetence" over the vote in 2013 to take military action against Syrian despot Bashar al-Assad.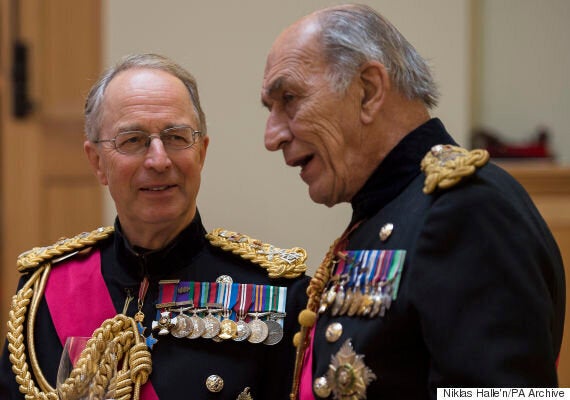 Former Chief of Defence Staff General Sir David Richards, left, now Baron Richards, is claimed to have once told the PM that "being in the Combined Cadet Force at Eton" did not qualify him to decide the tactics of complex military operations
The vote was lost after the prime minister wrongly assumed he had Labour's support.
One Obama administration insider is quoted as saying: "It was one of those astonishing displays of incompetence that sort of leaves you wondering about how, you know, have we all got this far?"
The White House considered they had been "****ed over" on both Libya and Syria, senior sources reportedly told Lord Ashcroft and co-author Isabel Oakeshott.
During repeated clashes over foreign policy, Sir David – now Baron Richards – had to point out that military interventions were more complicated than supporting the "good guys" versus the "bad guys", the Mail reports.
The newspaper says Baron Richard's claims are backed by a former member of the National Security Council - who it does not name - but is quoted as saying of the PM: "His instinct is to support the underdog, without analysing what that really means."
The Mail report says the authors, who interviewed a string of senior White House and US military officials during visits to America, also claim Cameron had a "derring do" plan to take out President Assad. Sources, it reported, said his commando-type operations were simply implausible and "would have been getting everybody into deeper waters".
On Libya, where Cameron led the charge to bring down Gaddafi in 2011, Ancram told the authors the intervention played into the hands of terrorists.
He is quoted as saying: "We now have a country which is ungovernable ... with vast amounts of weapons from Gaddafi's arsenal moved south of the border, arming Boko Haram [extremists in Nigeria]."
Ancram goes on to compare Cameron to former Prime Minister Tony Blair, in "doing an Iraq".
He said: "To claim it was only about protecting citizens in Benghazi, so we're going to bomb the living daylights out of Gaddafi in the south and everyone else, just simply doesn't hold water.
"It makes me think that, rather like Blair, he was determined to change the regime."
Baron Richards, who left the military in 2013, added: "We never really analysed things properly.
"Our instinct is knee-jerk support for the underdog, without doing the analysis that would necessarily legitimise that course of action."
The Prime Minister's office has so far refused to "dignify" claims made in the book with any comment.