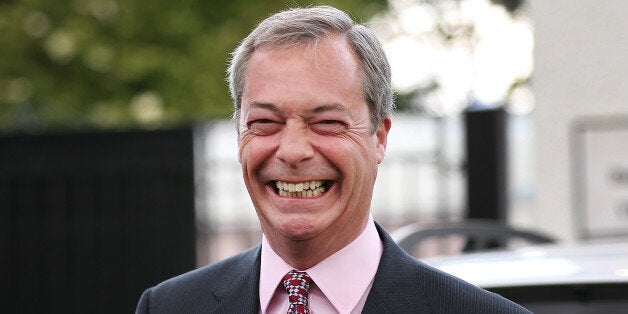 Nigel Farage has used his leaders speech at Ukip's annual Autumn conference to mock David Cameron, referencing salacious tales about the Prime Minister's university antics.
Speaking today, Farage said there were 'three positions' being taken by party leaders in the run up to a 'Remain/Leave' referendum on Britain's membership of the EU; those in favour of staying in, those against, and 'soft Eurosceptics' like Cameron.
The Prime Minister posed as anti-European but would back campaigning to stay despite whatever was achieved in the renegotiation process, Farage claimed.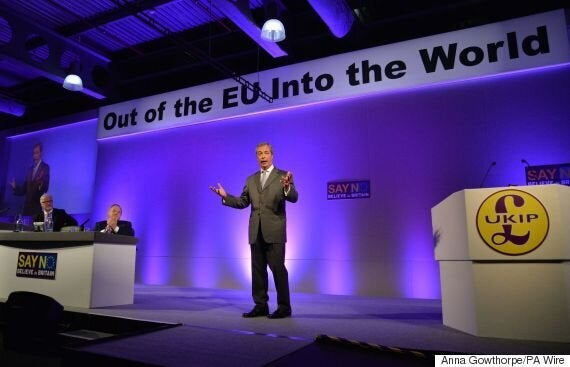 Farage delivering his keynote address at the Doncaster conference
He then deployed the pig joke, saying: "And then we've got the Prime Minister, or should I call him in this context, piggy in the middle."
The jibe reportedly received a mixed reception from conference-goers, but was quickly followed up by Farage with "well, I enjoyed it anyway".
"[Cameron] is not asking for anything substantial at all - nothing, nothing," the Ukip leader claimed. "He isn't asking for us to get back control over open borders and the free movement of people to nearly half a billion."
"He is not asking for us to get back the supremacy of British law in our own parliament and indeed that our own supreme court should be supreme.
"He isn't even asking that our membership fee of £55m a day should be reduced. And he certainly isn't asking for anything that the British public, in a full debate, would want to have."
Farage's speech on Friday also received some attention after he referred to SNP leader and First Minister of Scotland, Nicola Sturgeon, as "that woman north of the border".
Some accused the Ukip leader of making remarks that "resonated with deep sexist contempt".