Jeremy Corbyn has had an awkward relationship with the media, but it seems that some newspapers should be very grateful for his surprise rise to power.
Despite attacking the media in his conference speech, and pulling out of the respected Andrew Marr show, Corbyn's election as leader of the Labour Party fuelled a sales boost for almost every broadsheet newspaper in September.
The one exception was the Daily Telegraph, which has been one of Corbyn's most persistent critics.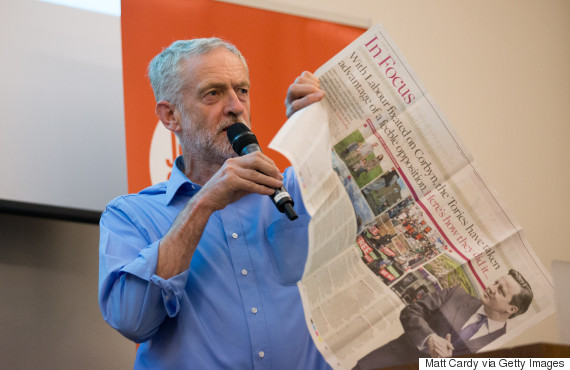 It pays to be kind to Jeremy Corbyn
Against the long-term fall in sales of printed newspapers, the "Corbyn effect" is being credited as one of the reasons for a healthy rise in September publications including The Times and The Guardian.
The Times, Independent, Guardian, i and Financial Times all saw a month-on-month boost in sales during September, which was dominated by Corbyn's election.
"Reader interest in the rise of Corbyn... was one factor that helped all titles in the national quality market, except the Daily Telegraph... boost sales month-on-month in September," writes Mark Sweney in the Guardian.
He added that the 'piggate' allegations about David Cameron - which also took over the media in September - didn't shift many copies at all. It seems the "explosive" book by Lord Ashcroft "failed to provide major sales boosts when it broke late in the month," he writes.
SEE ALSO:
But Peter Preston points out that it was only left-wing newspapers, which have been more positive towards the new leader, that have been "feeling the Corbyn love".
While Corbyn may have prompted a sales boost for the mainly left-leaning broadsheets, the story is far more bleak for the right-wing tabloid press which has been attempting to damage Corbyn by calling him a "left-wing dinosaur" and "potty" peace-lover.
The Sun - a strong supporter of the Conservatives which attacked Corbyn by claiming he wants to "abolish the army" - has lost sales month-on-month, as have other right-leaning tabloids like The Daily Star, Daily Express, the Sun on Sunday and the Daily Star Sunday.
"Was there a 'Corbyn effect' on newspaper sales in September as Labour selected the new special one?" Preston asks in the The Observer. "Not for a Tory-leaning press unleashing salvoes of criticism."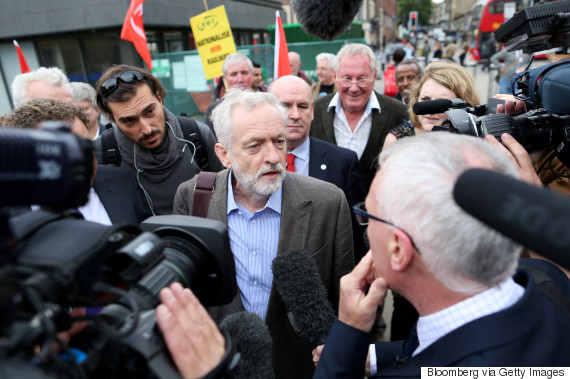 Corbyn has been an outspoken critic of "tabloid journalism"
In terms of year-on-year sales, the Sunday People saw the biggest fall in sales among the national papers in September, while The Times did best - but still lost 1.8% of its circulation.
The Sun is the UK's biggest newspaper, selling over 1.8 million copies per issue on average.
It became apparent within 48 hours of winning the Labour leadership that Jeremy Corbyn does not play by Westminster rules when it comes to handling the media.
Within hours of becoming Labour's new leader, he pulled out of a major planned TV appearance on the Andrew Marr show, instead attending a mental health fundraising event in his constituency.
He also didn't appear on BBC Radio 4's flagship radio programme Today on Monday, despite being invited for an interview.
Rather than celebrating his landslide victory at the results event (and making himself more available for potential conversations with journalists) Corbyn soon vanished from the spotlight and went to speak at a London demonstration in support of the refugees fleeing violence in countries such as Syria.
And after criticism that what some see as the biggest three jobs in his shadow cabinet have all gone to men, Corbyn walked in silence and blanked journalists who repeatedly questioned him and followed him.
He was reportedly heard saying "these people are bothering me" to an aide.
WATCH: Jeremy #Corbyn refuse to answer any questions about the lack of women in senior shadow cabinet positions. pic.twitter.com/cCjkNi9MI5

— Darren McCaffrey (@DMcCaffreySKY) September 14, 2015
The audience who support the new Labour leader are in fact unlikely to use printed newspapers are their main source of news.
A YouGov poll found that 57% of Corbyn supporters use social media as a main source, far above average.
Accordingly, Corbyn's team initially rejected speaking to some of Britain's biggest media sources. Early after his victory, he reportedly refused to give comment to a Sun column writer known to be less than sympathetic to him.
Corbyn also had an on-air argument with Channel 4's Krishnan Guru-Murthy, whom he accused of "tabloid journalism" over the broadcaster's questions about comments Corbyn made in which he described Hamas and Hezbollah as "friends".