A 74-year-old British cancer survivor could die from the 350 lashes he has been sentenced to in Saudi Arabia.
The family of Karl Andree, jailed for 12 months after being caught with illegal alcohol, have called on high-ranking British officials to intervene.
David Cameron is writing to the Saudi government about the "extremely concerning" case, after he was pleaded with to help bring a halt to the pensioner's sentence.
Andree's younger son Simon said of his father: "Until his arrest, he had always been happy working there and felt safe.
"He is 74 years of age, has had cancer three times and his wife is dying in a home in the UK.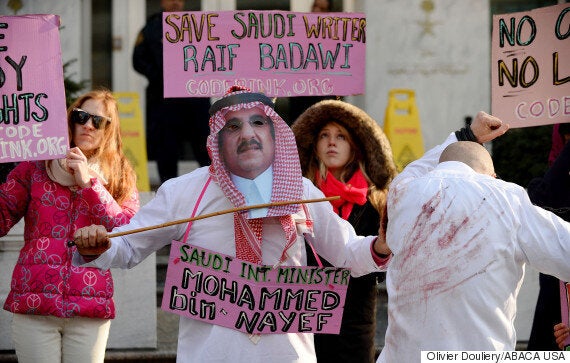 Campaigners protest the persecution of another man sentenced to lashing
Simon continued: "He now needs medical care for his cancer and asthma, and there is no doubt in our mind that 350 lashes will kill him."
Karl, a grandfather-of-seven, has lived in the Middle East for over 25 years, working in the oil industry.
He was arrested in Jeddah in August last year after bottles of hooch were discovered by police, according to The Sun (£).
A Foreign Office spokesperson said: "Our embassy staff are continuing to assist Mr Andree, including regular visits to check on his welfare, and frequent contact with his lawyer and family.
"Ministers and senior officials have raised Mr Andree's case with the Saudi government and we are actively seeking his release as soon as possible."
Popular in the Community