The stepbrother of Becky Watts broke down in tears as he described to police how he planned to "make her more appreciative of life" by kidnapping her, a court heard today.
Nathan Matthews, 28, sobbed as he told detectives he wanted to "scare" the 16-year-old so she would be less selfish.
He held his head in his hands, wept and asked police not to read out his written confession to killing Becky.
In the 11-minute video, Matthews told police he may have got the idea to kidnap the teenager "from TV" and added: "I had a couple of dreams."
He then described how he would tape up Becky's mouth and put her in a suitcase before driving to a wooded area and telling her "not to be a bitch and self-centred".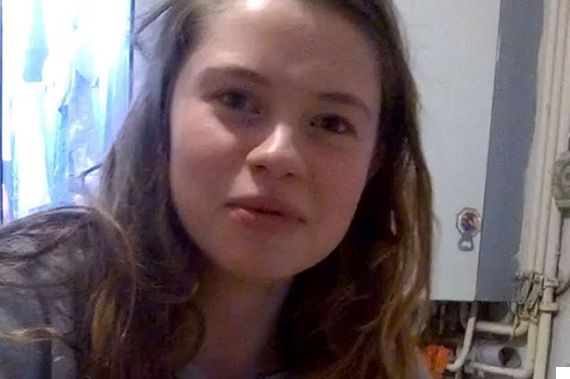 Becky Watts went missing in February. Her body was found in March
The former TA soldier detailed his kidnap plan the day after telling police where they would find Becky's dismembered body in a garden shed 80 metres from his home in Bristol.
Matthews, who admits killing Becky and dismembering her but denies murder, told officers: "Obviously I came up with the idea to scare her to try and basically make her more appreciative of life so she would be more appreciative for other people.
"She would be grateful that she wasn't harmed or anything like that.
"I was thinking of a wooded area but obviously take her back out, obviously still have the mask on and obviously scare her and say something along the lines 'start treating people better and not being a bitch and self-centred' and say 'or it will get worst'."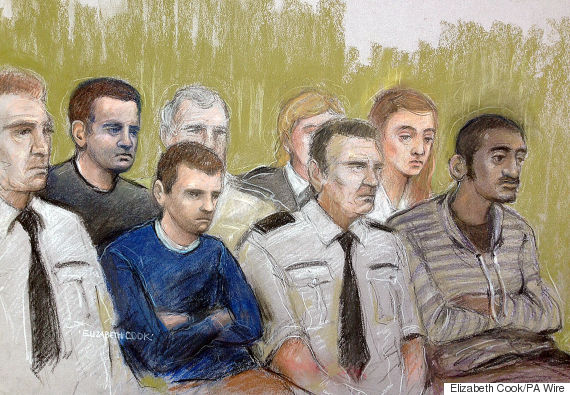 Left to right back row: Matthews, two dock officers, Hoare
In further interviews, Matthews, a Chinese takeaway delivery driver, insisted girlfriend Shauna Hoare, 21, had nothing to do with either killing or dismembering Becky.
In a prepared statement he stated that if Hoare's DNA or fingerprints were found on anything to do with cutting up the teenager there would be an "entirely innocent" explanation.
Matthews also insisted that Hoare would not have heard the attack on Becky at her home in Crown Hill, St George on February 19.
When Hoare was told of her boyfriend's confession to killing and dismembering Becky in their bath she told detectives it was "outrageous" to suggest she knew what he had done.
"I wouldn't stay in that house knowing what he had done," she told police.
"Knowing that he was so normal afterwards – he would make jokes and laugh and to know that he had done something like that, to know that I wasn't even safe with him.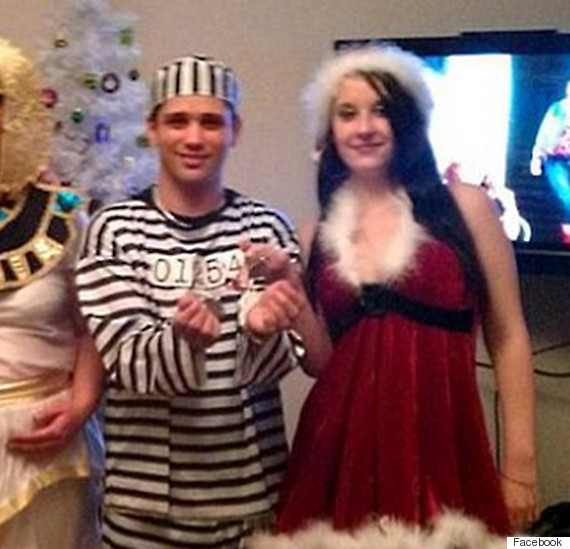 Matthews pictured with girlfriend Hoare at a Christmas fancy dress party
"I was always slightly scared of him. I didn't know him at all. I thought I knew who he was, what he would do and what he wouldn't do.
"Turns out I didn't know him at all. I slept next to him. It makes me feel kind of sick."
Hoare claimed she had not asked Matthews why he was using a power saw in their bathroom or why she was banned from using it for days – being forced to use a bucket as a toilet.
She said that questioning Matthews "could result in him getting violent".
"I suppose I thought it was slightly strange but because our toilet had been blocked quite a few times, and the fact I smelt bleach, I assumed he was telling me the truth," she added.
"I know Nathan could get angry and frustrated but if someone had told me a week ago 'your boyfriend is going to kidnap someone' I would have said that's absolutely ridiculous."
She added: "I am not sure if he has just lost his marbles or if he is completely disturbed."
She alleged that during their six-year relationship Matthews was violent.
"He put his hands around my throat and he wouldn't let go. It must have been around four seconds," Hoare said.
Hoare also described an incident where she claimed Matthews went "completely psycho" and stabbed himself in the face with a fork during an argument as he feared she would leave him.
Matthews, of Hazelbury Drive, Warmley, South Gloucestershire, denies murder and conspiracy to kidnap.
He admits killing Becky, perverting the course of justice, preventing the burial of a corpse and possessing a prohibited weapon.
Hoare, of Cotton Mill Lane, Bristol, denies murder, conspiracy to kidnap, perverting the course of justice, preventing burial of a corpse and possessing a prohibited weapon.
The residents of the Barton Court property, Karl Demetrius, 30, and his partner Jaydene Parsons, 23, admit assisting an offender.
Donovan Demetrius – Karl's twin brother – of Marsh Lane, Bristol, and James Ireland, 23, of Richmond Villas, Avonmouth – a work colleague of Karl's – deny the charge.
SEE ALSO: