Thousands are calling for the Government to intervene to help a British ex-soldier who is facing a jail term of up to five years for trying to smuggle a four-year-old girl out of the Jungle refugee camp in Calais.
Rob Lawrie said he was persuaded by Bahar's father to smuggle the child out of the camp and across the Channel in his van.
The Yorkshire aid volunteer, who was planning on taking the little girl to her relatives in Leeds, was caught at the French border and will appear in January in Boulogne charged with smuggling.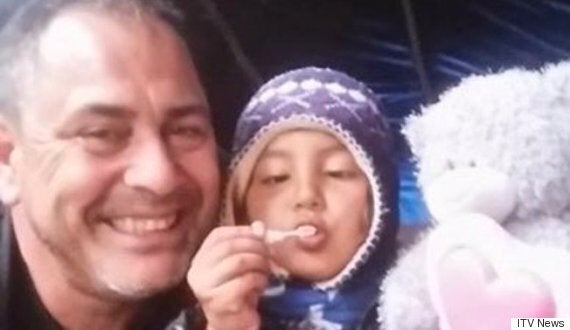 Rob Lawrie tried to smuggle four-year-old Bahar out of Calais
More than 4,700 people have so far signed a petition calling on Foreign Secretary Philip Hammond to intervene.
The petition reads: "Rob shouldn't be treated as a criminal, but as an ordinary man who [was] trying to do the right thing in extraordinary circumstances."
Mr Lawrie admits his crime, saying it was illegal, but added that he was not thinking rationally.
Speaking to ITV News, he said: "What I did was both illegal and very, very stupid. I have got no doubt about that and for that I am truly sorry.
"But when you experience what I have experienced and what they are living through and you realise you are 22 miles from this little girl being in a warm house and a family who love her, the rational thought goes out of your head."
Four-year-old Bahar was living in the Jungle, a refugee camp in Calais, with her father. Her mother is believed to still be in Afghanistan.
Mr Lawrie met the family during one of his trips to Calais, where was delivering clothes and supplies to migrants.
He now faces five years in jail or a fine of up to thirty thousand Euros.
The Refugee Council's Head of Advocacy, Dr Lisa Doyle, said: "It's appalling that across Europe, there are young children struggling to survive between the borders of rich nations.
"The British Government should be doing everything it can to help these vulnerable people, rather than forcing them to desperately take matters into their own hands as they attempt to reunite with their loved ones in safety."
Paul Hook, Advocacy Manager at Refugee Action, said: "Throughout Europe individuals and families are forced to take increasingly desperate risks in search of safety.
"They are fleeing the horrors of war and persecution and they need our help. There is another way, the UK government and European leaders must do more, working together to ensure safer routes for refugees to find protection and rebuild their lives in dignity."
Popular in the Community