A French official has identified the suspected mastermind of the Paris attacks as Belgian Abdelhamid Abaaoud.
The fugitive, 27, is believed to be in Syria and has been implicated in previous terror attacks.
Abaaoud, a child of Moroccan immigrants who grew up in the Belgian capital's multiethnic Molenbeek-Saint-Jean neighbourhood, was identified by French authorities on Monday as the presumed mastermind of the attacks in Paris that killed 129 people and injured hundreds.
He has been linked to the failed attack on a train in August, when a suspected Islamist terrorist opened fire on a high-speed train, travelling from Amsterdam to Paris, only to be subdued by passengers.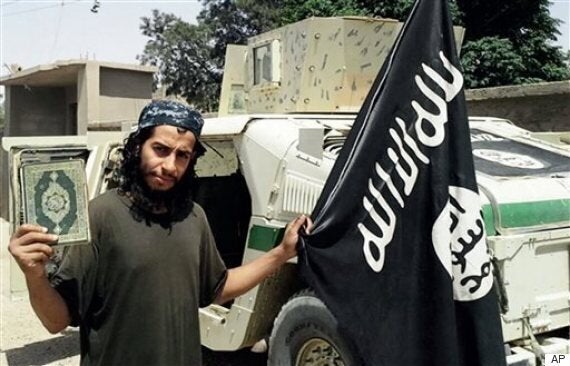 Abaaoud as he appeared in a propaganda magazine
Earlier, The Guardian reported he had been named in French police files alongside Ibrahim Abdeslam, who carried out a suicide attack on the Comptoir Voltaire cafe.
The attack was part of the co-ordinated shootings and bombings in Paris on Friday, the deadliest terror attack in Europe for more than a decade.
In January, it was reported Abaaoud was behind a Jihadi cell in Belgium and eluded arrest after it was dismantled.
Belgian authorities suspect him of also helping organise and finance the cell in the of Verviers. It was broken up in an armed police raid on January 15, in which two of his accomplices, were killed.
Belgian media said Abaaoud had fought with Islamic State, which has already claimed responsibility for the Paris attacks, in Syria and could be seen in one of their propaganda videos.
WHAT WE KNOW SO FAR:

129 dead in co-ordinated shootings and bombings
Seven attackers killed with eight suspect on the run
France bombs Islamic State capital after terror group claims responsibility
Major police operation in Brussels in pursuit of further suspects
Brother of suicide attacker released without charge
Security analysis Charlie Winter told The Independent that Abaaoud fit the template of the type of terrorist who could plan the attack.
He told the paper: "He's exactly the kind of people you would expect to plan something like this...
"You don't go from never trying anything to masterminding an attack involving multiple attackers, multiple targets and multiple weapons."
In February, IS propaganda magazine Dabiq claimed it had an interview with Abaaoud, whom it identified as Abu 'Umar al-Beljiki.
In the magazine, he was quoted saying he had secretly returned to Belgium to lead the terror cell and then escaped to Syria in the aftermath of the raid, despite having his picture broadcast across the news.
"I was even stopped by an officer who contemplated me so as to compare me to the picture, but he let me go, as he did not see the resemblance," Abaaoud said.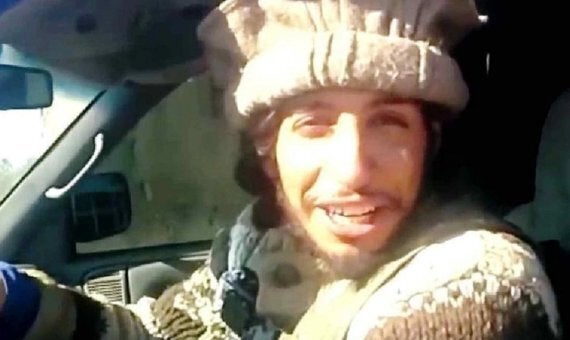 In a video, made public last year, he said: "All my life, I have seen the blood of Muslims flow. I pray that Allah will break the backs of those who oppose him, his soldiers and his admirers, and that he will exterminate them."
Footage recently surfaced of Abaaoud in Syria, loading a pickup truck and a makeshift trailer with a mound of bloodied corpses.
He tells the camera: "Before we towed jet skis, motorcycles, quad bikes, big trailers filled with gifts for vacation in Morocco. Now, thank God, following God's path, we're towing apostates, infidels who are fighting us."
Etienne Huver, one of the two independent journalists who obtained photos and videos of his exploits, told The Associated Press Monday that he had detected signs Abaaoud was moving into a leadership role.
"On the one hand I'm surprised," the journalist said. "On the other hand, I saw that there were beginnings of something . You can see that he's giving orders.
"You can feel a charismatic guy who's going up in the world ... You can see a combatant who's ready to climb the ranks."
Since the Paris attacks, a total of 23 people have been arrested and 31 weapons have been seized. Laptops, hard drives, phones, a rocket launcher have all been seized, French Interior Minister Bernard Cazeneuve has said.
He also said police had conducted 168 raids overnight and 104 people have been placed under house arrest.
On Monday, Mohammed Abdeslam, brother of Brahim, who was killed carrying out the attack, and key suspect Salah, was released without charge after being arrested, his lawyer said.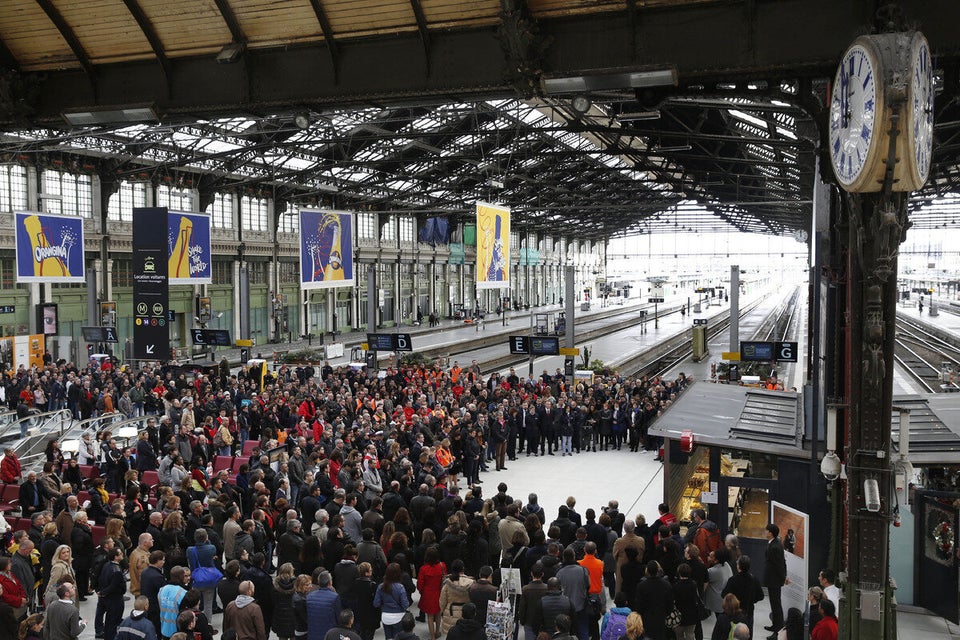 Europe Falls Silent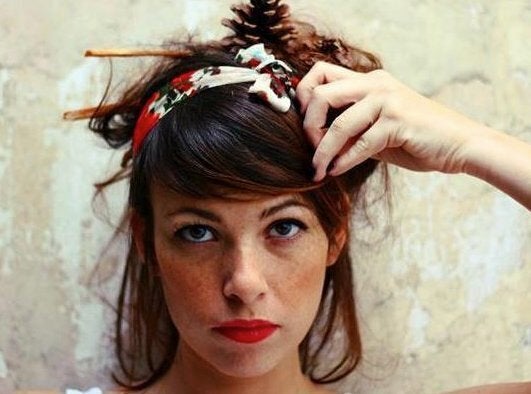 Victims of the Paris attacks named
Popular in the Community