Boris Johnson could be seen trying out a new cycle super highway in London on Thursday morning - but one fellow user was clearly unimpressed.
The cyclist, helmet-less and clad in jeans and red and black cycling jersey, did not seem to be a fan of the new super highway.
He was caught on camera raising his middle finger at the mayor over Vauxhall Bridge - not that Johnson seemed in any way perturbed.
He responded by raising his hand in cheery greeting...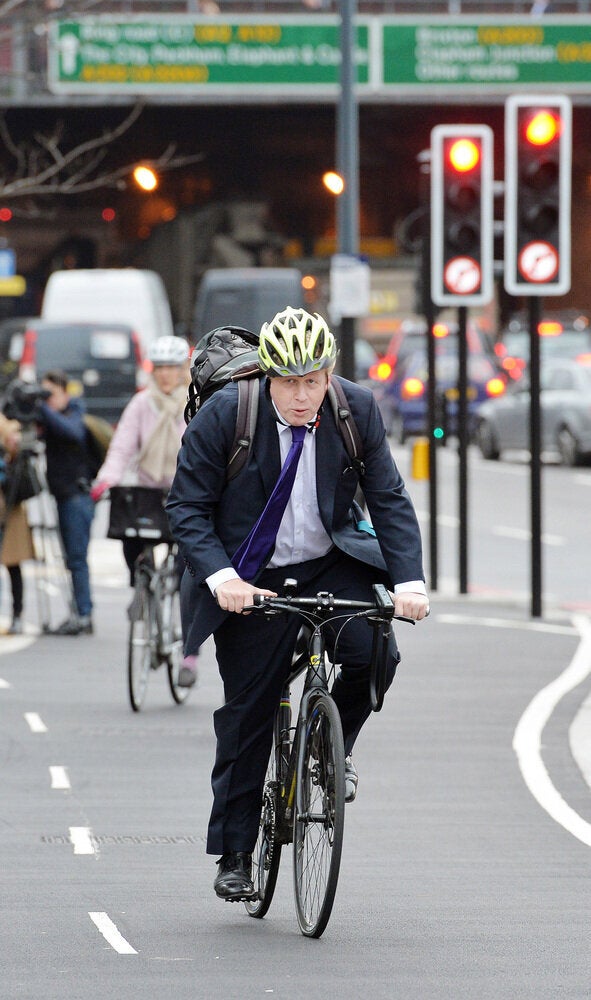 Cyclist Swears At Boris Johnson
You can't help but perhaps feel a little sorry for Johnson, given his enthusiasm for improving cycling in the capital.
He said of his new super highway, which stretches from Oval to Pimlico: "We've brought a bit of Amsterdam to the unlikely environs of Vauxhall - opening up access to huge swathes of south London for safer cycling. I've always believed that more Londoners would cycle if they felt safer, and this new route already proves it.
"The astounding rises in cycling through Vauxhall should lay gently to rest any doubts about the need for my new superhighways, the pent-up demand in London for cycling - and the part my cycle lanes can play in taking other vehicles off our crowded streets.
"With London's population growing by 10,000 a month, there are only two ways to keep traffic moving - build more roads, which is for the most part physically impossible, or encourage the use of vehicles, such as bikes, which better use the space on the roads we've already got."
Further consultations are taking place on other ways to improve safety for cyclists in the area.
Leon Daniels, Transport for London's Managing Director of Surface Transport, said: "Vauxhall is an area which will see tremendous change in the next decade, with the Nine Elms development, the Northern line extension and our wider plans to transform the Vauxhall Gyratory to two-way traffic.
"This new dedicated route through the area is the product of many years hard work by our designers, engineers and contractors. I would also like to thank local people for having borne with us while the work has taken place. This new, direct route will make cycling through the area safer for all."
Related