The likelihood of UK air strikes in Syria is growing after it was suggested that Labour may have a free vote on the issue.
Leader Jeremy Corbyn has previously hinted he would whip Labour MPs to vote against military strikes rather than giving them a free vote.
Speaking on Sunday morning, McDonnell indicated he thought Labour MPs should be free to vote how they wanted.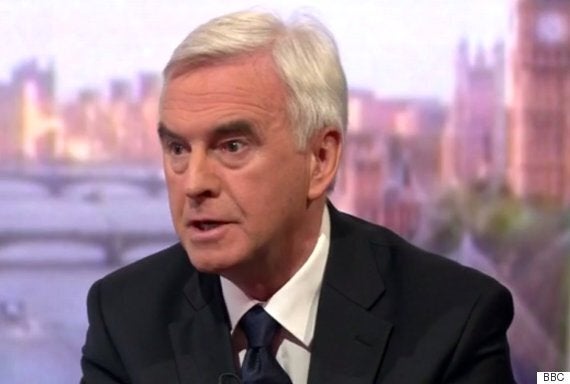 John McDonnell said that Labour MPs should be allowed to vote freely
He said: "My view has always been that I think parliament should act as parliament not on a party political basis and we should arrive at view that is the best interests of the country."
"This is the most serious thing you can do because you are affecting peoples lives and people can lose their lives."
Corbyn has warned against "external intervention", instead urging efforts to find a diplomatic solution to Syria's civil war.
UK air strikes on Syria could take place in a matter of weeks if the Prime Minister gets the backing he needs, it has been reported.
David Cameron is expected to outline his plan for defeating Islamic State (IS) to MPs this week as he seeks support from Parliament, the Press Association reported.
He will unveil a seven-point plan in a paper to be published at the end of the week which will include a blueprint for Syria's future, according to the Sunday Times.
Military action in Syria grew a step closer following approval by the United Nations Security Council for plans to redouble its efforts to prevent further attacks from extremists.
The UN security council backed a French-sponsored resolution designed "to combat by all means this unprecedented threat", saying the so-called Islamic State terror group "constitutes a global and unprecedented threat to international peace and security".
It was hailed as an "important moment" by Cameron who said the vote "shows beyond doubt the breadth of international support for doing more in Syria and for decisive action to eradicate" IS (also known as Isis, Isil or Daesh), which he described as "this evil death cult".
Popular in the Community