Britain First, the far-right hate group, has issued its response to the apparent terror attack in east London on Saturday, describing those supporting the #YouAintNoMuslimBruv hashtag as "panicked leftwing morons".
The post on Britain First's Facebook page
Video taken as the attacker was arrested by police shows commuters shouting at the man, with one as-yet-unidentified person saying: "You aint no Muslim, Bruv. You aint no Muslim."
But in an effort to ridicule the trend, Britain First wrote: "Leftists and liberals care only about insulating their favourite pet, Islam, from more righteous hostility.
"The hashtag '#YouAintNoMuslimBruv' has been blasted around by panicked leftwing morons on Twitter.
"Here is a more suitable alternative: #HeWasMuslimBruv."
Yet the religion of the attacker is not known.
People took to the group's own widely-followed Facebook page to denounce their attempts to exploit the attack.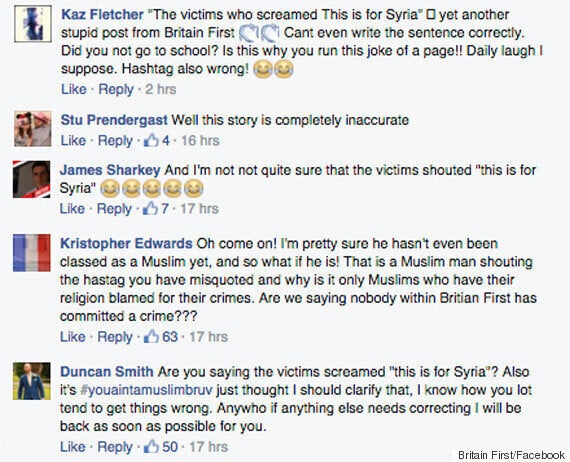 And in a further embarrassment for the quasi-political group, their Facebook update said that it was witnesses of the attack who shouted "this is for Syria," despite reports to the contrary.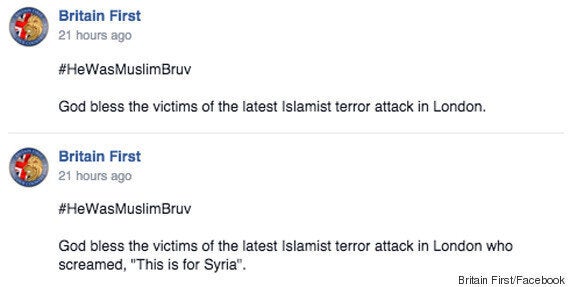 Britain First mistakenly attributed the attackers reported words to witnesses
Over the weekend, it was reported that local Muslim leaders had denied the alleged attacker was a member of their congregations.

Britain First Reacts To Islamic Burial Ground
Popular in the Community