The union representing London's black cab drivers has been forced to delete "inflammatory" tweets that adapted #YouAintNoMuslimBruv to attack taxi rivals Uber.
The Licensed Taxi Drivers' Association's (LTDA) account tweeted #HeWasAnUberDriverBruv after Muhaydin Mire, who is charged with the attempted murder of a 56-year-old man at Leytonstone Underground Station on Saturday evening, was alleged to have previously been an Uber driver.

One of two of the now-deleted tweets sent by the account with the hashtag
Steve McNamara, the LTDA's general secretary, told The Huffington Post UK the Twitter feed was a "members' feed" that several people could post to, including cab drivers.
He said the feed was being "tidied up" as some things that were "a little bit inflammatory" were posted.
When asked whether the hashtag was appropriate to tweet, he said: "I think the fact we've deleted it tells you everything you need to know."
"When we get stuff that's not particularly appropriate, it's dealt with accordingly," he said.
The tweet backfired with an understandably poor reception.
Tensions between Uber and London's black cab drivers have been high since the mobile app came to the capital, with the LTDA protesting what they say is lax vetting and checks, compared with the years their members spend learning London's streets.
McNamara added: "The reality is he was [an Uber driver]. There's no doubt he was driving until very recently."
Uber declined to comment on the LTDA tweet specifically. In a statement, Tom Elvidge, general manager of Uber in London, said: "We're appalled by this terrible attack and our hearts go out to the victims.
"Muhaydin Mire was a private hire driver who was licensed by Transport for London. He started driving on the Uber platform in June 2015 and has not taken a trip since August.
"Many private hire drivers in the capital are from ethnic minorities. It's important that the despicable actions of one person are not used to tarnish the reputation of entire communities."
Mire's family have described him as a "good boy", but said he had "mental problems" possibly partly caused by cannabis.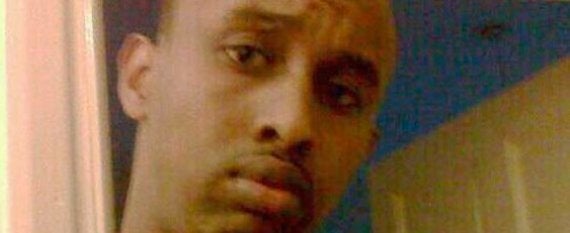 Muhaydin Mire has been charged with attempted murder
He added Muhaydin Mire "came out (of hospital) and got straight on with his life, got a bit better", but said problems resurfaced in August this year.
He said his brother started "talking funny", adding: "Speak like jumbling around, talking nonsense. So, all night talking he's seen demons and stuff."
McNamara said there was "great concern" about how someone with mental health problems could be a licensed minicab driver.