Donald Trump today released a bizarre report from his doctor, hoping to buff up his presidential-credentials with testimony that he would be "the healthiest individual ever elected to the presidency".
In a strange bid to bolster his strong showing among the field of Republicans vying for nomination, Trump posted the letter from his doctor of 35 years, Jacob Bornstein, on Facebook -- claiming that "his physical strength and stamina are extraordinary."
The document went on to note that Trump had no history of ever using alcohol or tobacco products" to back up the claim.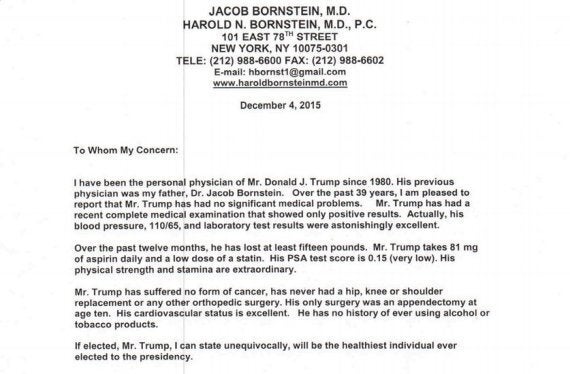 The letter released by Trump on Monday
But those revelations have seemingly done little to improve the former 'Apprentice' frontman's standing, as they were immediately mocked.
Hundreds first denounced the claims Trump had promoted on his drinking history.
Others pointed to the exclusion of any mention of Trump's deferment from active service during his time in the US Army.
He suffered from bone spurs in both heels, which was the defence Trump gave when asked why he side-stepped military service during the Vietnam War, but that history was not mentioned by Dr Bornstein.
While yet more people derided the claim that Trump would top the physical fitness of any of his would-be predecessors.
Trump has tried to promote himself as an outsider figure among a field of fellow Republican presidential-hopefuls whom he described as being "politically correct" and in the pocket of lobbyists.
His outspoken nature and alleged Islamophobia has earned him significant criticism, several prominent political figures in the UK included, from the likes of David Cameron, the SNP and Boris Johnson.