The far-right British National Party has used its 2015 Christmas card to portray David Cameron as "crucifying white British children," by leaving them "homeless, hungry and cold."
The card takes aim at the prime minister in an effort to provoke anger at what the BNP claims to be the "sacrifice" of peace and goodwill "on the altar of political correctness".
It also lambasts the arrival of refugees into Britain, claiming they are "lavished" with housing and benefits not available to Brits without a home.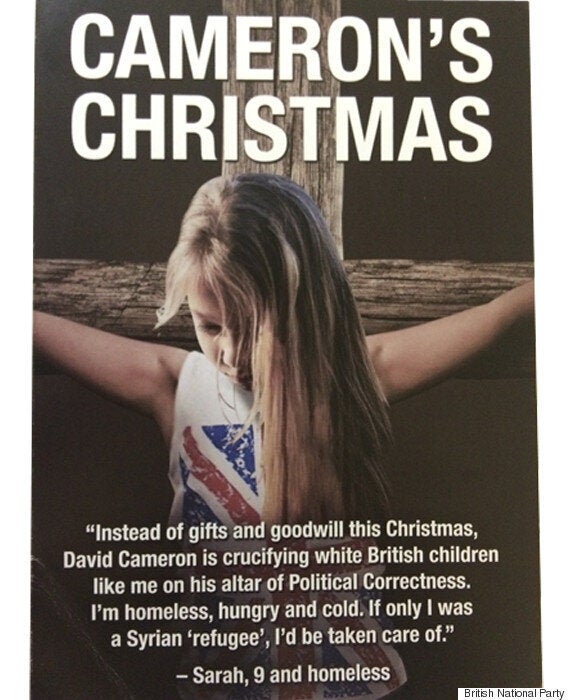 The card plays on Crucifixion to portray the plight of white British children
Encouraging supporters to "trust the BNP," the card outlines the party's policies for the coming year - to stop immigration, to get Britain out of the EU, and to bring troops home from foreign wars.
"We are compassionate and generous people," BNP chairman Adam Walker writes, "Giving aid to others while British people suffer is fundamentally wrong.
"The BNP puts British people first every time because charity begins at home. This Christmas our thoughts go out to all those betrayed by Cameron's government."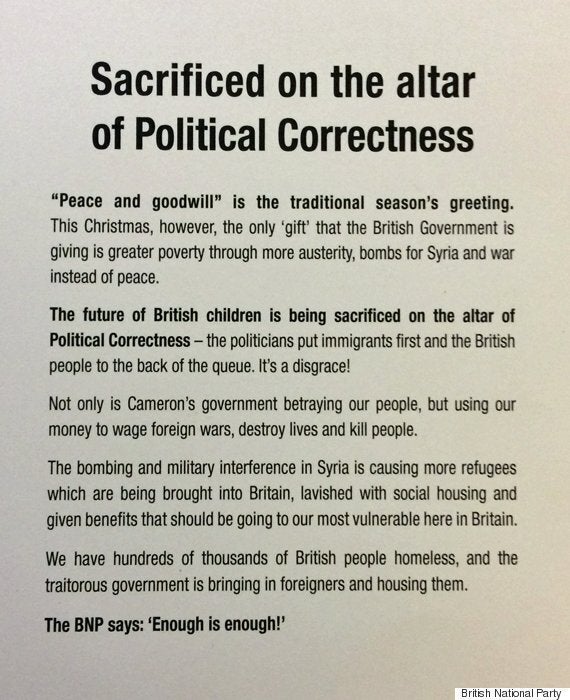 Absence of Christmas cheer: the card's main message
And inside the card, the party's main Christmas message presents a stark contrast to usual messages of festive cheer.
"Peace and goodwill" is the traditional season's greeting. This Christmas, however, the only 'gift' that the British Government is giving is greater poverty through more austerity, bombs for Syria and war instead of peace.

The future of British children is (sic) being sacrificed on the altar of political correctness - the politicians put immigrants first and the British people to the back of queue. It's a disgrace!

Not only is Cameron's government betraying our people, but using our money to wage foreign wars, destroy lives and kill people.

The bombing and military interference in Syria is causing more refugees, which are being brought into Britain, lavished with social housing and given benefits that should be going to our most vulnerable here in Britain.

We have hundreds of thousands of British people homeless, and the traitorous government is bringing in foreigners and housing them.

The BNP says: "Enough is enough!"
Challenged as to whether the card truly reflected the festive season's spirit of peace and goodwill, a BNP spokesperson told HuffPost UK that he saw no problem.
London party organiser Stephen Squire said: "Yes it does (reflect peace and goodwill). Our people are being forgotten.
"All we hear is us giving foreign aid, this highlights the plight of our own people."
Popular in the Community