The card calls on supporters to help save Christmas from being "ruthlessly dismantled" by politically correct authorities who are replacing images of Jesus, Mary and Joseph with penguins and polar bears "to appease Muslims".
Under a union flag shaped like a heart, the card also wishes recipients a "white Christmas" - a slogan which was viewed as potentially racist when it appeared on its card last year.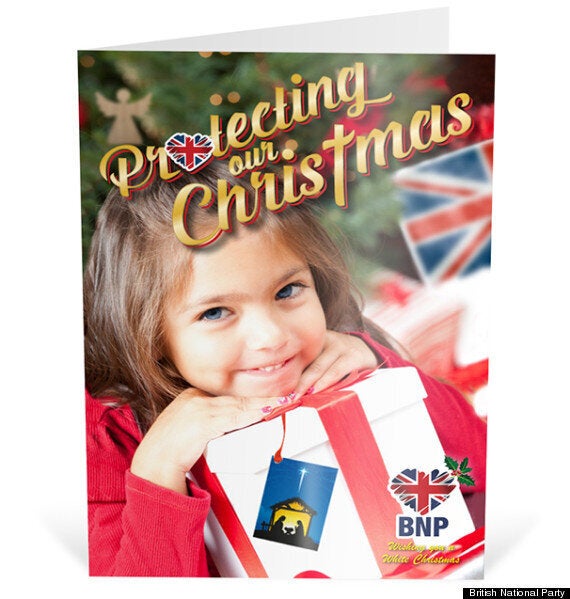 The BNP's Christmas card wishes readers a "white Christmas"
"We've all heard of 'Winterval,'" the card's battle cry continues, "it's the Politically Correct replacement of our traditional Christmas – an engineered replacement complete with polar bears, penguins, and snowflakes to eradicate our traditional nativity scenes, with baby Jesus, Joseph, Mary, and the Three Wise Kings all to be airbrushed out."
The card features a young girl holding a present with a nativity scene on its wrapping.
Its reverse side shows a quote from Enoch Powell, the British politician whose controversial anti-immigaration 'rivers of blood' speech in the 1960s was followed by his dismissal as shadow defence secretary.
An email newsletter sent to BNP supporters signed by Charlie Wythe, the BNP Head of Publicity, said: "It's a calculated and vicious attack on our culture and an attempt to destroy our British identity. Don't let them win!"
The newsletter asks for donations to help give the Christmas card to more people and "recruit them to join us in Protecting our Christmas."
The card adds in a final festive flourish: "This is not just a fight to save Christmas it's the battle for the very survival of our British nation and for the future of our children."
Related