A 900-pound elephant seal has been tranquilised and returned to the wild after blocking traffic on a California highway for two days.
The animal attempted to cross the busy Highway 37 in Sonoma County several times over the 48-hour period, before being brought under control by veterinary experts.
At least 12 people were required to load the unconscious animal onto a tarp and then bring it to a waiting truck.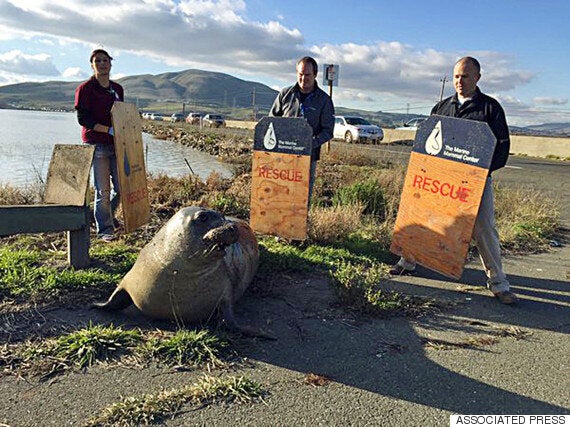 "Tolay" with her rescuers
Before the seal was tranquilised, a rescue worker in a kayak used a bullhorn to yell at the animal and try to scare it back into open water, but that effort failed.
The Marine Mammal Center and the San Pablo Bay National Marine Sanctuary first dispatched rescue teams on Monday after receiving reports of a seal blocking state Route 37.
Officials said they have no idea why the seal, named "Tolay" by the rescue crews after the inlet she showed up in, was so determined to get away from the bay.
"There's no water or food on the other side of 37, and we checked all along the freeway for anything she might be looking for. There's nothing," said California Highway Patrol Officer Andrew Barclay.
Barbie Halaska, a research assistant at the mammal center, said the wandering seal appeared healthy and fit, and experts think she might be pregnant.
"She's a beautiful animal who appears to be in perfect health," Halaska said.
Popular in the Community