The publication's tribute to its fallen colleagues features a bearded man who appears to represent God with a Kalashnikov rifle slung over his shoulder. He is accompanied by the text: "One year on: the assassin is still out there."
One million copies of the issue have been printed and were available in newsagents from Wednesday, with tens of thousands having been sent to be sold overseas - including in the UK.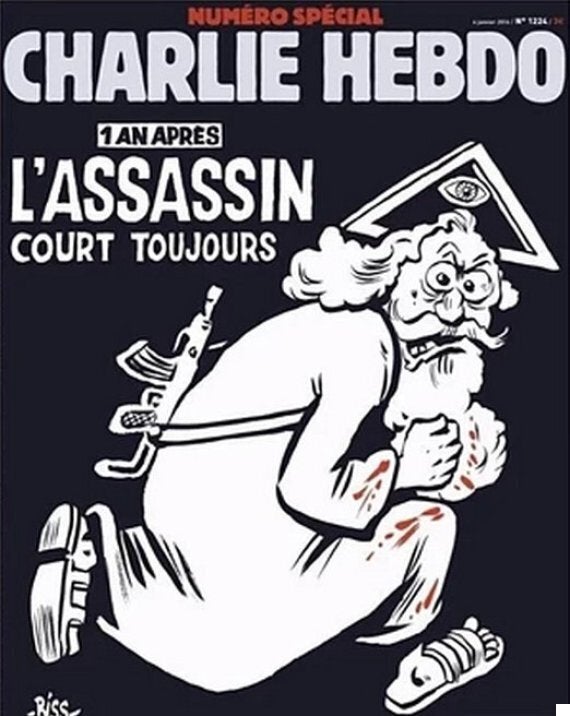 The five artists killed in last January's attacks have their work featured in this week's anniversary issue, marking 12 months to the day brothers since Chérif and Saïd Kouachi's slaughter.
New publishing director Laurent Sourisseau, who was present at the meeting that saw eight of his colleagues slayed and was seriously wounded himself, also penned a stinging editorial in defence of secularism.
His comment piece ridicules "fanatics brutalised by the Koran" as well as figures from other faiths who hoped the magazine would cease publishing for "daring to laugh at the religious".
A record-breaking 7.5 million copies of its first issue printed just a week after the magazine mourned its staff loses were sold.
Some staff have spoken out about how they feel 12 months on, with the magazine's financial director, Eric Portheault, saying he felt "alone" in the pursuit of religious and political satire.
"We feel terribly alone. We hoped that others would do satire too," he told AFP on Monday.
"No one wants to join us in this fight because it's dangerous. You can die doing it."
Related