It seems no one wants to "save" the English Defence League - but despite seemingly dwindling public support, an anti-extremism group believes the group will be around for a "long time" yet.
In December the organisation elected a new leader after a two-year hiatus, and in doing so announced members needed to help fundraise to keep him from being jailed over a "truumped up" (sic) violence charge.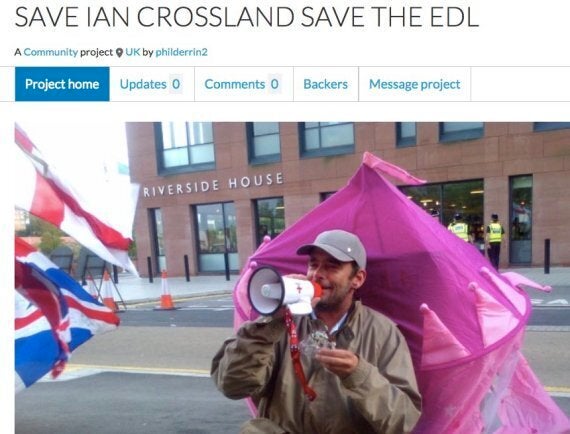 Ian Crossman, who is also known as Phil Derrin, was elected the new leader of the English Defence League but attempts to raise money for his legal defence have failed
Announcing the "unanimous" decision, the EDL informed members that it now needed to raise £5,000 - to "save Ian, save the EDL" - to ensure Crossman does not get "incarcerated" when he appears in court in January 2016.
A crowdfunder page was then launched to raise the funds, but it has since closed without receiving a single donation.
The group has also been fighting a losing battle on social media. Last year their Facebook page was seemingly hacked and became a feed for viral stories from a website called phillet.com. Posts on Friday included: 'Meet the hottest girl on Instagram' and 'What your kissing style says about your relationship'. The page has over 270,000 Likes.
The group's new page, however, has just one.
A note on the page from Chairman Alan Spence, from December 16, reads: "This page has been verified by Facebook. It is the official page for the English Defence League. Any other pages claiming to be English Defence League are fake and/or not run by EDL Leadership. If you are in any doubt as to the authenticity of any regional or divisional pages claiming to be English Defence League, please inbox this page with a link and we will confirm whether or not it is genuine."
The page is not in fact verified by Facebook.
Matthew Collins, the director of research at Hope Not Hate, believes the public have not seen the last of the EDL.
He said: "Like the National Front, the EDL will probably continue for a very long time, no matter how irrelveant it becomes. There are enough people in the EDL who hate Stephen Lennon [Tommy Robinson] and will not want to join their friends in Pegida UK."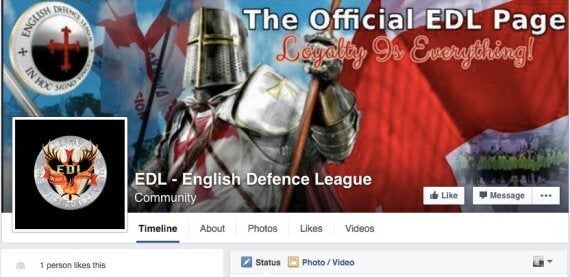 The English Defence League have started a new Facebook account, but have only gained one Like
According to campaign group Hope Not Hate, the EDL elected Crossman after its former chairman, Steve Eddowes, left to join Robinson at Pegida. Eddowes - who was said not to have been the EDL's official "leader" - was Robinson's former bodyguard when he led the group.
Hope Not Hate reported that the EDL had "moved swiftly to try and fight off the surge in support" for Pegida UK, who are the driving force behind a synchronised Europe-wide march on February 6.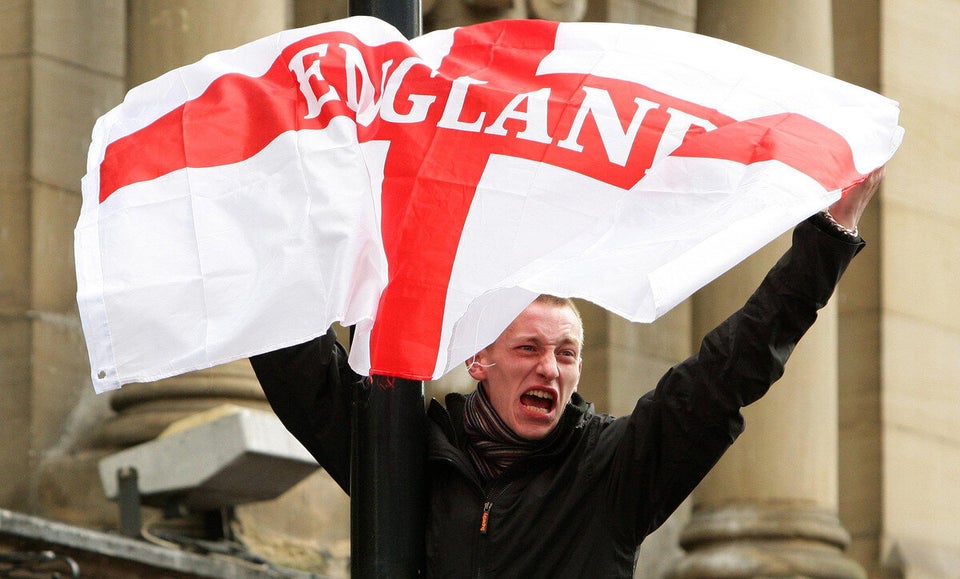 The English Defence League
Hope Not Hate opined: "What Crossland's appointment will do is perhaps bring the EDL further into the camp of hard line neo-nazis, the likes of who are currently lining up to congratulate him on his appointment.
"It will not go down well with the rest of what remains of the EDL in the south, however, where grudges are long held against him."
Related