Tommy Robinson has been charged with assault just two days after announcing Pegida UK's new leadership in what he has labelled a "blatant" attempt by police to disrupt his plans to hold a Europe-wide march against Islam next month.
On Monday, in Toddington, Bedfordshire, Robinson announced that former British Freedom Party member and Liberty GB chairman Paul Weston was to lead Pegida UK. He is being supported by Ukip candidate and chairwoman of Sharia Watch UK, Anne Marie Waters, who last year tried to hold a draw Mohammed competition in London.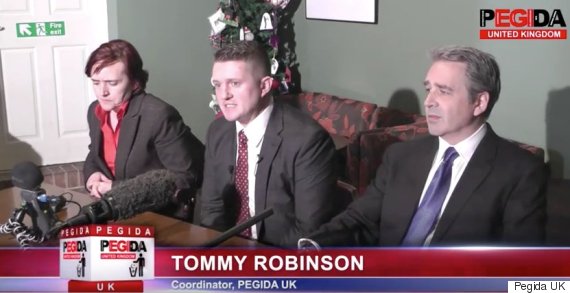 Tommy Robinson speaks at the Pegida leadership announcement alongside the new leaders Paul Weston and Anne Marie Waters
Robinson, 33, on Wednesday tweeted that he had been told to hand himself in on charges that were first raised in August. The charges related to a fight he had in HMP Peterborough on July 16, 2015 while on prison recall. He had been recalled for breaching conditions relating to his release over a mortgage fraud he was jailed for in January 2014.
After being released from prison Robinson told the Huffington Post UK that prison authorities had put him on a "wing full of Muslims", and that a hit was put out on him.
Robinson, real name Stephen Yaxley-Lennon, claimed to have got in a fight with another inmate he suspected was going to attack him. He was released from prison on July 24, 2015 and at that time prison authorities decided not to pursue the matter.
However, a month later Robinson was arrested and interviewed over the prison assault, but no charges were laid.
A Cambridgeshire Constabulary spokesman on Wednesday confirmed Robinson's arrest saying: "A 33-year-old man from Wilstead was arrested on suspicion of common assault in August, and is due to return to Luton Police Station on 12 January."
Robinson could not be reached for comment on Wednesday but his twitter posts about his arrest included a YouTube recording of his police interview over the prison fight, which he said his arrest related to.
Of the charges and their timing, Robinson tweeted at Bedfordshire police, "embarrassing how blatant this is". He went on to say the timing was "no coincidence" and pledged to still attend the march on February 6. At least 12 European countries are said to be involved with the simultaneous action marching under a single banner: "Save our Country. Save our Culture. Save Our Future." The UK rally is in Birmingham, which Robinson has called the "terrorist epicenter of Britain".
Of his latest arrest Robinson tweeted: "The state persecution continues."
The fact this latest arrest comes days after this announcement https://t.co/BXQMSgGarE is no coincidence. I WILL bE IN BIRMINGHAM ON FEB 6TH

— Tommy Robinson (@TRobinsonNewEra) January 6, 2016
Listen to my police interview https://t.co/bd5HYGwiq9 .Police had dropped this case until our press release #Pegida now I'm being charged

— Tommy Robinson (@TRobinsonNewEra) January 6, 2016
How can you drop the case & then months later decide to come back & charge me @bedspolice it's embarrassing how blatant this is

— Tommy Robinson (@TRobinsonNewEra) January 6, 2016
The state persecution continues.Police have contacted me telling me I have 2 hand myself in 2 face charges.I'll make video of details later

— Tommy Robinson (@TRobinsonNewEra) January 6, 2016
Robinson announced last month that former Afghanistan army veteran Tim Scott was to front Pegida UK but just days after being interviewed on Channel 4 Scott resigned. Robinson has taken on a coordinator role with the group that formed in Germany.
Weston stood as a candidate for Liberty GB in the 2015 general election but came last in the Luton South constituency, receiving just 156 votes. Waters, Ukip parliamentary candidate for Lewisham East, also failed to win a seat in the election.
Hope not hate mockingly wrote on Monday about Yaxley-Lennon's "big battle" to find a Pegida UK leader that would take orders from him but could still "at least manage a coherent sentence or two of their own should they be left to their own devices for a minute".
SEE ALSO