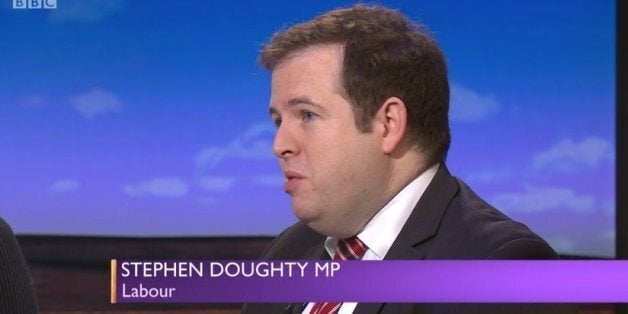 The BBC has been forced to defend itself after receiving an onslaught of criticism for broadcasting an MP's resignation from Labour's frontbench on live television.
Journalists from publications across the political divide united to defend Laura Kuenssberg, the BBC reporter who approached Doughty to ask if he would step down from the frontbench on the 'Daily Politics' - minutes before Prime Minister's Questions.
The BBC responded to complaints in a statement issued late on Thursday night.
"The shadow cabinet reshuffle was a major story this week and many MPs from all camps had strong opinions which were fairly reflected across BBC output," it said in a message posted on Twitter.
"Stephen Doughty had already decided to resign and willingly chose to make his announcement on the programme."
Many Corbyn supporters had inundated the BBC on Twitter with allegations of presiding over a political "scandal", while one blog shared thousands of times on social media claimed Kuenssberg helped "actively assist disgruntled shadow cabinet members' attempt[s] to inflict maximum damage upon their party leader".
But journalists quickly piled in to rubbish the claims, defending the BBC's new political editor and explaining her motivation to convince Doughty to resign on air had been to "report it first" -- not for political impact.
Labour MP John Tricket, shadow communities secretary and a close ally of Corbyn, waded into the debate too - accusing the BBC of deliberately arranging to announce news of Doughty's resignation just moments before PMQs.
But attempting to set the record straight himself, Doughty explained how events unfolded prior to the much-discussed resignation.
He ended with a tongue-in-cheek epilogue, mocking the accusations of bias levied at Kuessnberg.
The explanation came as it was revealed the BBC also deleted a blog on its website penned by the output editor for 'Daily Politics', Andrew Alexander, detailing his version of events that led to Doughty's resignation.
"Although he himself would probably acknowledge he isn't a household name, we knew his resignation just before PMQs would be a dramatic moment with big political impact," Alexander wrote.
But that too enflamed the tempers of BBC critics.
Doughty resigned in protest at the treatment of his fellow Labour MP and former shadow minister Pat McFadden, who was ousted from the Europe brief late on Tuesday night.
"When an individual like that has been singled out for a sacking for words that I completely agree with I think it's only the honourable thing for me to do tender my resignation," he said.