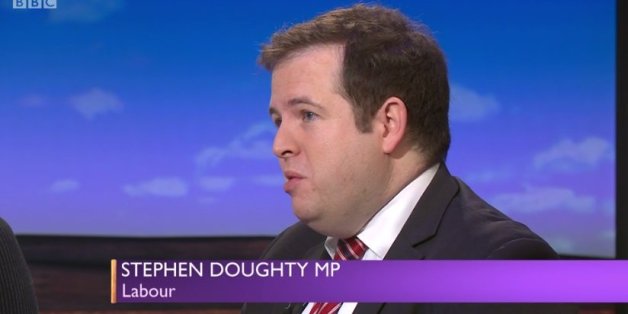 BBC
The BBC has been forced to defend itself after receiving an onslaught of criticism for broadcasting an MP's resignation from Labour's frontbench on live television.
The Corporation's interview with now ex-shadow foreign minister Stephen Doughty shocked Westminster on Wednesday, but sparked a backlash, including from supporters of Jeremy Corbyn, who said the move was deliberately designed to inflict "maximum damage" on the Labour leader.
Journalists from publications across the political divide united to defend Laura Kuenssberg, the BBC reporter who approached Doughty to ask if he would step down from the frontbench on the 'Daily Politics' - minutes before Prime Minister's Questions.
The BBC responded to complaints in a statement issued late on Thursday night.
"The shadow cabinet reshuffle was a major story this week and many MPs from all camps had strong opinions which were fairly reflected across BBC output," it said in a message posted on Twitter.
"Stephen Doughty had already decided to resign and willingly chose to make his announcement on the programme."
On Stephen Doughty's resignation on Daily Politics: pic.twitter.com/9i0iR1sqKK

— BBC News Press Team (@BBCNewsPR) January 7, 2016
Many Corbyn supporters had inundated the BBC on Twitter with allegations of presiding over a political "scandal", while one blog shared thousands of times on social media claimed Kuenssberg helped "actively assist disgruntled shadow cabinet members' attempt[s] to inflict maximum damage upon their party leader".
Wow............ smoking gun as far as BBC bias goes.... this is a scandal https://t.co/gOHVKT5j7P

— Éoin (@LabourEoin) January 7, 2016
This goes way beyond journalistic scoop, this celebrates BBC wanting to 'have an impact' on the course of politics! https://t.co/p7RXolaTVt

— Kathy Evans CEO/CE (@Kathy_CEO_CE) January 7, 2016
@bbclaurak Creepy and manipulative. Could you resign live on air? BBC credibility and non bias down the pan. https://t.co/0AVihoZwEn

— Dave Kendall (@DaveRustybaby) January 7, 2016
But journalists quickly piled in to rubbish the claims, defending the BBC's new political editor and explaining her motivation to convince Doughty to resign on air had been to "report it first" -- not for political impact.
@the_awakend@bbclaurak it wasn't done to damage one party or damage JC. It was done *to report it first* with maximum impact.

— Paul Waugh (@paulwaugh) January 7, 2016
"Would you like to say what you're already planning to say on our outlet?" "Yes." That is bias. Towards getting stories. Making the news.

— Isabel Hardman (@IsabelHardman) January 7, 2016
Of all the pointless rows on Twitter lately, the One about @bbclaurak & the Doughty resignation is the epitome of pointlessness.

— Gaby Hinsliff (@gabyhinsliff) January 7, 2016
I wish Doughty had resigned in @Independent, but we got scooped by @bbclaurak@daily_politics. The end.

— amol rajan (@amolrajan) January 7, 2016
What do people think Laura K should have said? 'Well if I were you I'd have a long think and then maybe write a private letter'?

— Sean Kemp (@Sean_Kemp) January 7, 2016
Journalist secures scoop for her employer. Disgruntled politician gets to publicly annoy his boss. Simple. https://t.co/UhOKil1GAy

— SimonNRicketts (@SimonNRicketts) January 7, 2016
The complaints about the BBC over Stephen Doughty's resignation may constitute the greatest outbreak of mass thickness in Twitter history

— Michael Deacon (@MichaelPDeacon) January 7, 2016
Labour MP John Tricket, shadow communities secretary and a close ally of Corbyn, waded into the debate too - accusing the BBC of deliberately arranging to announce news of Doughty's resignation just moments before PMQs.
@Markfergusonuk@bbclaurak It's not the job of BBC to arrange the news immediately before PMQ thereby handing advantage to PM. #wrong

— Jon Trickett (@jon_trickett) January 8, 2016
If BBC deliberately contrived the timing of shad min resignation immediately before PMQ, giving advantage to PM, then it is a disgrace

— Jon Trickett (@jon_trickett) January 8, 2016
But attempting to set the record straight himself, Doughty explained how events unfolded prior to the much-discussed resignation.
1. I decided to resign over sacking of colleague + him being smeared.

2. I tell my boss + close friends.

3. Lots of journalists ring me.

— Stephen Doughty (@SDoughtyMP) January 8, 2016
4. I answer phone to one senior journalist who asks am I resigning?

5. I say yes but worried about smears + lies about reasons.

— Stephen Doughty (@SDoughtyMP) January 8, 2016
6. Am asked if I will do interview on TV to explain my reasons without spinners getting in first. I say yes. 7. I write to Jeremy to say.

— Stephen Doughty (@SDoughtyMP) January 8, 2016
8. I do interview and confirm reasons.

9. I get smeared by same people who attacked colleague I resigned over.

10. Point made.

— Stephen Doughty (@SDoughtyMP) January 8, 2016
He ended with a tongue-in-cheek epilogue, mocking the accusations of bias levied at Kuessnberg.
Epilogue: twitter goes into meltdown + lizards running the BBC (all members of the Bilderberg group) are exposed in the harsh sunlight...

— Stephen Doughty (@SDoughtyMP) January 8, 2016
The explanation came as it was revealed the BBC also deleted a blog on its website penned by the output editor for 'Daily Politics', Andrew Alexander, detailing his version of events that led to Doughty's resignation.
"Although he himself would probably acknowledge he isn't a household name, we knew his resignation just before PMQs would be a dramatic moment with big political impact," Alexander wrote.
But that too enflamed the tempers of BBC critics.
An astonishing DELETED blog from BBC producer of how BBC political editor @bbclaurak got Labour MP to resign on TV pic.twitter.com/o3JCk89Nul

— Joe Public (@jpublik) January 7, 2016
If @bbclaurak has done nothing wrong, why has the #BBC deleted the article describing the events she took part in?

— Labour Pleb (@LabourPleb) January 7, 2016
If BBC are going to claim Daily Politics shenanigans were just good journalism they'll have to explain why the blog was deleted. #bbcdp

— Briefcase Michael (@BriefcaseMike) January 7, 2016
Doughty resigned in protest at the treatment of his fellow Labour MP and former shadow minister Pat McFadden, who was ousted from the Europe brief late on Tuesday night.
"When an individual like that has been singled out for a sacking for words that I completely agree with I think it's only the honourable thing for me to do tender my resignation," he said.
READ MORE: