A top theatre company is to put on a performance of Hamlet in the Calais refugee camp known as the Jungle.
Shakespeare's Globe is to perform the Bard's tragedy to an audience of displaced men and women on February 3.
The show is part of the Globe to Globe world tour, which has also seen performances at refugee camps in Jordan, Djibouti and the Cameroon, the Press Association reported.
It is being staged with the Good Chance theatre company, which is based at the camp.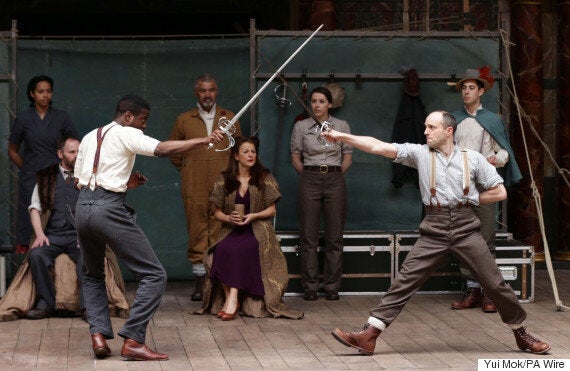 Members of Shakespeare's Globe performing Hamlet
Dominic Dromgoole, the Globe's artistic director, said: "This performance will be yet another wonderful example of this ground-breaking tour's ability to reach displaced people across the world. It's a privilege that our Hamlet company have been able to perform in the Calais Jungle and our thanks go to Good Chance for enabling this."
Some 6,000 people are living in unsanitary and dangerous conditions in the camp on France's north coast as European nations struggle to deal with the migrant crisis.
In a joint statement Joe Murphy and Joe Robertson, the artistic directors of Good Chance, said: "As a production which has travelled to audiences all over the world, it is fitting that it visits the camp here in Calais, where the fault lines of over 20 different nations meet."
The Jungle show will be followed on February 8 by a show for Libyan migrants on Malta.
The announcement attracted some criticism online, with some suggesting that it was not what was needed…