The Celebrity Mum of the Year shortlist has been announced, with some common favourites and a few new entries.
Most notably, Billie Faiers and Sam Faiers (who only became a mum in December 2015) are up against each other for the title.
Singer Adele and athlete Jessica Ennis-Hill also made the list, along with Peter Andre's ex-wife Katie Price and current wife Emily MacDonagh..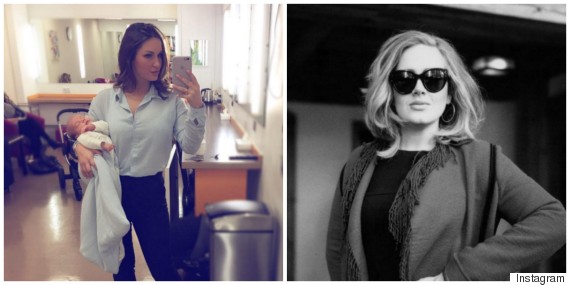 IceLolly.com put open nominations on their website giving the public the chance to vote who they wanted on the shortlist.
People can now vote for the mums who made the top 10.
Here's the shortlist of mums (in no particular order).
Billie Faiers
The TOWIE star is mum to one-year-old Nelly with fiancee Greg Shepherd.
The mum, who won Celebrity Mum of the Year 2015, said "I felt really honoured to have won last year. It's a great feeling to have been nominated for the second year in a row."
Coleen Rooney
Coleen Rooney gave birth to her third son, Kit, in January 2015.
She is already mum to Kai, six, and Klay, two.
Adele
The singer is mum to three-year-old Angelo, and only opened up about being a mother, after a three-year hiatus, in October 2015.
In her first interview she said: "[Motherhood] fucking hard, I had no idea. It is hard but it's phenomenal.
"He makes me be a dickhead, and he makes me feel young and there's nothing more grounding than a kid kicking off and refusing to do what you're asking of them."
Danielle Lloyd
Lloyd is a mum-of-three to Archie, five, Harry, four, and George, two with footballer Jamie O'Hara.
Emily MacDonagh
Peter Andre's wife, who is mum to two-year-old Amelia, has also made the shortlist. MacDonagh isn't in the spotlight as much as the other mums.
Asked recently whether she'd be having any more soon, she said: "I really want to see how my work's going... it's quite difficult for me as I love my time with Millie and I feel we have such good one-on-one time."
Giovanna Fletcher
Giovanna Fletcher, who is wife to McBusted's Tom Fletcher, is mum to one-year-old Buzz. She is currently pregnant with the couple's second child.
The couple are known for posting viral videos including their "bump to Buzz" compilation.
Jessica Ennis-Hill
The Olympic athlete is mum to one-year-old Reggie with long-term partner Andy Hill.
She recently spoke out to The Telegraph about being a working mum, admitting it can be a "juggle".
Katie Price
Katie is a mum-of-five to Harvey, 13, Junior, 10, Princess, eight, Jett, two, and Bunny, 17 months. She's a regular in the shortlist.
She has hit the headlines in recent months after allowing Princess to wear makeup and Bunny to get her ears pierced.
Louise Pentland (Sprinkle of Glitter)
Perhaps less known that the other mums on the list, Pentland makes a living as a YouTuber, known for her channel Sprinkle Of Glitter.
She is mum to four-year-old Darcy.
Sam Faiers
The other Faiers sister gave birth to her first child in December 2015 with boyfriend Paul Knightley.
She frequently posts updates and photos of her newborn son, Paul Tony, on Instagram.
Starting today until 12 February 2016, anyone can vote for the celebrity they think is the most deserving of the award online.
SEE ALSO:

Michelle Heaton Wins Celebrity Mum Of The Year 2014

Katie Price's Daughter Princess Hits Back At Makeup Critics: 'It's None Of Your Beeswax'

The Woman Who Made Coleen Rooney's Placenta Capsules Explains How It's Done