A female journalist has described how she was groped during a live report from the Cologne carnival on Friday.
Esmerelda Labye, a reporter for the Belgian station RTBF, was presenting a report on camera when two or three men approached her from behind, making obscene gestures.
The presenter explains that during the broadcast, a man kissed her neck and grabbed her breast.
She has since published a piece on the station's website, condemning the "wretched and cowardly" men involved in the incident.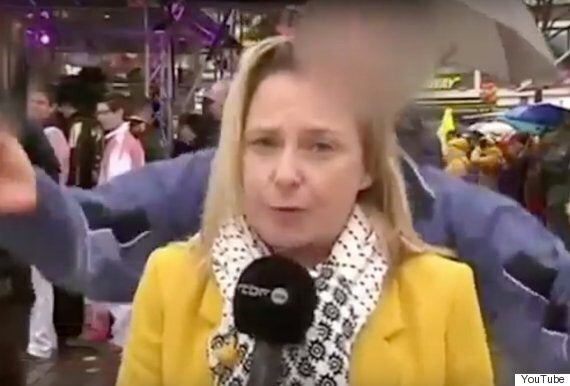 Esmerelda Labye was groped as she gave a live report on Friday
She wrote: "As I started the broadcast, two or three men gathered behind me and attempted to make themselves the centre of my attention."
She added: "I was focusing on the broadcast, and then I felt a kiss on my neck."
Labye adds that "almost immediately" she heard a German voice say in her ear "do you want to sleep with me?"
The reporter tried to ignore the men as she presented the piece to camera. But as the studio thanked her for her report, a man touched her chest.
She wrote: "It was at that exact moment that one of the men leaned over and touched my breast. At that moment I lost my temper and, knowing we were no longer live, I turned around and warned him, do not touch me again.
"They didn't seem to understand why I was angry but they left without saying a word."
Labye later told the MailOnline that she believers her attackers were German.