David Cameron's mother and aunt are among those to have signed a petition opposing Conservative spending cuts.
Mary Cameron, 81, has added her name to the thousands calling for dozens of children's centres to remain open in Oxfordshire - where her son is an MP.
Clare Currie is a staunch supporter of the centres and was reportedly the one who persuaded her sister to sign the petition.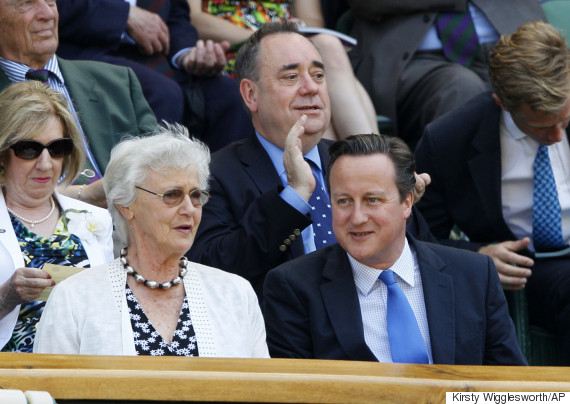 David Cameron with his mother, Mary, at Wimbledon in 2013
Mrs Cameron, a retired magistrate, told the Daily Mirror: "My name is on the petition but I don't want to discuss this any further."
It comes just months after Cameron penned a stinging letter to Oxfordshire County Council complaining that budget cuts were hitting essential services.
The irony must have been lost on the Prime Minister, whose government is responsible for tightening the nation's purse strings.
The Prime Minister previously wrote to the local authority, as MP for Witney, expressing "disappointment" at planned cuts to museums, libraries and day centres for the elderly.
But council leader Ian Hudspeth hit back, saying the curbs were the result of cuts in funding from Cameron's government.
The petition to Save Oxfordshire's Children Centres is backed by campaign group 38 degrees and has garnered more than 7,000 signatures online, and thousands more in person.
Mrs Currie, 78, told the Oxford Mail: "The centres are absolutely essential. All the research shows they make life for children very much better. It is a false economy to cut them and absolutely wrong."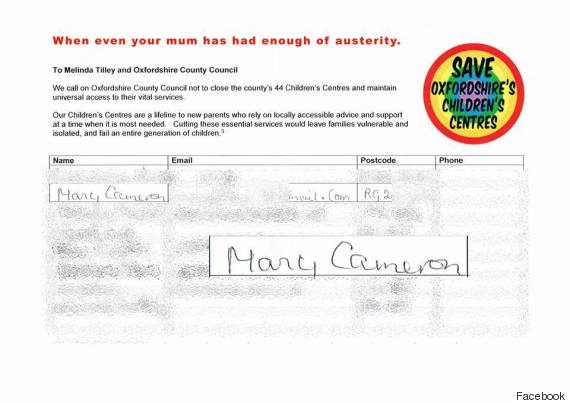 Mary Cameron's signature on Save Oxfordshire's Children's Centres Campaign's petition
The online petition reads: "Our Children's Centres are a lifeline to new parents who rely on locally accessible advice and support at a time when it is most needed.
"Cutting these essential services would leave families vulnerable and isolated, and fail an entire generation of children."
Campaigners say that Oxfordshire County Council is proposing to shut down all 44 children's centres in the country, replacing them with only eight children and family centres, which would only be accessible to the most vulnerable by referral.
Jill Huish, leader of the Save Oxfordshire's Children's Centres campaign, said that the addition of the Prime Minister's mother's name to the petition showed how severely Tory cuts were affecting people.
She told the Oxford Mail: "It shows how deep austerity is cutting our most vulnerable when even David Cameron's mum has had enough.
"But while our local authority and our Prime Minister squabble over whose fault it is that there are 95 separate cuts planned for Oxfordshire, we are the people who will suffer without our frontline services."
Many have welcomed the addition of Mrs Cameron's name to the petition:
Even David Cameron's mum is going against him.

— Jason Caine (@jason_CAINE_) February 9, 2016
David Cameron's 81yr old Mum has signed a petition opposing #Tory #Oxfordshire County Council's cuts

Mums know best

— Crispin Mount (@CrispinMount) February 9, 2016
David Cameron's mum has signed a petition against Tory cuts. His MUM.

— Aimee Louise (@imeeelouise) February 8, 2016
Everything @David_Cameron ever says from now on will get the reply "Your mum"

David Cameron's mum has made my day

— Will Black (@WillBlackWriter) February 9, 2016
Even David Cameron's mum is fighting against the awful Tory cuts... how embarrassing for him!!

— Helena (@helenasworld90) February 9, 2016
And the giffs have already begun:
That moment where your Mum wades in...

"David Cameron's Mum" pic.twitter.com/0dxMy7DlL3

— Ollie Gallant (@Ollie_Gallant) February 9, 2016
David Cameron's mum when he told her about the tory cuts. pic.twitter.com/gngYrUGt9d

— 10printHiRun (@10printHiRun) February 9, 2016
In Cameron's letter to Oxfordshire County Council, written in December, he said called the proposals to close children's services were "unwelcome and counter-productive".
Last month, he was involved in another bust-up with the Tory-run local authority, again urging them to re-think plans to cut services in the county.
Cameron told council chiefs they could be "more efficient", sell properties and put up council tax to make the large savings inflicted on local authorities.
But council leader, Hudspeth, insisted the cuts handed down to him by central government were necessary.
SEE ALSO: