The revelation that Nigel Farage and George Galloway are to work together on the European Union referendum has been mercilessly mocked, with the unlikely pact described as an "unholy alliance".
The Ukip and Respect party leaders appeared together at a rally for the Grassroots Out campaign on Friday, launching the campaign to persuade voters to end Britain's membership of the EU.
Yet instead of being welcomed, Galloway's appearance prompted a mass walkout at the event, and the party leaders' partnership is now the subject of intense scrutiny - and mockery.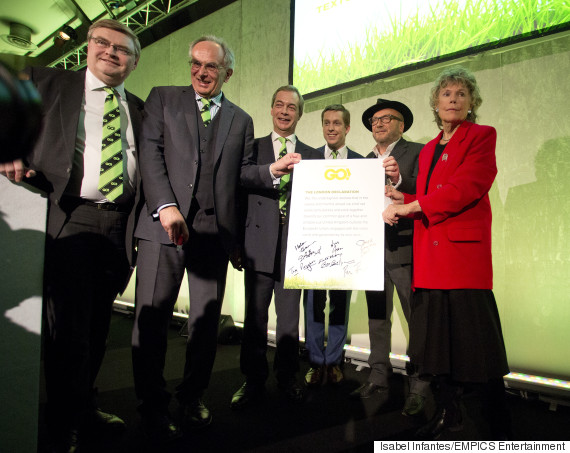 Nigel Farage and George Galloway stand with other Grassroots Out leaders on Friday
Rather than persuading voters of a cross-spectrum rationale for Brexit, many said that Farage and Galloway's pact was helping them choose to remain within the EU.
I was thinking of abstaining on the EU referendum but the unholy alliance of Farage & Galloway is nudging me to stay pic.twitter.com/b7QkW7KZiu

— Peter George Owen (@pgo1980) February 20, 2016
Farage Galloway Grayling. Enough to convince me to vote remain

— Jeffrey Gruder QC (@JeffreyGruderQC) February 19, 2016
Personally, we probably get screwed either way with EU Ref. But I'll vote the opposite of Farage, Galloway, Daily Mail + Express #UKinEU

— Dr Paul Teed (@DrPaulTeed) February 20, 2016
When you have Farage & Galloway working together on something serious questions need to be asked. https://t.co/VV707Z5Ire

— Gareth Soye (@GarethSoye) February 8, 2016
This Farage-Galloway bromance can only boost the Remain campaign #euref https://t.co/pCnbqVXmGP

— Louis Gill (@Louisjsgill) February 7, 2016
However, it wasn't only the pair's ability to persuade voters that was the subject of discussion online.
Previous statements made by Galloway quickly came to light, including his criticism of Farage's reference to HIV/Aids treatment costs during a General Election debate.
Farage's Aids smear should disqualify him from any civilised company henceforth.

— George Galloway (@georgegalloway) April 2, 2015
Galloway also appeared to liken his pact with Farage to that of Soviet leader Stalin and Winston Churchill's during World War II.
George Galloway, likening Farage to Churchill and himself to Stalin. Or perhaps the other way round. Via @trewloy pic.twitter.com/bmVlDys3Pe

— Michael Deacon (@MichaelPDeacon) February 20, 2016
And there's been plenty of jibes after the tie-up was revealed.
Farage, Galloway, Cash, Bone on the same bill. Move over Dante we've found the eighth circle of hell....

— Sam Freedman (@Samfr) February 19, 2016
Carl Barat and Pete Doherty made up one half of iconic noughties indie rock band, The Libertines. pic.twitter.com/skbAgWzY09

— @ (@twlldun) February 19, 2016
Farage, Galloway and Gove walk into a bar, and immediately decide to leave. Everyone else is happy

— Dean Burnett (@garwboy) February 20, 2016
I'm hoping someone will be printing Farage-Galloway posters for window displays. And T shirts.

— David Aaronovitch (@DAaronovitch) February 19, 2016
Despite the walkout at Friday's Grassroots Out rally, the more than 1,500 people who stayed in the hall for Mr Galloway's speech gave him a rousing reception as he called for the UK to leave the EU.
He talked up reconnecting with the Commonwealth, access to more trade markets and the reassertion of sovereignty as the key reasons for Brexit.
Labour MP Kate Hoey, former Shadow Home Secretary David Davis, Tory MPs Peter Bone and Tom Pursglove and economist Ruth Lea were among those to speak at the rally.
David Cameron fired the starting gun on the EU referendum campaign on Saturday when he confirmed the date of the vote as 23 June.
SEE ALSO: