Footage of a 'vile' man dumping a homeless person's belongings across a busy city centre street has emerged in Manchester.
Stunned witnesses filmed the unnamed man as he threw the items on the road for no apparent reason.
Passersby can be seen physically attempting to intervene as the perpetrator carried out his attack on Deansgate.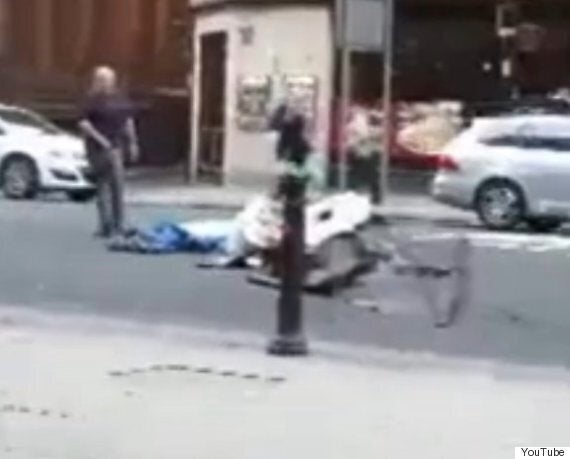 The man spread out the homeless persons belongings
During the video clip the man can be seen walking into the road, carrying a sleeping bag and tarpaulin amongst other items.
He leaves them in the middle of the road as vehicles attempt to dodge the debris left in the street.
The belongings were reportedly owned by a rough sleeper situated in a nearby shop doorway.
Greater Manchester Police say that the man has since been banned from visiting the city centre.
A witness spoke to Manchester Evening News and said: "This absolutely vile human being took it upon himself to throw a homeless lad's stuff in the road for no reason whatsoever.
"He carried on throwing it in the road until police arrived. It takes a heartless man to do this to somebody's belongings, someone who sleeps rough in this weather".
A spokesman for Greater Manchester Police said the man was told to leave after behaving aggressively, and was given a notice to leave order - and will not be allowed in the city centre for a specified amount of time.
Usually the amount of time given in these instances is 24 hours.
Officers can take no further action as no-one made a specific complaint of a crime.
Popular in the Community