Freelance copywriter, content producer and blogger based in the UK. A Mum for all seasons, wife, Pomeranian owner, runner and Christmas obsessive. Blogs about mostly parenting, but also fun stuff.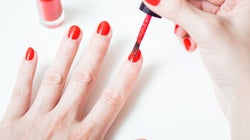 Gettystock
So I thought it was worth making one really simple change.
Some special moments do happen when have our camera handy, and we're lucky to capture them. On the whole though, those perfected images are posed and curated to portray the life we want people to believe that we have.
Did you <em>really</em> ever consider that going for a wee alone might become a luxury? How about exercising at your own leisure? Picking out your new shiny buggy probably takes up the majority of pregnancy, so I very much doubt that these things are high up the list of priorities.