Ada Hegerberg is one of the most successful woman footballers in the world right now, and she's also rumoured to be one of the highest paid.
Hegerberg told BBC Sport she "didn't consider it sexual harassment", but the charity Women in Sport has told HuffPost UK members were "extremely disappointed" by Solveig's behaviour.
"The sexist remarks made by Solveig were completely inappropriate and show just how much work is still left to do to create a society that is free from sexism and discrimination," a spokesperson said.
"Our research has shown that nearly 40 per cent of women working in sport have experienced discrimination, while 30 per cent have experienced inappropriate behaviour from the opposite sex."
The Ballon d'Or is a French award honouring the football player who has performed the best over the previous year, as voted for by football journalists and pundits. It has been awarded in the men's game since 1956.
Sportspeople including tennis player Andy Murray and Arsenal / England player-turned-pundit Alex Scott have also said that Solveig's comments reflect wider problems of sexism and discrimination in the field.
Scott tweeted: "[It] just goes to show how much more still needs to be done in football, sport, education and life to eradicate this stupidness."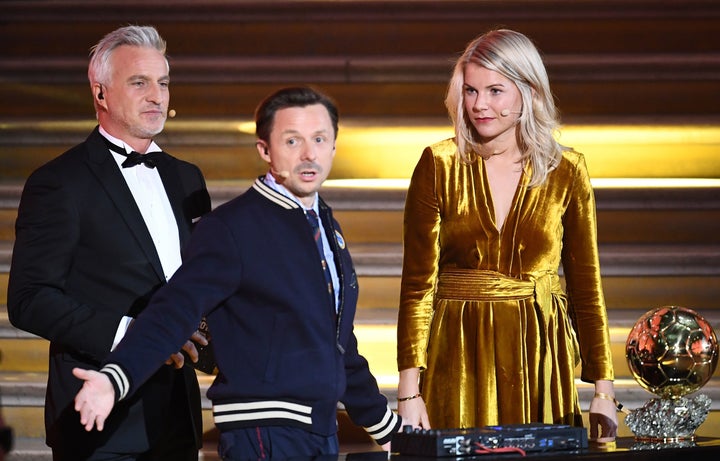 We wish we could say we were surprised by the incident but, sadly, it follows a long history of women in football not being given the respect and recognition they deserve.
Cast your minds back to this year's World Cup. It's temping to remember the matches with rose-tinted glasses, thanks to the glorious British summer, England's stellar performance and Gareth Southgate's waistcoat. But the tournament was mired with one infuriating incident after another.
Then we saw red again and again (and again) as women pundits and reporters were harassed or disrespected on the world's stage.
Columbian reporter Julieth Gonzalez Theran was groped live on air when she was reporting outside the stadium. And pundit Eni Aluko became the subject of a social media storm when viewers accused co-pundit Patrice Evra of patronising her live during an appearance on ITV (he clapped Aluko for delivering an in-depth analysis – in other words, doing her job).
Away from the World Cup, things aren't much better. When Hegerberg renewed her contract with Lyon until 2021, it was widely rumoured she'd become the highest paid player in the women's game, although her official salary details were not released.
But the gender pay gap in sport, particularly football, is still abysmal.
Footballers Lionel Messi and Cristiano Ronaldo were named the second and third highest payed sports people in Forbes annual list this summer, earning an estimated £82.7m and £80.4 million respectively (boxer Floyd Mayweather bagged the number one spot at £205m). However, there was not a single woman, let alone a woman footballer, in the entire top 100 list.
"Many women in elite sport still have to work either full or part time – which makes training and competing a real challenge," she said.
"It's a vicious circle – women aren't paid equally, so they can't train full time and fulfil their potential, which means the quality of women's sport is criticised, less people watch, therefore there's less media coverage, so fewer sponsors are attracted, which means less funding for women's sport."
Hegerberg used the final part of her acceptance speech to encourage girls to follow their dreams, saying: "I would like to end this speech with some words to young girls all over the world. Please, believe in yourself."
Let's not let one man overshadow her inspiring words and incredible achievement.