Baby boxes are nothing new, having been around for almost a century in some parts of Northern Europe, but now many parents in the UK are choosing to adopt this trend for their newborn child.
So we have looked for the answers to the questions new parents will be asking about using a baby box at home.
What is a baby box?
They are usually large cardboard boxes that contain a range of products for parents of a newborn baby to use. These can include anything from clothes, to nappies and books, to help ensure the newborn gets the best start in life.
Baby boxes also have a mattress on the base of the box, intended for the box to be used as a baby's sleeping place.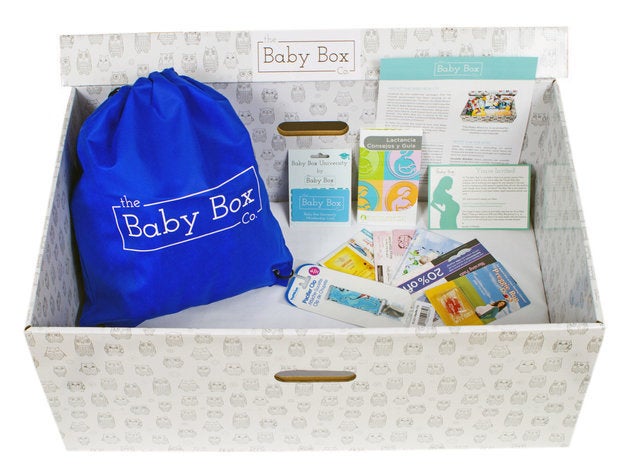 Where do baby boxes come from?
Baby boxes have been distributed by the government in Finland since the 1930s and are intended to be used for babies to sleep in for the first eight months of their lives.
The Finnish government's 80-year-baby-box-stint has been credited by medical experts in the country with helping to decrease infant mortality rate.
Why have baby boxes become more popular in the UK?
Do baby boxes decrease risk of SIDS?
Since baby boxes have increased in popularity there has been debate about whether they can help to reduce incidence of SIDS.
A US study found that they may reduce the number of deaths by a quarter, by discouraging new parents from co-sleeping with their baby.
However, The Lullaby Trust, a charity that works to reduce the rates of SIDS in the UK, does not believe it is factually correct to directly link the use of a baby box with a reduction in SIDS.
Francine Bates, Chief Executive, told HuffPost UK: "We support all efforts to promote safer sleep for babies, however we do have concerns about the baby boxes being marketed as products which will reduce infant mortality and SIDS. We are not aware of any evidence, including in Finland, to support this claim."
The Baby Box Company CEO Jennifer Clary responded: "Oftentimes the media misrepresents the baby box tradition as a one-stop-shop solution, equating simple provision of a bed box with improvements in maternal and child health outcomes,
"What the success of Finland's positive results actually demonstrates is the significance of parenting education, engaging prenatal intervention and accessible community supports.
"Every mother in Finland must visit a healthcare professional by her second trimester to receive a check-up and vital education before being eligible to claim the free Baby Box."
The Baby Box Co. works with some NHS Trusts across the UK to provide free Baby Boxes linked with parental education.
Lullaby Trust said it is not possible for baby boxes (which are provided by private companies all over the world) to fully comply with safety standards, as current British and EU safety standards for nursery furniture only exist for traditional cots, cribs and bassinets and there is currently no specific standard for the use of a cardboard box as a sleeping place for an infant.
However, The Baby Box Co. which works with some NHS Trusts across the UK to provide free Baby Boxes linked state that its boxes meet the UK standard for cribs and cradles.
Mattresses for babies must comply with the British Standard 7177 and 1877 and the filling in the mattress needs to meet the standards of our UK fire regulations (which those supplied by The Baby Box Company do). This should be clearly labelled. The mattress should also be firm, flat and waterproof.
So should my baby sleep in a baby box?
If parents are satisfied that the mattress meets the standards required (as specified above), the Lullaby Trust says that for some parents, who do not have an enclosed space for their baby to sleep such as a cot or Moses basket, a box may be a better alternative than co-sleeping.
This is because it can lead to hazardous circumstances, such as sleeping on a sofa or between two adults in a bed.
What is best practice for using a baby box?
If parents want to use a baby box then do not lift the box when the baby is in it, do not put a lid on the box and do not place additional bedding on top of the mattress to raise the baby to a higher level.
Ensure the box is placed on a solid surface and cannot topple over, ensure that pets stay away from the box, and ensure that your baby is not able to roll.
Does the NHS provide baby boxes?
There is no nationwide initiative to implement baby boxes as part of postnatal care, but in some local areas boxes are being distributed by health and social care professionals.
North Middlesex University Hospital launched baby boxes on 6th September 2016.
England and Wales have yet to agree to a similar scheme.