Finding the perfect Christmas toy for your child, or any children you might be shopping for this year, is no mean feat. Not only do you want to find a gift that they'll love, but something will last longer than New Year's Eve – thankfully, that's where wooden toys come in.
Wooden toys are becoming more and more popular each year. They're sturdy and, most importantly, won't add to the mountain of plastic toys they might already have.
But what about price? While traditionally the more expensive choice in the toy shop, there's now an abundance of supermarket and independent retailers offering good quality wooden toy sets at a reasonable price.
We tried, tested, built and played with a selection of wooden toys on the market to find the best Christmas gifts for 2018.
Land Before Time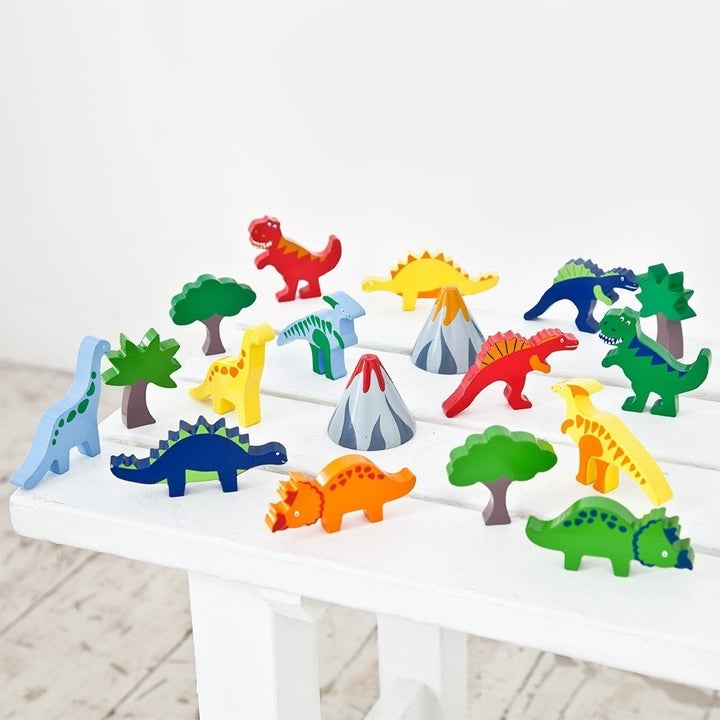 This colourful set of wooden palm-size dinosaurs will provide endless amounts of stimulation and encourage kids to use their imagination. The set contains six different species; Tyrannosaurus Rex, Stegosaurus, Brontosaurus, Spinosaurus, Triceratops and Parasaurolophus which all come in pairs, along with two volcanoes and four trees to set the scene.
It would suit a younger child best, and each piece is wipe-clean if they find themselves in a toddler's hands, and the packaging contains no plastic at all. This would be a great gift for siblings, there's enough to go around and would be a useful tool to teach kids about the importance of sharing.
Pirate Practice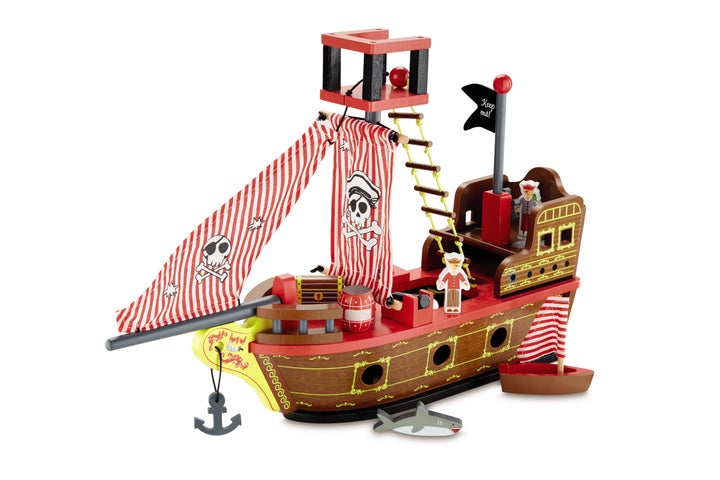 Little town wooden pirate ship, Aldi, £19.99
The Aldi Christmas toys tick all our boxes, great value for money, good quality and they're sure to go down a treat on Christmas morning. This pirate ship would make a fantastic main gift without breaking the bank and will guarantee hours of fun. We were particularly impressed by the attention to detail, the gold leaf design painted across the deck, and the cannon, plank, barrel and treasure chest make for a very interactive toy.
It's easy to assemble, as it comes almost fully constructed but the mast does need to be screwed in, which would require an adult. Only downside to this is we would have liked to have seen a female pirate on board.
Dino Driving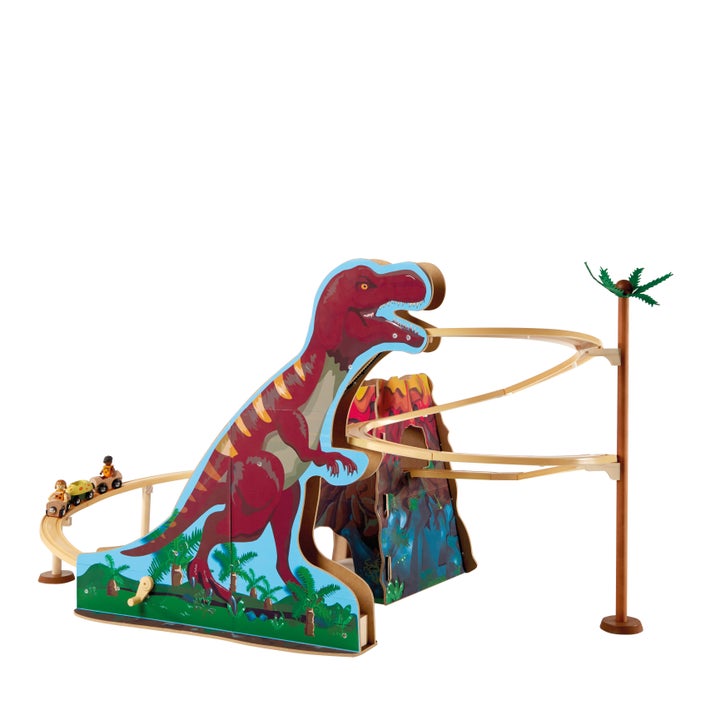 At £40, Asda's dinosaur train set is the most expensive of the bunch but well worth it. The cars connect to each other magnetically and children simply need to crank the handle to watch the train climb up the dinosaur and whizz round the brightly coloured track. It is rather large (116cm high and 80cm wide), to get the full enjoyment from this, we'd recommend playing with it where there's lots of floor space. It's interactive, highly engaging and does exactly what it says on the box.
Don't be put off by the image on the packaging, which suggests hours of frustrating assembly. Instead, much of this comes already formed and what needs to be put together easily slots together like a jigsaw. Plus, all the pieces are helpfully lettered which make construction simple. To note for the plastic-conscious parents, the majority of the set is wooden, except for the plastic figurines and train track.
Do It Yourself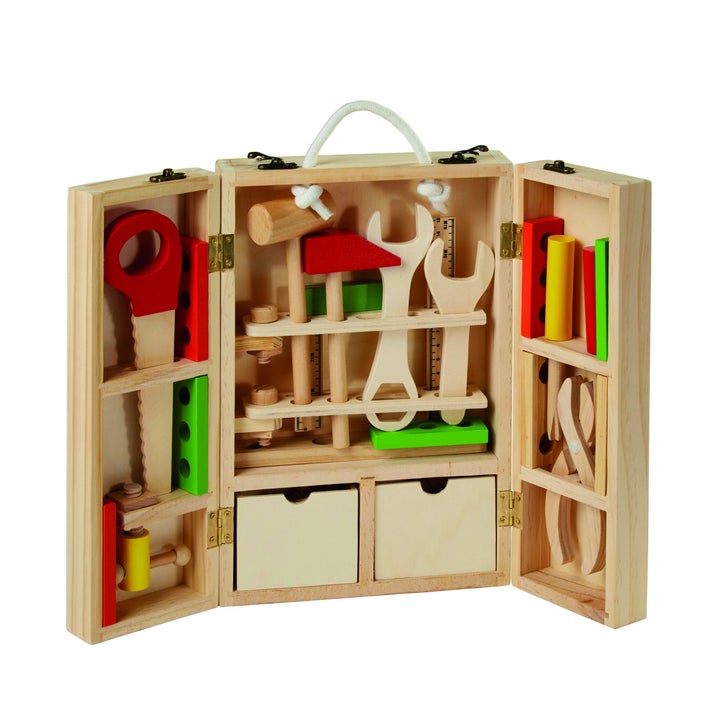 Personalised wooden tool set, Studio, £16.99
A tip top gift that will keep kids entertained while the Christmas dinner is cooking. Coming in a compact A4 size, it's portable and the most travel-friendly of the bunch, including two spanners, two screwdrivers, screws, measuring, and various other tools and pieces. With bright colours which are stimulating and the tools are sturdy enough to be played with little hands. You can add a personal touch too by getting the child's name embossed with up to 11 letters on the front. At £16.99 it's a steal.
It's Showtime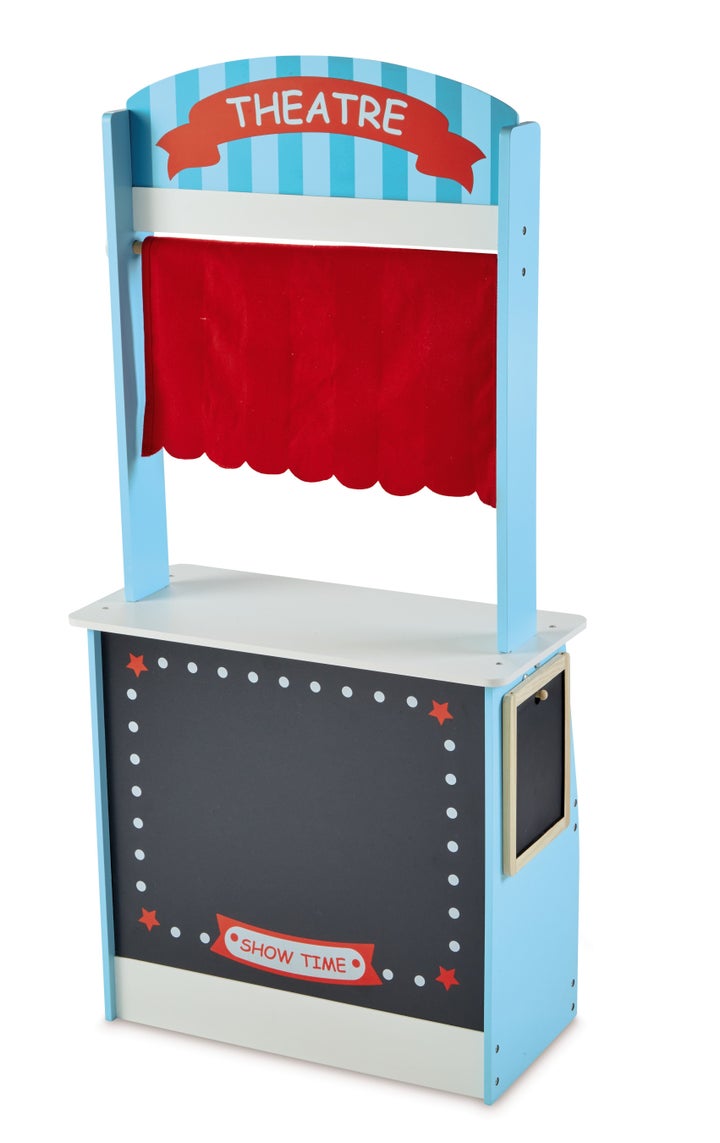 Wooden play shop & theatre, Aldi, £29.99
Top marks for versatility from the HuffPost Finds team for this 2-for-1 toy from Aldi. Put on a show with puppets or open up shop, with a chalkboard, retractable curtain and blackboard to personalise your replica market stand or theatre box office.
Frustratingly it is made up of many, many parts and there's a long assembly time, plus it doesn't come with any props, food or chalk, meaning additional costs could quickly add up. We should mention however, that we were impressed with the non-gendered approach Aldi has taken towards its toys, no 'made for girls' or 'only for boys' in sight.
Need For Speed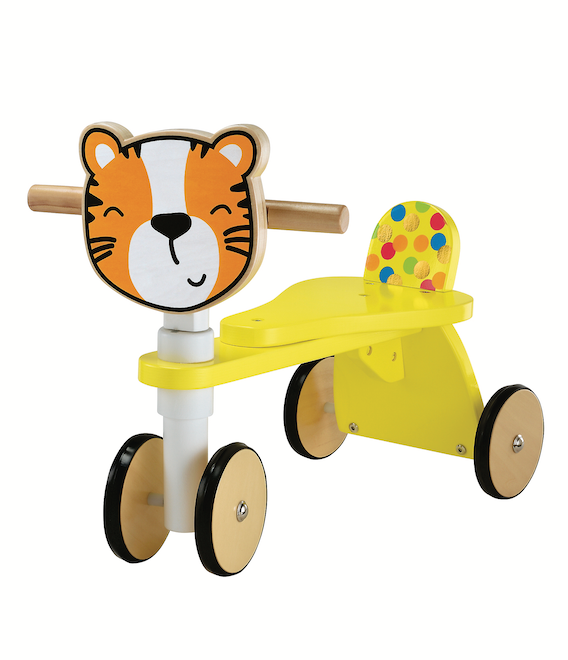 While this is straightforward to build, it did take us a while thanks to a lot of fiddly screws and tiny pieces, so excited children will need to be patient after unwrapping it. It's sturdy, doesn't take up much space and would encourage motor skill development.
It's a great opportunity to encourage your child to get active and is promised to suit your little one from 12 months to six years old, which arguably justifies the £40 price tag. One thing to bear in mind, the non-slip wheels didn't have as much grip as we were expecting, so keep an eye on them when they're whizzing around the garden.
Suitable from 12 months to 6 years
Tea & Toast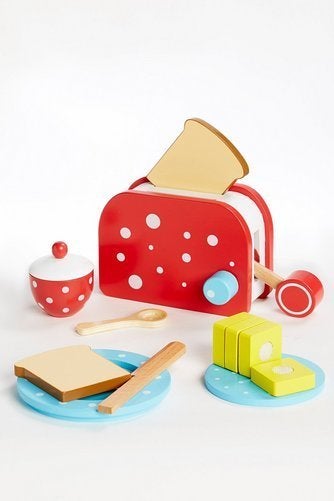 Fun, simple with no assembly required, this toaster set ticks all our boxes. Another one for smaller children to enjoy, it will keep them entertained at the breakfast table and simultaneously encourage them to help out in the kitchen by mirroring everyday.
Complete with velcro butter, cutlery, two plates and little pot for imaginary (or real) jam, it would make a fitting addition to a kitchen set, and is a reliable option for a present from the grandparents.
We all work hard to earn our money – so it shouldn't feel like hard work to spend it well. At HuffPost Finds we'll help you find the best stuff that deserves your cash, from the ultimate lipstick to a durable iron to replace the one that broke (RIP). All our choices are completely independent but we may earn a small commission if you click a link and make a purchase.