Boris Johnson has warned Barack Obama not to be "hypocritical" and back the campaign for Britain to remain in the European Union.
The Mayor of London, who is campaigning for the UK to leave the EU, said it would not be right for the US President "to urge us to sacrifice control" when America would not do the same.
Johnson's comments come days ahead of Obama's visit to the UK next week.
The White House has indicated that Obama - who has previously voiced support for continued UK membership - is ready to offer his view as a "friend" if asked about Brexit during his two-day visit, though he will stress that it is a decision for the British people.
The US President is due to have lunch with the Queen at Windsor Castle before talks with David Cameron in 10 Downing Street on April 22.
He will answer questions from members of the public at a "town hall" event in London the following day.
Johnson said that the US should not encourage Britain to stick with a position it would not accept for itself, telling the Evening Standard: "I honestly don't mind the idea of him joining the debate.
"Where we do part company, and where I do mind, is that it is plainly hypocritical for America to urge us to sacrifice control - of our laws, our sovereignty, our money and our democracy - when they would not dream of ever doing the same."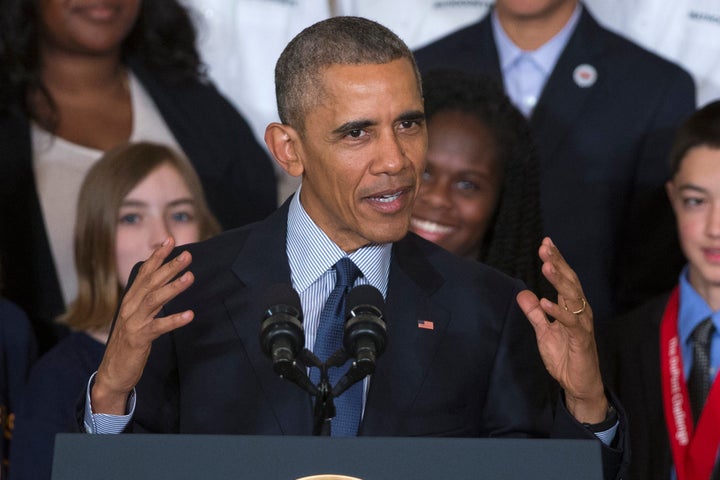 Fellow Brexit campaigner Michael Gove insisted quitting the EU would free up more cash for the NHS as Vote Leave put the straining service centre stage.
It claimed a large chunk of the UK's £10.6 billion net contribution to Brussels could be diverted to medical care if Britain quits the EU.
The Justice Secretary told Sky News: "If we stay in, if we vote to remain, then the European Union will press ahead with integration and it will drag us into that process.
"At the moment, the money we give to the European Union is spent by others, people that we have never elected, never chosen and can't remove.
"If that money is taken back, then that £50 million a day will be spent on British people's priorities and the NHS, of course, is top of the list."
Downing Street insisted that Brexit would mean "less money for the NHS", with Cameron's official spokeswoman saying: "A strong NHS needs a strong economy and the Prime Minister has been very clear that our economy is stronger in the EU."
Health unions blasted Vote Leave's figures as "spurious and outrageously misleading", insisting the NHS's financial woes were made in Whitehall and not Brussels.
Unite national officer for health Barrie Brown said: "It defies belief to think that Boris Johnson and Michael Gove would do a massive political U-turn and divert billions of EU cash into the NHS – when they have supported real cuts to the NHS budget and been enthusiastic flag-wavers for the privatisation and break-up of the NHS."
And TUC general secretary Frances O'Grady said: "The reality is that Brexit would plunge the NHS into a staffing crisis, which could lead to the longest hospital waiting lists we've ever known.
"And with experts warning that Brexit would hit Britain's economy, the consequences for NHS funding would be dire."
Meanwhile, former chancellor Lord (Alistair) Darling accusing Brexit backers of offering Project Fantasy, as he warned that leaving would threaten Britain's economy.
In a speech in London, the Labour peer acknowledged that either side could win the EU contest.
"This is a very, very close vote. No one can predict with any certainty what is likely to happen," said the Labour peer.
"I hope we will win and I hope we will win well but we need to get the support of people the length and breadth of the country, no matter what their political allegiance has been in the past.
"We need every single vote. It is going to be very close. Every vote counts."
Ukip leader Nigel Farage challenged Cameron to a one-on-one debate on the claims contained in a leaflet sent out to households around the country, setting out the Government case for continued EU membership.
Handing his own copy of the document back to 10 Downing Street, Farage also took a swipe at Obama, branding him "the most anti-British American president there has ever been".