One of the most recognisable figures in British politics, Alexander Boris de Pfeffel Johnson (to give him his full name) has been here before, defying the odds that suggested he would take over from David Cameron in 2016 after his colleague Michael Gove scuppered his chances.
His position as Tory Party darling has largely been unsullied, despite a long and sometimes questionable history in British public life, which has included repeated gaffes, accusations of racism and lying and being branded a "nasty piece of work" in a TV interview. Yet, somehow, he remains.
Johnson's latest foray saw him post a tweet claiming to have just voted in the local elections, an apparently impossible feat as he is a resident of London where there were no local elections taking place. It is a nugget of information one would assume the former mayor of the capital would be acquainted with.
Alas, it seems not, and the tweet was hastily deleted – but not before the internet had saved it for posterity and merciless mocking.
This social media faux-pas is just one incident in a long line of BoJo blunders that pepper a career in journalism and politics spanning over 30 years.
Libya's 'dead bodies'
Johnson made a joke about the "dead bodies" getting in the way of businesses investing in Libya after its bloody civil war.
Speaking on the fringes of the Conservative Party conference in 2016, he said British businesses wanted to invest in the North African country.
"They have a got brilliant vision to turn Sirte, with the help of the municipality of Sirte, into the next Dubai.
"The only thing they've got to do is clear the dead bodies," he said.
Johnson added Libya was a "incredible place" with "brilliant young people".
Emily Thornberry, Labour's shadow foreign secretary, said Johnson's joke was "unbelievably crass, callous and cruel".
The front page firing
As is often traditional for the Eton-educated, Johnson used his family connections to secure one of his first jobs working for The Times, where he produced a front page story about the discovery of Edward II's palace.
One of the most scintillating details was a quote from his own godfather, the historian Colin Lucas, that said Edward II had engaged in a relationship with Piers Gaveston, the First Earl of Cornwall, in the very building that had just been discovered.
Edward II did have same-sex lovers but Gaveston was dead by the time the palace was built, murdered by a group of disgruntled noblemen.
Johnson was fired from The Times over the gaffe, an episode he has described as "my biggest cock-up".
Calling Obama a 'part-Kenyan president'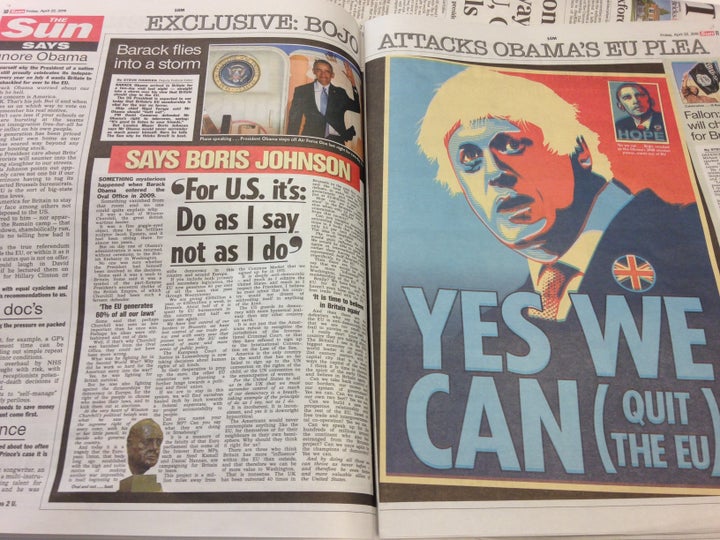 In 2016, Johnson was condemned for referring to Barack Obama as a "part-Kenyan president".
Obama was in London to encourage Britain to vote to remain a member of the European Union, his intervention in the referendum upsetting pro-Brexit campaigners, including Johnson.
Writing in The Sun, the ex-London mayor said the removal of a bust of Winston Churchill from the White House in 2008 showed he was uninterested in the UK-US relationship.
"Some said it was a snub to Britain. Some said it was a symbol of the part-Kenyan President's ancestral dislike of the British empire – of which Churchill had been such a fervent defender," Johnson wrote.
Labour's shadow chancellor John McDonnell called on Johnson to withdraw the comment: "Mask slips again. Boris part-Kenyan Obama comment is yet another example of dog whistle racism from senior Tories. He should withdraw it."
The infamous zip wire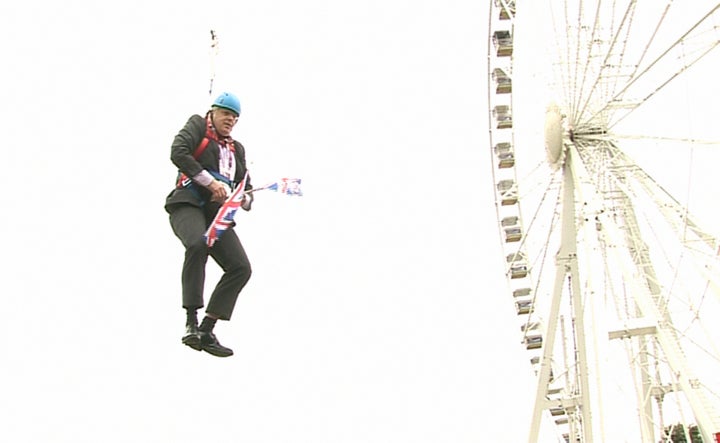 If international audiences know anything about Boris Johnson it's likely to be that he was that British politician who got stuck on a zip wire during the London Olympics.
The the then-mayor of capital was left dangling on the line for several minutes when it stopped working at an Olympic live screen event.
He was trying out a 45m (150ft) high zip wire at Victoria Park, where the Games were being shown on big screens.
The wire then lost momentum, leaving him suspended "like an odd Christmas decoration" above a crowd of people.
As onlookers snapped photos, he joked: "This is great fun but it needs to go faster."
Johnson, the first person to use the wire, was heard shouting: "Get me a rope, get me a rope ok?"
EU – the early days
Years before Nigel Farage took up the mantle of eurosceptic-in-chief, Johnson was working for The Telegraph's Brussels bureau where he peddled all manner of dubious tales.
″...revealed European Commission plans to introduce harmonised 'Euro-coffins', ban prawn cocktail crisps and establish a 'banana police force'. He wrote stories headlined 'Brussels recruits sniffers to ensure that Euro-manure smells the same' and 'Threat to British pink sausages'. He reported that Eurocrats had outlawed Italian condoms because they were not precisely 16 centimetres long."
Racist insults
Johnson once referred to "watermelon smiles" and "piccaninnies". Both phrases are racist insults for black people, and Johnson was later forced to apologise for the comments.
The insults were used in column for the Daily Telegraph, when he was criticising then-prime minister Tony Blair and his trip to the Democratic Republic of Congo in 2002.
Johnson, who was at the time MP for Henley, said: "What a relief it must be for Blair to get out of England. It is said that the Queen has come to love the Commonwealth, partly because it supplies her with regular cheering crowds of flag-waving piccaninnies; and one can imagine that Blair, twice victor abroad but enmired at home, is similarly seduced by foreign politeness.
"They say he is shortly off to the Congo. No doubt the AK47s will fall silent, and the pangas will stop their hacking of human flesh, and the tribal warriors will all break out in watermelon smiles to see the big white chief touch down in his big white British taxpayer-funded bird."
Johnson also once managed to describe the entire continent of Africa as "that country".
While speaking to the Conservative Party conference in Birmingham in 2016, he said: "Life expectancy in Africa has risen astonishingly as that country has entered the global economic system."
For the record, there are 55 countries in Africa.
'The inverted pyramid of piffle'
This rather glorious phrase was uttered by Johnson in response to allegations he had engaged in a years-long extra-marital affair which had resulted in two terminated pregnancies.
Not surprising really as he'd even insisted it was all false when asked directly by then-party leader Michael Howard.
Compares French president to PoW guard
In 2017, Johnson caused uproar earlier this year when he compared Francois Hollande's attitude towards Brexit with a prisoner of war camp.
He said: "If Mr Hollande wants to administer punishment beatings to anybody who chooses to escape [the EU], rather in the manner of some World War II movie, then I don't think that is the way forward, and actually it's not in the interests of our friends and partners."
He was strongly condemned by the European Parliament's chief Brexit negotiator Guy Verhofstadt who described his comments as "abhorrent and deeply unhelpful".
Nazanin Zaghari-Ratcliffe
When foreign secretary, Johnson made a diplomatic blunder over the British charity worker being held in a brutal Iran prison.
He told MPs that Nazanin Zaghari-Ratcliffe had been "teaching people journalism" – remarks that were seized on by the Iranian regime as proof that she was "spreading propaganda" against the state.
Nazanin was on a family holiday in Iran last year when she was arrested for spying in Tehran, a claim vigorously denied by the British government and her family.
Her employers Thomson-Reuters Foundation urged Johnson to "correct the serious mistake he made" amid fears it would extend her jail term.
Tackling a 10-year-old child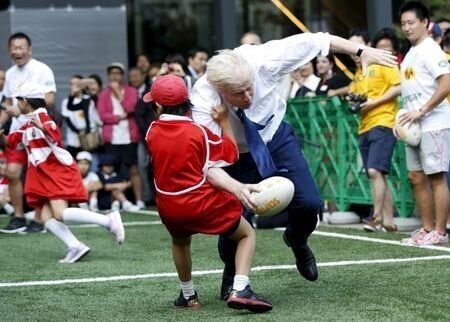 Another curious piece of international diplomacy.
During a trade relations trip to Tokyo in 2015, Johnson charged a 10-year-old boy to the ground during a game of street rugby.
Undeterred by the age of his opponent, Johnson raced down the mini turf pitch and took out Toki Sekiguchi.
Johnson later shook the boy's hand and, to show there were no hard feelings, they posed for photographs after the match.
'A nasty piece of work'
Johnson was asked about a time he made up those quotes while at The Times, and quizzed on why he allegedly "lied" about having an affair to the then Conservative leader Michael Howard.
He was also asked to talk about an infamous phone call between him and his former Eton friend Darius Guppy, recorded in 1990, where Guppy asks Johnson to find the address of a News of the World journalist who has upset him. Despite Guppy's apparent plans, the journalist was never attacked.
"What does that say about you?" Mair asked. "Making up quotes, lying to your party leader, being part of someone being assaulted – you're a nasty piece of work."
Referring to his affair with Petronella Wyatt, a fellow journalist which led to him being sacked as a shadow minister in 2004, Johnson said: "On that, I never had any converation with Michael Howard about that matter. I don't propose to go into all that again. Why should I?"
"This is about your integrity," said Mair.
He also defended his conversation with Guppy, saying: "Certainly the final thing which you raise which is the case of my old friend Darius, yes it is certainly true that he was in a bit of state and I did humour him in a long phone conversation, from which absolutely nothing eventuated.
"But I think if any of us had our phone conversations bugged, people say all sorts of fantastical things."
The Mayor repeatedly asked Mair to "talk about something else". The questions may now return.