Children searching for advice and support about cyberbullying soars in October just after kids have returned to school, statistics have shown.
In 2015, there were eight times as many Google searches for the term during this autumn month (134,000), compared to the summer months July and August (17,000).
The statistics were pulled together by Internet Matters, a not-for-profit organisation hoping to help parents deal with bullying in the digital age.
In a small-scale survey of 1,500 parents, the organisation also found 62% of parents were "concerned" about cyberbullying.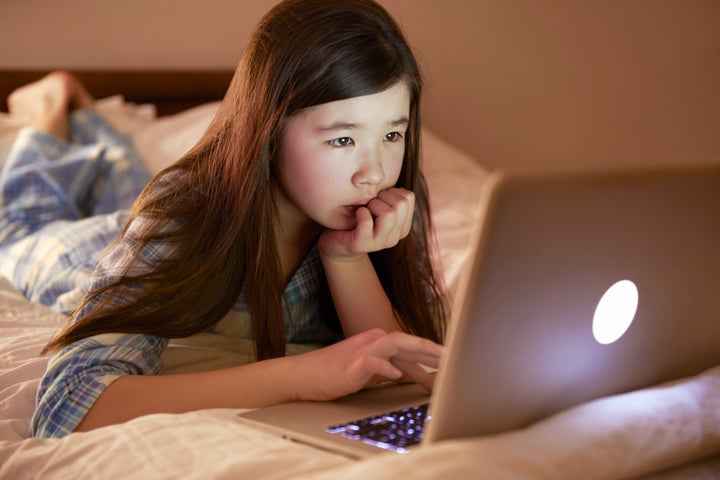 Nearly one in 10 (9%) parents said their children had been involved in a cyberbullying incident. Yet 32% said they hadn't spoken to their children about it.
"This time of the year can create a perfect storm for cyberbullying," said Carolyn Bunting, general manager of Internet Matters.
"Connecting with friends on social media and online can be liberating and empowering for children, which makes cyberbullying all the more impactful."
Psychologist Dr. Linda Papadopoulos, an ambassador for the campaign, described cyberbullying at it's most simple as being "nasty messages or abuse that happens online".
"Whatever you do, if it happens don't deny your child access to technology," Dr. Papadopoulos told The Huffington Post UK.
"One of the main reasons young people don't report cyberbullying is because they're worried that their devices could be taken away from them.
"Moderate their use instead."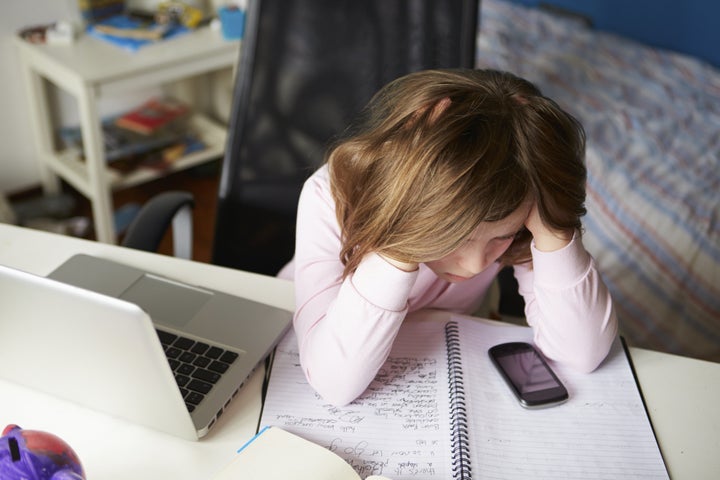 Dr. Papadopoulos said cyber bullying doesn't just have to be a "torrent of nasty abuse or harassment to constitute cyberbullying".
"Even being dropped from a group chat or being blocked on a messaging service can be just as distressing," she added.
"Cyberbullying is a serious problem and it can be very distressing to be on the receiving end from so many angles."
Dr. Papadopoulos offered her advice to parents.
What should I do if I think my child is being cyberbullied?
Dr. Papadopoulos said there are three steps you can take:
1. Ask them not to reply. Cyberbullies are looking for a reaction, so don't feed their ego.
2. Keep the evidence. Sit down with your child and make a written record of what's happened. The more evidence you get, the easier you can resolve the situation
3. Block the bully. Social media sites such as Facebook and Instagram have a built-in tool to block anyone who is causing you grief online by sending nasty messages
What are some of the warning signs my child is being bullied online?
"It can be really hard to spot the warning signs because children don't want to talk about it," she said. "But this can often be deceptive and they can offer suffer in silence."
Signs that your child is being cyberbullied include:
Stopping using the computer suddenly.

Seeming nervous or jumpy when a message appears on their screen.

Avoiding school and socialising and becoming withdrawn from friends and family.

Being angry, depressed, or frustrated after using the computer.
What's the best way to approach a conversation with a child about cyber bullying?
"Give them your full emotional support and let them know they can trust you – children will feel helpless and like there's nowhere for them to turn," said Dr. Papadopoulos.
"Developing your relationship with your child is crucial in solving the problem.
"Just make sure you talk to your children if you think they're being cyberbullied.
"They'll be desperate to talk to somebody about what's going on and so you need to develop that trust between you both.