The so-called vaccine war between the UK and EU could help the Tories win votes in May's local elections by reigniting Brexit arguments, a polling expert has said.
Tory peer Lord Hayward said debates over Britain's exit from the European Union, widely credited with helping his party win swathes of "red wall" seats from Labour, should be "done" as an issue as people are "bored" of it.
But he told HuffPost UK's Commons People podcast that if the row with Brussels over vaccine supply continues throughout April it could "play into the Conservative Party's hands".
The peer, however, warned Boris Johnson not to "exploit" the issue, warning "people would see through it". Rather, the row could provide an indirect boost to Tory fortunes in "accidental or chance ways" as voters may feel Johnson is best placed to take on the EU, Hayward suggested.
On May 6, voters will go to the polls in more than 150 council elections, metro mayor elections, devolved administration elections and a crunch parliamentary by-election in Hartlepool, which recorded one of the biggest anti-EU votes in 2019's general election.
Hayward said postal voting was likely to be a much bigger factor due to the coronavirus pandemic, with around 60% of ballots set to be cast by mail, instead of 30% normally, meaning a third of all votes could be sent in by around April 22.
The peer told Commons People: "If the vaccine row continues with the EU, then it plays into the Conservative Party's hands at local elections. It has implications in Scotland and at Hartlepool.
"If there isn't a vaccine row running from the middle of April onwards then Brexit is done – most people just want to get it over with.
"Clearly businessmen and all sorts of other people are still grappling with the problems associated with it, but in electoral terms it is done unless there is an ongoing vaccine row."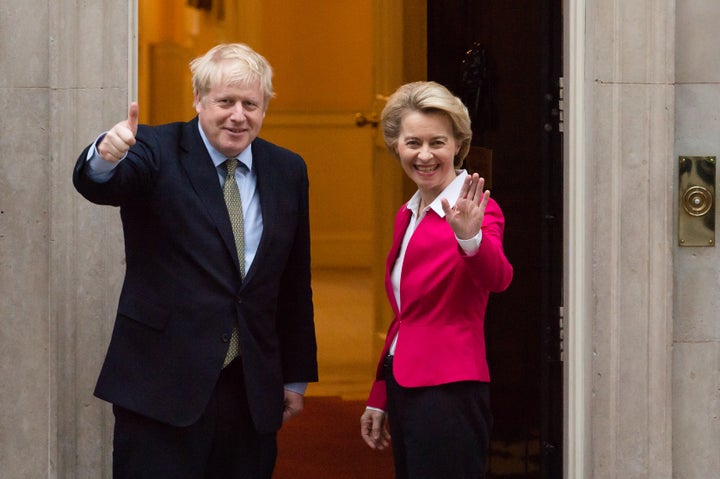 Hayward added: "At the moment Boris is succeeding by having 'provided the vaccines' as a common perception. [...]
"But if the row continues – and it can happen in accidental ways or chance ways. You've had the comments today from senior management of AstraZeneca saying they would never again act in the way they have done, providing a new drug at minimum pricing because of the behaviour of EU leaders."
He went on: "The issues have to be raised by other organisations and governments. It would be very unwise for the Tory Party in whatever guise to try and artificially maintain the vaccine row for their benefit for an election, because I think that would boomerang on them badly."
Hayward said the issue could help the Tories in Hartlepool where Labour has nominated former MP Paul Williams, who backed a second referendum, as a candidate.
"Unless there is an ongoing vaccine row I think the Tories would be very unwise to fight the election as a Brexit election, as a referendum on Brexit, because a lot of people are very bored and want to move on," he said.
"It's only if the row continues that it would be wise of the Tories to heighten the issue [of Brexit], and there Paul Williams would be weak because he is a very strong Remainer."
But Hayward said it was nonetheless unlikely that the Tories would win in Hartlepool, stressing the pressure was "clearly on the Labour side".
"Governments don't win by-elections from the opposition. It's only happened twice since the Second World War," he said.
Hayward spoke as the EU threatened a ban on exporting vaccines to nations faring better with their rollouts, like the UK.
Former European Commission president Jean-Claude Juncker has branded Brussels "stupid" for its position, warning it could suffer "major reputational damage".
But on the eve of Thursday's meeting of EU leaders to discuss the issue, both the UK and Brussels attempted to calm tensions by saying they were working together to create a "win-win situation".