Donald Trump has appeared to endorse Britain First by retweeting three inflammatory anti-Islam videos from the far right group's Deputy Leader Jayda Fransen.
Only last week Fransen was charged with using "threatening, abusive or insulting words or behaviour" during a speech made at a "Northern Ireland Against Terrorism" rally at Belfast City Hall in August.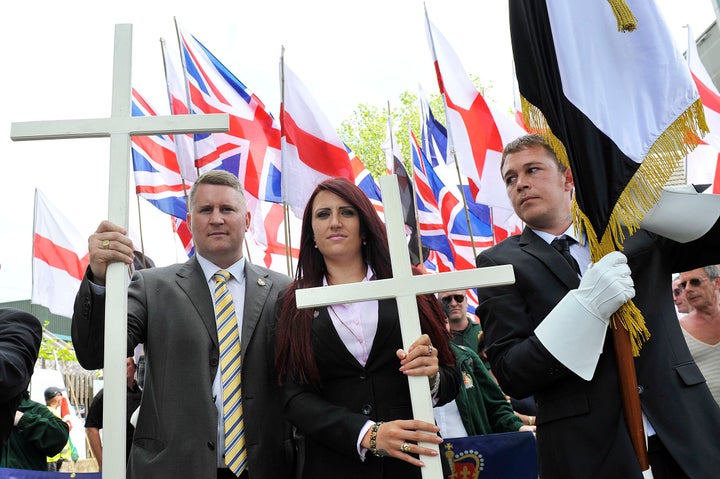 The videos claimed to show various violent crimes committed by Muslims. Britain First is widely known for spreading Islamophobic and racist videos, including many proven to be fake.
Mayor of London, Sadiq Khan, said: "Britain first is a vile, hate-fuelled organisation whose views should be condemned, not amplified."
One of the videos retweeted by Trump carries a caption which read "VIDEO: Muslim migrant beats up Dutch boy on crutches!".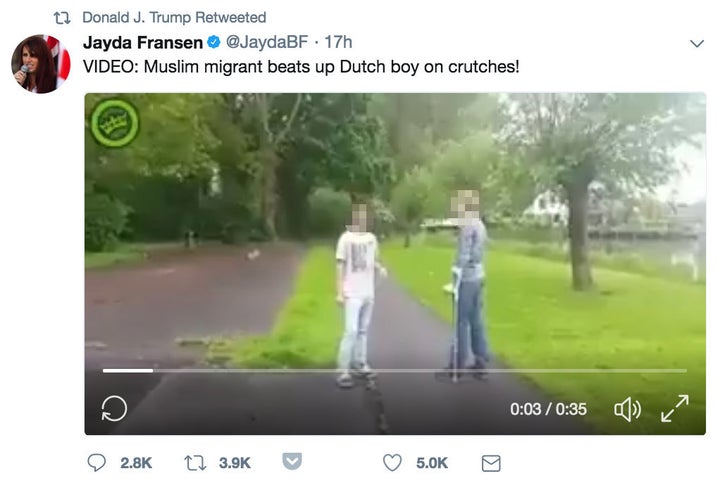 The clip bears the logo of Dutch video sharing website Dumpert, which hosts user-uploaded content, much like YouTube.
One of the themes of content on the site focusses on the behaviour of adolescents. Many videos show children fighting in schools.
According to an article on Telegraaf.nl, the parent company of Dumpert, a 16-year-old was arrested following the video which was filmed in the town of Monnickendam, in the Dutch province of North Holland.
The video's original caption did not mention the race of either of those in depicted, according to Telegraaf and it was subsequently taken down from at the request of police and the victim.
One seems to show a man destroying a Virgin Mary statue, and the other shows a group of men, including one who appears to wear the flag of the self-described Islamic State, throwing another man off a roof.
Britain First's list of inflammatory actions includes burying a pig on the site of a proposed mosque, and advocating banning Islam in the UK following the November 2015 Paris terror attacks:
The group describe themselves as "a patriotic political party and street movement that opposes and fights the many injustices that are routinely inflicted on the British people."
"We want our people to come first, before foreigners, asylum seekers or migrants and we are overtly proud of this stance," the group says in its mission statement. "We want British jobs for British workers and will make sure that our workers come first."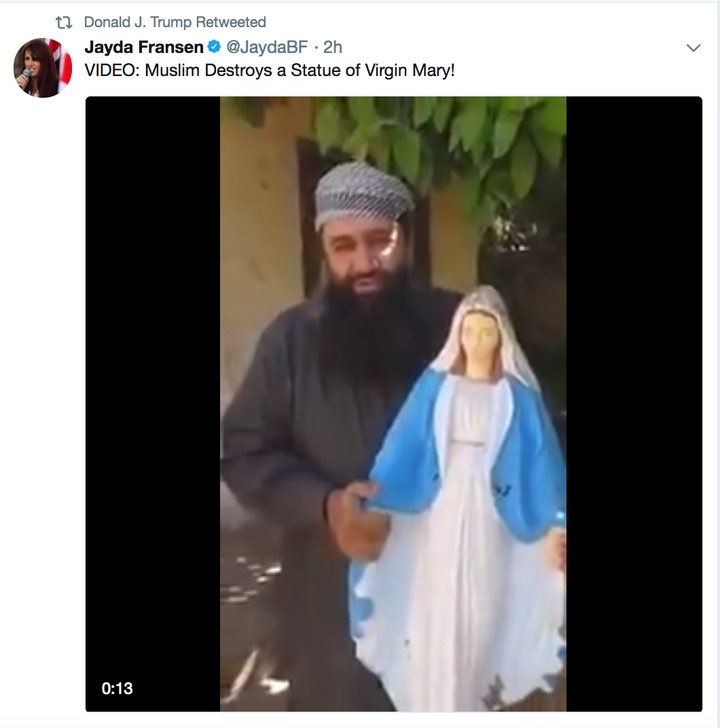 The Muslim Council of Britain said in a statement: "This is the clearest endorsement yet from the US President of the far-right and their vile anti-Muslim propaganda. We cannot give such bigotry a free pass.
"We hope our Prime Minister and Home Secretary will distance the UK from Mr Trump and his comments and will reiterate the Government's abhorrence to all forms of extremism."
Labour's David Lammy said Trump was "not welcome in my country and my city".
The row spread to the Commons during PMQs when Home Secretary Amber Rudd did not immediately respond after Labour MPs Stephen Doughty and Yvette Cooper raised the retweets as a point of order.
Doughty said the videos were "highly inflammatory" and Cooper said the president had given Fransen a "huge platform" as one MP shouted "Disgraceful" and others said "Go on, stand up" at Rudd.
A spokesperson for Hope Not Hate told HuffPost UK: "Even by Donald Trump's standards this is pretty incredulous - Britain First is one of the most notorious groups in the UK who promote hatred disguised with a thin veneer of Christianity.
″[The group's] calling card is sowing division, discord and hatred. Surely someone among his advisors could tell him this is a far-right group?"
But Trump's press secretary Sarah Huckabee Sanders defended his actions.
"Whether it's a real video, the threat is real. His goal is to promote strong border security and strong national security," she said.
David Duke, a former Grand Wizard of the Ku Klux Klan, praised the President's social media strategy.
Even an editor of Infowars, an alt-right conspiracy website, thought it was a bad idea.
Without a hint of irony Trump followed up the three retweets by tweeting about "fake news CNN".
Anti-extremism hotline, Tell Mama, said: "We are utterly appalled that the President of the United States would retweet Jayda Fransen of far-right group Britain First.
"Today shows us how far extremism has moved mainstream."
Reaction to the retweets sparked a mixture of disgust, bafflement and outright condemnation.
Brendan Cox, whose MP wife Jo was murdered by a far right extremist last year, accused Trump of legitimising the far right in the US, and now in the U.K.
Britain First appeared thrilled at the development and Fransen later tweeted a picture of herself being interviewed by American broadcaster, CBS.