Two very different protests converged in central London on Saturday in a made-for-the-internet moment that's certain to go viral.
A naked man on what was formerly known as a Boris bike, and another on a kids scooter - in the buff from his plastic viking helmet down - were pictured passing a fully clothed supporter of Tommy Robinson who was shouldering a '#Free Tommy' placard.
As one commenter astutely put it - "when Free Tommy meets Free Willy".
The unusual happenstance unfolded earlier today on Westminster Bridge when a rally against the jailing of Robinson - the founder of the English Defence League - crossed paths with the annual World Naked Bike Ride.
The nude ride protests against car culture and celebrates the human body.
It started in five different city locations but all participants merged on Westminster Bridge this afternoon before continuing on to Hyde Park.
It was on the bridge where the two protests met.
Earlier today Christian Calgie tweeted an imagine for movie, London Has Fallen, remarking with some disbelief that he had just passed the Robinson protest, "now I've walked into a naked bicycle ride".
Later he tweeted a picture capturing the spectacle of the two protests in a single frame, lamenting: "They have merged. I am in hell."
Robinson, whose real name is Stephen Yaxley-Lennon, was jailed last month after using Facebook Live outside Leeds Crown Court to broadcast details of a child grooming trial, despite a court order banning it from being reported.
The 35-year-old was sentenced to 13 months in prison - ten months for contempt of court with an additional three added for breaching a previous suspended sentence - sparking a rash of protests across UK.
One protest organised by the Proud Britain group, outside Leeds Crown Court on June 1, attracted around 500 protesters who branded police officers a "disgrace". They told police present: "You ought to be ashamed of yourselves."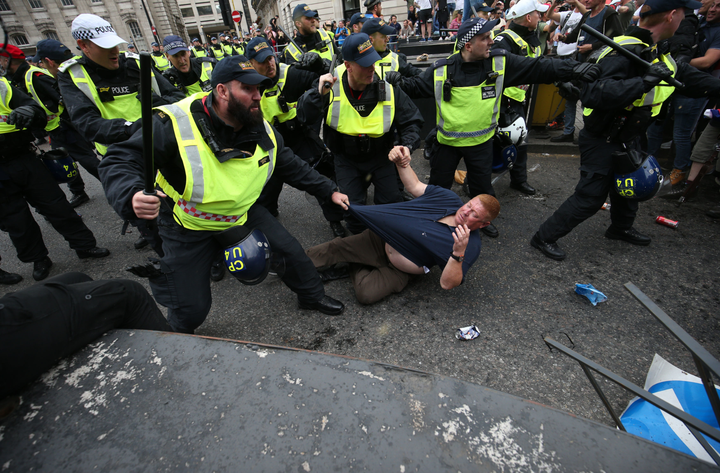 Thousands of people turned out to support Robinson in London today, including Dutch politician and leader of the Party for Freedom, Geert Wilders, who was banned from Britain in 2009 only to get it overturned. Wilders addressed crowds and called for Robinson's release.
"I am here to tell you that you will never walk alone. And we are here to tell the world, and the UK government in particular: "Free Tommy Robinson," he said.
"At this very moment thousands of people are demonstrating all over the world in front of British embassies... all with one important message 'Free Tommy'.
"Downing Street is just around the corner, so maybe once again, as loud as possible we can let them hear our message: 'Free Tommy Robinson'."
UKIP leader Gerard Batten was also said to have been in attendance.
Robinson's supporters were said to have blocked off the road around Trafalgar Square where they were met with rows of riot police who blocked the gate down the Mall leading to Buckingham Palace where the Royal Family gathered on the balcony after celebrating Trooping the Colour just hours before.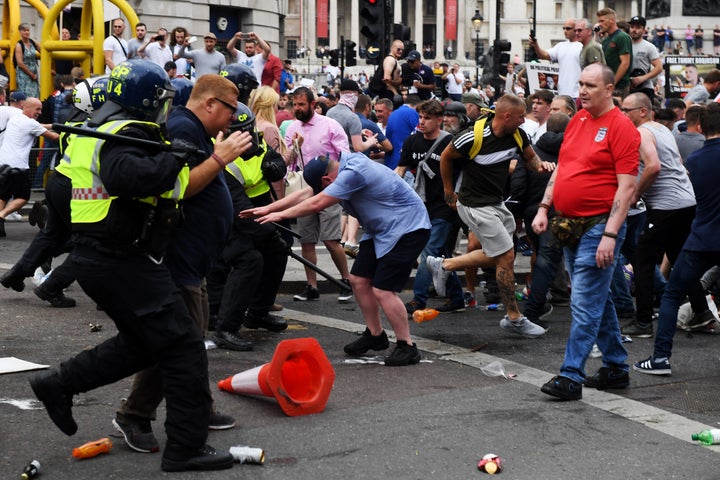 Hundreds of supporters crowded on to an open-top Megabus sightseeing vehicle waving Union Jack flags, while one supporter posed on the roof in a Donald Trump mask.
By 6pm, officers had removed protesters from the bus and had kettled many of the remaining protesters on the traffic island overhead.
Videos posted on social media showed protesters in scuffles with police with beer cans being poured and thrown at officers who were taunted by the crowd.
The Met said it had made four arrests, including two for assaulting a police officer.
One was arrested for possession of a flare while the other was detained for possession of an offensive weapon.
MailOnline said five arrests had been made and claimed Robinson's supporters had appeared to throw bottles, metal barriers and traffic cones at police.
A spokeswoman for megasightseeing.com said: "Our London sightseeing bus was on its normal route when it got caught up in the demonstrations.
"The bus was stormed by demonstrators and the driver and a small number of customers got off.
"The demonstrators have caused a significant amount of damage to the bus which meant it had to be towed away.
"We have reported this to the police and will help them with any investigations."
Stand Up to Racism and Unite Against Fascism supporters held a counter-protest that was supported by Shadow Home Secretary Diane Abbott and trade unionists including Unite's Len McCluskey, PCS leader Mark Serwotka and the NEU's Kevin Courtney.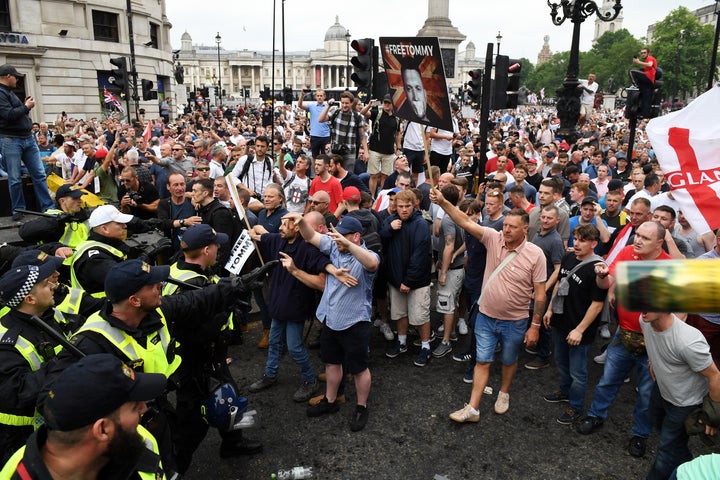 Weyman Bennett from Stand Up To Racism said: "Robinson is being held up as a martyr but wherever his support grows so does racism, hate and violence. In Leeds where he was arrested first his supporters marched through the city shouting Islamophobic slogans then, a few days later, a mosque and a Sikh temple were hit by arson attacks".
Michael Bradley from Unite Against Fascism said: "We are sounding the alarm to the trade union and labour movement.
"These are not cranks who will disappear of their own accord. We need to build a mass movement to drive these people back. Left unoppossed their protests will grow and racism and violence will grow with them. They are using the same kind of rhetoric against Muslims as was used by the far right in the 1930′s against the Jews. We have to learn the lessons of history".
Judge Geoffrey Marson QC told Robinson during his sentencing: "Everyone understands the right to freedom of speech but there are responsibilities and obligations."
A further protest against Robinson's jailing was also due to take place in Newcastle today but was scrapped over fears police would be overstretched by an Ed Sheeran concert.
More than 600,000 people have signed a petition calling for Prime Minister Theresa May to free Robinson from prison.