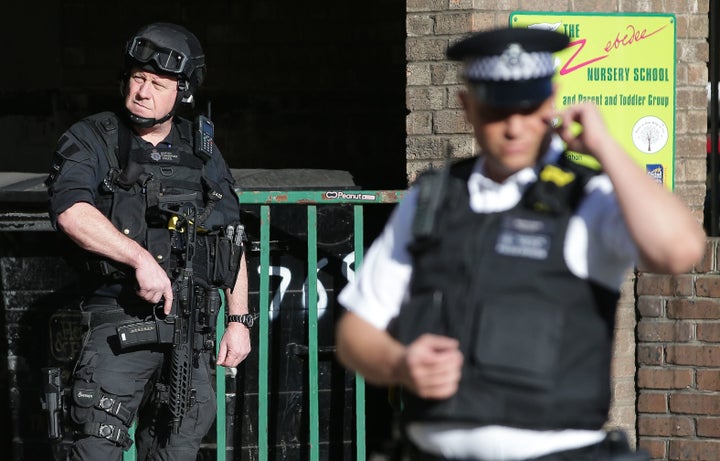 Detectives will deploy controversial facial recognition cameras in London for a third time on Thursday despite calls for the technology to be scrapped.
The Metropolitan Police said it would use facial recognition "overtly" in Stratford as part of a bid to curb violence.
Faces on a database of wanted violent offenders will be checked against live images from cameras mounted in public areas.
When the technology detects a match, officers on the ground review the information and conduct further checks.
The deployment in Stratford is part of a trial of the technology due to end at the end of the year.
Results will be assessed before it is considered for everyday use.
But campaigners have warned of a legal challenge over the Met's use of the technology, arguing it is unregulated and potentially violates privacy.
The potential action, backed by human rights organisation Big Brother Watch and House of Lords member Baroness Jenny Jones, will be launched if the Met continues to use facial recognition.
A spokesperson for Big Brother Watch said the force's actions were "outrageous" and urged those concerned about the plans to contribute to their CrowdJustice funding campaign.
"They have obviously ignored the human rights issues and rather have concocted new plans to monitor Londoners in Stratford," the group added.
"The lawless use of Orwellian surveillance is becoming increasingly alarming. It cannot be right that police are using surveillance that is almost entirely inaccurate, that they have no legal basis for, and that poses a major risk to our freedoms."
Another legal challenge has been brought against South Wales police over its use of the technology in Cardiff, supported by Liberty - another human rights group.
The organisation said in a statement: "Police use of privacy-invading facial recognition technology is lawless. The people of Stratford should not be subjected to a police line-up merely for taking a walk in their community.
"No one has consented to give up their right to exist in a public street without being tested against some government database."
The organisation said it was sending staff to observe the police operation in Stratford.
The technology has previously been used by the Met at last year's Notting Hill Carnival and at the Remembrance Sunday event in November.
It was revealed on Thursday that facial recognition was used for the first time this month at a port by Humberside Police.
It comes as the capital's force battles an apparent violent crime wave, with more than 70 murder investigations since the start of 2018.
Met Detective Superintendent Bernie Galopin said: "We are using the technology in Stratford to help to reduce violent crime and make the area safer by targeting individuals wanted for violence-related offences.
"The deployment of these cameras and targeting of individuals will be intelligence-led and temporary.
"Only images that come up as a match to a targeted individual will be retained for a limited period. The use of facial recognition technology aims to support standard policing activity to ensure everyone's safety."